Ad blocker interference detected!
Wikia is a free-to-use site that makes money from advertising. We have a modified experience for viewers using ad blockers

Wikia is not accessible if you've made further modifications. Remove the custom ad blocker rule(s) and the page will load as expected.
This song article is lacking a proper background. You can help by adding one! The relevant section in the Song Article Guideline is a good starting point, and this blog post may also be helpful. We apologize for the inconvenience this may cause in the meantime.

Song pages lacking proper backgrounds are automatically sorted into this category.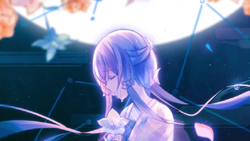 Song title
"海棠仙"
Pinyin: Hǎitáng Xiān
Uploaded April 29, 2016, with 226,000+ (BB) & 4,000+ (YT) views
Singer(s)
Stardust
Producer(s)
Yukinsnow (compose, arrange)
Wei Cai zhi Ya (lyrics)
Huar Bu Ku (tuning)
Lu Qi (illustrator)
Han, Xi Dousha (video editors)
Links
YouTube Broadcast
bilibili Broadcast
Background
Edit
"Hǎitáng Xiān" is an original song featuring Stardust. The song went through several revisions before it was considered to be complete. It follows 华心彩 (Huá Xīn Cǎi). This song is featured in Yukinsnow's doujinshi album, Chinese Girls Project.
This song has exceeded 100,000 views on bilibili.
Succeeding versions
Edit
白·棠·彩 Remix

Featuring
Luo Tianyi, Yuezheng Ling, Stardust, Xin Hua
Author(s)
Yukinsnow (compose, lyrics), Ze Ye Hongzhi (arrange), Guozhi Liangcai (lyrics), Wei Cai Zhi Yi (lyrics), digger (tuning), Huar Bu Ku (tuning), Irecorder (mixing), Lu Qi (cover)
Category
Succeeding version, remix
Chinese (中文歌词)
Pinyin (拼音)
拼凑着残破的竹简
pincouzhe canpo di zhujian
塍录下看不懂的字段
cheng lu xia kan bu dong de ziduan
晦涩古老的字句之间
huise gulao de ziju zhi jian
流淌着悠远的思念
liutangzhe youyuan de sinian
思念着千年前那一场雨
sinianzhe qiannian qian na yi chang yu
乘着风洋洋洒洒飞向大地
chengzhe feng yangyangsasa fei xiang dadi
全世界预见了这一季花期
quan shijie yujianle zhe yiji huaqi
而我在海棠树下遇见了你
er wo zai haitang shu xia yujianle ni


看春风 和着雨 浩如烟
kan chunfeng hezhe yu hao ru yan
看繁花 烟雨中 更绚烂
kan fanhua yanyu zhong geng xuanlan
我执笔 在树下 记录着从前
wo zhibi zai shu xia jiluzhe congqian
你却问 我可是 海棠仙
ni que wen wo keshi haitang xian
小巷里 让细雨 穿成线
xiao xiang li rang xi yu chuan cheng xian
浸透在 海棠色 的华年
jintou zai haitang se de hua nian
你和我 漫步过 滴水的屋檐
ni he wo manbuguo dishui de wuyan
描绘着 不存在 的永远
miaohuizhe bu cunzai de yongyuan
穿越千年 草长飞莺 与你手儿牵
chuanyue qiannian cao zhang fei ying yu ni shour qian
隔着时空 为我写下 最美的画卷
gezhe shikong wei wo xie xia zuimei de huajuan


看着那阳光下海棠的雨
kanzhe na yangguang xia haitang de yu
乘起风洋洋洒洒翱翔天际
cheng qi feng yangyangsasa aoxiang tianji
就像谁都留不住片刻花期
jiu xiang shei dou liu bu zhu pianke huaqi
你我也逃不掉最后的别离
ni wo ye tao bu diao zuihou de bieli


看春风 和着雨 浩如烟
kan chunfeng hezhe yu hao ru yan
看繁花 烟雨中 被吹散
kan fanhua yanyu zhong bei chui san
我执伞 在树下 合上了书卷
wo zhi san zai shu xia he shangle shujuan
别过了 海棠花 开渐渐
bieguole haitang hua kai jianjian
小巷里 让细雨 穿成线
xiao xiang li rang xi yu chuan cheng xian
浸透在 海棠色 的华年
jintou zai haitang se de hua nian
古巷里 我抚过 锈绿的铜环
gu xiang li wo fuguo xiu lü de tong huan
回忆着 你说过 的永
huiyizhe ni shuoguo de yong


看春风 和着雨 浩如烟
kan chunfeng hezhe yu hao ru yan
看繁花 烟雨中 更绚烂
kan fanhua yanyu zhong geng xuanlan
我抬手 在树下 拼凑着竹简
wo tai shou zai shu xia pincouzhe zhujian
摩挲过 你等待 的千年
mosaguo ni dengdai de qiannian
心中是 爱你的 海棠仙
xinzhong shi ai ni di haitang xian