Ad blocker interference detected!
Wikia is a free-to-use site that makes money from advertising. We have a modified experience for viewers using ad blockers

Wikia is not accessible if you've made further modifications. Remove the custom ad blocker rule(s) and the page will load as expected.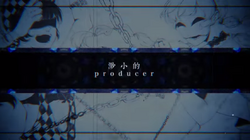 Song title
"渺小的producer"
Pinyin: Miǎoxiǎo de producer
Official English: Insignificant producer
Uploaded August 15, 2015, with 25,000+ (YT) & 354,000+ (BB) & 28,000+ (NN) views
Singer(s)
Xin Hua and Yuezheng Ling
Producer(s)
Yukinsnow (compose, arrange, lyrics)
litterzy (guitar)
Zhe v and Digger (sound)
Ryusa (mixing)
Fzango (illustrator)
Xi Dousha (video editor)
Links
Niconico Broadcast • YouTube Broadcast
bilibili Broadcast

Background
Edit
"
It turns out that I am the most insignificant producer...
"
 

— Author's comment
"Miǎoxiǎo de producer" is an original duet song featuring Xin Hua and Yuezheng Ling.
In this song, they express the feelings of many unknown producers who feel they will never be good enough to make a name for themselves, listing all the insecurities and the things that are "low quality".
Labeling themselves as the lowest producer, they hope that more people will recognize and know their songs and efforts, but at the end of each verse where they list all the insecurities, they keep on asking whether "you" will even bother to listen despite all the things they think are "not good enough".
This song has exceeded 100,000 views on bilibili.
Singer + Color
Xin Hua
Both
Ling
Chinese (中文歌词)
Pinyin (拼音)

他也希望自己能够被更多人知道

Ta ye xiwang ziji nenggou bei geng duo ren zhidao

他也希望有很多人能唱着他的歌

Ta ye xiwang you henduo ren neng changzhe ta de ge




啊他好闪耀 那么风光 我也好想要

A ta hao shanyao name fengguang wo ye hao xiang yao

啊那个名P 他又投稿 一定会殿堂

A nage ming P ta you tougao yiding hui diantang

啊他的风格 那么独特 合你的味道

A ta de fengge name dute he ni de weidao

啊那个前奏 这么美妙 一定会有人气

A nage qianzou zheme meimiao yiding hui you renqi




他并不会说话 没人理他 一个人回家

Ta bing bu hui shuohua mei ren li ta yige ren hui jia

总是戴着耳机 勾勒心中 最美的图画

Zong shi daizhe erji goule xinzhong zuimei de tuhua

他的音源太假 配器不搭

Ta de yinyuan tai jia peiqi bu da

你也觉得吗

Ni ye juede ma

他的调教太差

Ta de tiaojiao tai cha

混音太渣

Hun yin tai zha

谁会在乎啊

Shei hui zaihu a

你会在乎吗

Ni hui zaihu ma




他也希望自己能够被更多人知道

Ta ye xiwang ziji nenggou bei geng duo ren zhidao

他也希望有很多人能唱着他的歌

Ta ye xiwang you henduo ren neng changzhe ta de ge

就算是

没人会听没人会唱也没有关系

Jiusuan shi

mei ren hui ting mei ren hui chang ye meiyou guanxi

因为

他还拥有最后一点所谓的光荣

Yinwei

ta hai yongyou zuihou yidian suowei de guangrong



他也希望自己能够被更多人关注

Ta ye xiwang ziji nenggou bei geng duo ren guanzhu

他也希望有很多歌能冲上排行榜

Ta ye xiwang you henduo ge neng chong shang paihang bang

现实却

Xianshi que

无人问津
Wu ren wenjin
沉入海底
Chen ru haidi
残忍的场景
Canren de changjing

因为

他只是

Yinwei

ta zhishi
这世界上
Zhe shijie shang
最微不足道
Zui weibuzudao
无人来问的
Wu ren lai wen de
最渺小的producer
Zui miaoxiao de producer



啊他好闪耀 那么风光 我也好想要

A ta hao shanyao name fengguang wo ye hao xiang yao

啊那个名P 他又投稿 一定会有人气

A nage ming P ta you tougao yiding hui you renqi

他并不会说话 没人理他 一个人回家

Ta bing bu hui shuohua mei ren li ta yige ren hui jia

总是戴着耳机 勾勒心中 最美的图画

Zong shi daizhe erji goule xinzhong zuimei de tuhua




他的音源太假 配器不搭

Ta de yinyuan tai jia peiqi bu da

你也觉得吗

Ni ye juede ma

他的调教太差

Ta de tiaojiao tai cha

混音太渣

Hun yin tai zha

谁会在乎啊

Shei hui zaihu a

你会在乎吗

Ni hui zaihu ma




他也希望自己能够被更多人知道

Ta ye xiwang ziji nenggou bei geng duo ren zhidao

他也希望有很多人能唱着他的歌

Ta ye xiwang you henduo ren neng changzhe ta de ge

就算是

没人会听没人会唱也没有关系

Jiusuan shi

mei ren hui ting mei ren hui chang ye meiyou guanxi

因为

他还拥有最后一点所谓的光荣

Yinwei

ta hai yongyou zuihou yidian suowei de guangrong



他也希望自己能够被更多人关注

Ta ye xiwang ziji nenggou bei geng duo ren guanzhu

他也希望有很多歌能冲上排行榜

Ta ye xiwang you henduo ge neng chong shang paihang bang

现实却

Xianshi que

无人问津
Wu ren wenjin
沉入海底
Chen ru haidi
残忍的场景
Canren de changjing

因为

他只是

Yinwei

ta zhishi
这世界上
Zhe shijie shang
最微不足道
Zui weibuzudao
无人来问的
Wu ren lai wen de
最渺小的producer
Zui miaoxiao de producer



其实我并不渴望有那么多人喜欢我

Qishi wo bing bu kewang you name duo ren xihuan wo

其实我不过是想要有人能更懂我

Qishi wo buguo shi xiang yao youren neng geng dong wo




他也希望自己能够被更多人知道

Ta ye xiwang ziji nenggou bei geng duo ren zhidao

他也希望有很多人能唱着他的歌

Ta ye xiwang you henduo ren neng changzhe ta de ge

就算是

没人会听没人会唱也没有关系

Jiusuan shi

mei ren hui ting mei ren hui chang ye meiyou guanxi

因为

他还拥有最后一点

Yinwei

ta hai yongyou zuihou yidian
所谓的光荣
Suowei de guangrong



他也希望自己能够被更多人关注

Ta ye xiwang ziji nenggou bei geng duo ren guanzhu

他也希望有很多歌能冲上排行榜

Ta ye xiwang you henduo ge neng chong shang paihang bang

现实却

Xianshi que

无人问津
Wu ren wenjin
沉入海底
Chen ru haidi
残忍的场景
Canren de changjing

原来

我就是

Yuanlai

wo jiushi
这世界上
Zhe shijie shang
最微不足道
Zui weibuzudao
无人来问的
Wu ren lai wen de
最渺小的producer
Zui miaoxiao de producer