This song article is lacking a proper background. You can help by adding one! The relevant section in the Song Article Guideline is a good starting point, and this blog post may also be helpful. We apologize for the inconvenience this may cause in the meantime.

Song pages lacking proper backgrounds are automatically sorted into this category.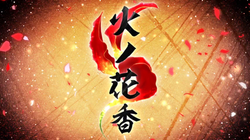 Song title
"火ノ花香"
Romaji: Hi no Hanaga
Uploaded December 28, 2015 (original) / January 1, 2016 (reupload), with N/A (original), 410+ (reupload) views
Singer(s)
Sachiko
Producer(s)
Maharo-P (music)
Carlmary (illust)
Gyuniku (lyrics)
Links
Niconico Broadcast
Background
Edit
"Hi no Hanaga" is an original song by Maharo-P and Gyuniku featuring Sachiko.
The original upload, uploaded on December 28, 2015, has been deleted and this song was reuploaded on January 1, 2016.
Japanese (日本語歌詞)
Romaji (ローマ字)
浅き雪を仰ぎて
asaki yuki o aogite
明けを越える泡沫の
ake o koeru utakata no
天国への道、舞い踊り
amakuni e no michi, maiodori
燃え盛る我は火ノ花香
moesakaru ware wa hi no hanaga


穿て神が伊吹、
ugate kami ga ibuki,
淀む時も失く
yodomu toki mo naku
行方知れぬ声と、
yukue shirenu koe to,
依人の旅路へ
yorito no tabiji e


風を断ちて咲きたる
kaze o tachite sakitaru,
花を名乗り打ち上げる
hana o nanori uchiageru
果てを駆けて咲きたる、
hate o kakete sakitaru,
月を落としひた走る
tsuki o otoshi hi tahashiru


火ノ花香
hi no hanaga
External links
Edit
| | |
| --- | --- |
| | Lyrics |
| | |
| --- | --- |
| | Articles |
Ad blocker interference detected!
Wikia is a free-to-use site that makes money from advertising. We have a modified experience for viewers using ad blockers

Wikia is not accessible if you've made further modifications. Remove the custom ad blocker rule(s) and the page will load as expected.