This song article is lacking a proper background. You can help by adding one! The relevant section in the Song Article Guideline is a good starting point, and this blog post may also be helpful. We apologize for the inconvenience this may cause in the meantime.

Song pages lacking proper backgrounds are automatically sorted into this category.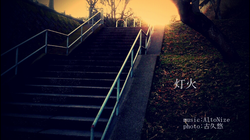 Song title
"灯火"
Romaji: Tomoshibi
English: Light
Uploaded January 29, 2016, with 1,330+ views
Singer(s)
Fukase
Producer(s)
AltoNize (music, lyrics)
古久悠 (illust)
Links
Niconico Broadcast • YouTube Broadcast (reprint, English subs)

Background
Edit
"Tomoshibi" is an original song by AltoNize featuring Fukase.
Japanese (日本語歌詞)
Romaji (ローマ字)
僕は悲しい歌を唄う
boku wa kanashii uta o utau
鮮やかに眠る君の手のひら
azayaka ni nemuru kimi no tenohira
ずっとずっと隣で笑っていたいんだよ
zutto zutto tonari de waratte itain da yo
届くことない君を
todoku koto nai kimi o


嘘吐きの僕は夢に泣いて
usotsuki no boku wa yume ni naite
あどけない雨に少し憧れる
adokenai ame ni sukoshi akogareru
長く深い夜が君を置いていくから
nagaku fukai yoru ga kimi o oite iku kara
透明な肌に傷を付けた
toumeina hada ni kizu o tsuketa


僕は悲しい歌を唄う
boku wa kanashii uta o utau
鮮やかに眠る君の手のひら
azayaka ni nemuru kimi no tenohira
ずっとずっと隣で笑っていたいんだよ
zutto zutto tonari de waratte itain da yo
届くことない君を 願うよ
todoku koto nai kimi o negau yo


笑いかける様に花は咲いて
waraikakeru youni hana wa saite
癒えない君の痕 頬を濡らす
ienai kimi no ato hoho o nurasu
泣き腫らした空に 蹲った日には
nakiharashi ta sora ni uzukumatta hi ni wa
凍ってしまったみたいだ まだ見えないんだ
koutte shimatta mitai da mada mienain da


僕は悲しい歌を唄う
boku wa kanashii uta o utau
瞼の裏に映る遠い空の下
mabura no uta ni utsuru tooi sora no shita
ずっとずっと君がここにいるんだよ
zutto zutto kimi ga koko ni irun da yo
叶うことない日々に 願ってる
kanau koto nai hibi ni negatteru


嘘偽りのない幻想壊しても
usoitsuwari no nai gensou kowashitemo
僕は迷わず歩いて行けるから
boku wa mayowazu aruite yukeru kara
何度も失っては 過ぎた時間の方へと
nandomo ushinatte wa sugita jikan no hou eto
君の記憶辿って 向うよ
kimi no kioku tadotte mukau yo


僕は悲しい歌を唄う
boku wa kanashii uta o utau
瞼の裏に映る遠い空の下
mabura no uta ni utsuru tooi sora no shita
ずっとずっと心は泣いて痛いんだよ
zutto zutto kimi ga koko ni irun da yo
叶うことない日々に 願ってる
kanau koto nai hibi ni negatteru


僕は悲しい歌を唄う
boku wa kanashii uta o utau
鮮やかに眠る君の手のひら
azayaka ni nemuru kimi no tenohira
ずっとずっと隣で笑っていたいんだよ
zutto zutto tonari de waratte itain da yo
届くことない君を 願うよ
todoku koto nai kimi o negau yo


またいつか朝が僕ら照らすとき
mata itsuka asa ga bokura terasu toki
描いた明日は仕舞っておこう
egaita ashita wa shimatte okou
切り取る景色は枯れてしまうから
kiritoru keshiki wa karete shimau kara
真っ白な世界に色を付けた
masshirona sekai ni iro o tsuketa
External links
Edit
| | |
| --- | --- |
| | Articles |
| | |
| --- | --- |
| | Lyrics |