Ad blocker interference detected!
Wikia is a free-to-use site that makes money from advertising. We have a modified experience for viewers using ad blockers

Wikia is not accessible if you've made further modifications. Remove the custom ad blocker rule(s) and the page will load as expected.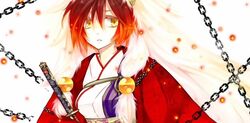 Song title
"焔姫"
Romaji: Homura Hime
English: Flame Princess
Uploaded November 22, 2013, with 40,000+ views
Singer(s)
MEIKO
Producer(s)
sigotositeP (music, lyrics)
Links
Niconico Broadcast
Background
Edit
"
Happy birthday, MEIKO.
"
 

— Author's comment
"Homura Hime" is an original work by sigotositeP, featuring MEIKO.
This song is featured in sigotositeP's album CHRONICA ROUGE.
Japanese (日本語歌詞)
Romaji (ローマ字)
火の粉を散らせ紅蓮を翻し
hi no ko o chirase guren o hirugaeshi
干上がる大地を総べる焔姫 
hiagaru daichi o suberu homura hime
戒めの鎖断ち切るお前に 
imashime no kusari tachikiru omae ni
水をも焦がす刃を与う
mina o mo kogasu yaiba o atau


双つの琥珀石 
futatsu no kohaku ishi
瞼を塞げば 
mabuta o fusageba
その首筋に朱く契約を刻む
sono kubisuji ni akaku keiyaku o kizamu


お前が手にある紅蓮を拒む時 
omae ga te ni aru guren o kobamu toki
その先に何も残らぬよう 
sono saki ni nani mo nokoranu you
絶たれた鎖は今 
tatareta kusari wa ima
焼き付く契の下再び繋がれた 
yakitsuku chigiri no moto futatabi tsunagareta
約束を授けよう
yakusoku o sazukeyou


焔を望む者よ 
homura o nozomu mono yo
お前のその舌で我が名を紡ぐなら 
omae no sono shita de waga na o tsumugu nara
その意志に応えよう
sono ishi ni kotaeyou


喰らう命を数えては軋む手を
kurau inochi o kazoete wa kishimu te o
縛る戒めの先にただ願わん
shibaru imashime no saki ni tada negawan
お前が手にある紅蓮を拒まず 
omae ga te ni aru guren o kobamazu
焦がれる印を焼き切らぬよう
kogareru shirushi o yakikiranu you


連なる鎖は今 
tsuranaru kusari wa ima
焼き付く契りの下お前の朱に絡み 
yakitsuku chigiri no moto omae no shu ni karami
来る餌を捉える
kitaru e o toraeru


紅蓮を掲ぐ者よ 
guren o kakagu mono yo
愛しきその声で我が名を謳うなら 
itoshiki sono koe de waga na o utau nara
その意志に番えよう
sono ishi ni tsugaeyou


焔を抱く者よ 
homura o idaku mono yo
お前のその心が移ろう事なくば 
omae no sono kokoro ga utsurou koto nakuba
永久に番えよう
tokoshie ni tsugaeyou
Derivatives
Edit
KAITO V3's cover

| | |
| --- | --- |
| Featuring | KAITO V3 |
| Author(s) | hiru (cover), 匝灯さん (illust) |
| Category | VOCALOID cover |
External links
Edit
| | |
| --- | --- |
| | Articles |
| | |
| --- | --- |
| | Downloads |