Ad blocker interference detected!
Wikia is a free-to-use site that makes money from advertising. We have a modified experience for viewers using ad blockers

Wikia is not accessible if you've made further modifications. Remove the custom ad blocker rule(s) and the page will load as expected.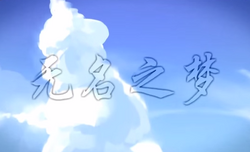 Song title
"無名之夢"
Simplified Chinese: 无名之梦
Pinyin: Wúmíng zhī Mèng
Official English: Forgotten Dreams
Uploaded July 8, 2015 (YT) / July 11, 2015 (NN), with 3,000+ (YT) 400+ (NN) views
Singer(s)
Xin Hua
Producer(s)
Wind Melody (compose, arrange, tuning, mixing)
Xiang An (illustrator, video editor)
Links
Niconico Broadcast • YouTube Broadcast

Background
Edit
"Forgotten Dreams" is an original song featuring Xin Hua. It is about a girl who remembers her school life and her friend.
Chinese (中文歌詞)
Pinyin (拼音)
一起走過的那一些年頭
Yiqi zouguo di na yixie niantou
打打鬧鬧的生活
Da da nao nao de shenghuo
感覺上 就像是一場夢
Ganjue shang jiu xiang shi yichang meng
赤著腳奔跑在大雨之中
Chizhe jiao benpao zai dayu zhi zhong
被老師抓去罰掃廁所
Bei laoshi zhua qu fa sao cesuo
各種愚蠢舉動
Gezhong yuchun judong


每天上演的各種不平凡
Meitian shangyan de gezhong bu pingfan
其實就是我們最平凡不過的生活
Qishi jiushi women zui pingfan buguo de shenghuo
但是就算是普通的平凡
Danshi jiusuan shi putong de pingfan
終究有成為不平凡的那天到來
Zhongjiu you chengwei bu pingfan di neitian daolai


午夜大雨墜落
Wuye dayu zhuiluo
流進人們的心中
Liu jin renmen de xinzhong
拼命的 填補著空虛的念頭
Pinming de tianbuzhe kongxu de niantou
思念湧進心頭
Sinian yong jin xintou
沖刷著內心中最脆弱最難過
Chongshuazhe neixin zhong zui cuiruo zui nanguo
最難忘懷的夢
Zui nanwang huai de meng


烏雲散去了之後
Wuyun san qu liao zhihou
同樣的那片天空
Tongyang di na pian tiankong
卻沒有 你們的陪伴在左右
Que meiyou nimen de peiban zai zuoyou
同樣的那個夢
Tongyang di nage meng
總有一天也會隨風飄走埋沒
Zong you yitian ye hui sui feng piao zou maimo
無名國度之中
Wuming guodu zhi zhong


曾經走過的那一些年頭
Cengjing zouguo di na yixie niantou
無理取鬧的生活
Wuliqunao de shenghuo
每天都 有各種事情做
Meitian du you gezhong shiqing zuo
不怕死的我們在屋頂上
Bupa si de women zai wuding shang
玩著滑板看著其他人
Wanzhe huaban kanzhe qita ren
摔得鼻青臉腫
Shuai de biqinglianzhong


每天做的各種瘋狂舉動
Meitian zuo de gezhong fengkuang judong
為黑白的生活增添了許多的色彩
Wei heibai de shenghuo zengtianle xuduo de secai
隨著時間洪流沖刷許久
Suizhe shijian hongliu chongshua xujiu
彩色的明天曾幾何時只剩下黑白
Caise de mingtian cengjiheshi zhi sheng xia heibai


午夜大雨墜落
Wuye dayu zhuiluo
敲醒夢境中的我
Qiao xing mengjing zhong de wo
朦朧中 熟悉身影出現前頭
Menglong zhong shuxi shenying chuxian qiantou
思念湧進心頭
Sinian yong jin xintou
訴說著內心中早已拋棄許久
Sushuozhe neixin zhong zaoyi paoqi xujiu
最渴望的生活
Zui kewang de shenghuo


迷霧散去了之後
Miwu san qu liao zhihou
房間裡頭只有我
Fangjian litou zhiyou wo
並沒有 你們的陪伴在左右
Bing meiyou nimen de peiban zai zuoyou
同樣的那場夢
Tongyang di na chang meng
總有天也會隨風飄走成為被
Zong you tian ye hui sui feng piao zou chengwei bei
遺忘的無名之夢
Yiwang de wuming zhi meng


午夜大雨墜落
Wuye dayu zhuiluo
流進人們的心中
Liu jin renmen de xinzhong
拼命的 填補著空虛的念頭
Pinming de tianbuzhe kongxu de niantou
思念湧進心頭
Sinian yong jin xintou
沖刷著內心中最脆弱最難過
Chongshuazhe neixin zhong zui cuiruo zui nanguo
最難忘懷的夢
Zui nanwang huai de meng


烏雲散去了之後
Wuyun san qu liao zhihou
同樣的那片天空
Tongyang di na pian tiankong
卻沒有 你們的陪伴在左右
Que meiyou nimen de peiban zai zuoyou
同樣的那個夢
Tongyang di nage meng
總有一天也會隨風飄走埋沒
Zong you yitian ye hui sui feng piao zou maimo
無名國度之中
Wuming guodu zhi zhong


午夜大雨墜落
Wuye dayu zhuiluo
敲醒夢境中的我
Qiao xing mengjing zhong de wo
朦朧中 熟悉身影出現前頭
Menglong zhong shuxi shenying chuxian qiantou
思念湧進心頭
Sinian yong jin xintou
訴說著內心中早已拋棄許久
Sushuozhe neixin zhong zaoyi paoqi xujiu
最渴望的生活
Zui kewang de shenghuo


迷霧散去了之後
Miwu san qu liao zhihou
房間裡頭只有我
Fangjian litou zhiyou wo
並沒有 你們的陪伴在左右
Bing meiyou nimen de peiban zai zuoyou
同樣的那場夢
Tongyang di na chang meng
總有天也會隨風飄走成為被
Zong you tian ye hui sui feng piao zou chengwei bei
遺忘的無名之夢
Yiwang de wuming zhi meng