Ad blocker interference detected!
Wikia is a free-to-use site that makes money from advertising. We have a modified experience for viewers using ad blockers

Wikia is not accessible if you've made further modifications. Remove the custom ad blocker rule(s) and the page will load as expected.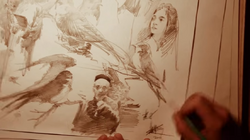 Song title
"燕子"
Pinyin: Yànzi
English: Swallow
Uploaded December 31, 2014, with 82,000+ views
Singer(s)
Luo Tianyi
Producer(s)
Nameless Club: Xiao Hua A Xiao Hua (music, lyrics, arrangement, video)
Bingshan (tuning)
Zhao Hua Qing(illustration)
Links
YouTube Broadcast (reprint)
bilibili Broadcast

Background
Edit
This song is an original Chinese VOCALOID song featuring Luo Tianyi. It is related to the song "兔子先生 (Tùzǐ Xiānshēng)". This song is based on the Chinese nursery rhyme "Little Swallow," commemorating the childhoods of those of the past.
Chinese (中文歌词)
Pinyin (拼音)
小时候
xiaoshihou
曾唱过的童谣
ceng changguo de tongyao
日复一日年复一年
ri fu yi ri nian fu yi nian
在心里萦绕
zai xinli yingrao
回过头
hui guotou
已是多少年纷扰
yi shi duo shao nian fenrao
可外婆家的秋千
ke waipo jia de qiuqian
依然还在摇
yiran hai zai yao


多少次
duoshao ci
总在梦里寻找
zong zai meng li xunzhao
曾经来不及珍惜的
cengjing laibuji zhenxi de
全都模糊了
quandou mohule
流过泪
liuguo lei
抬头看窗外喧嚣
taitou kan chuangwai xuanxiao
它从我眼前飞过
ta cong wo yanqian feiguo


像那首歌谣
xiang na shou geyao
燕子飞
yan zi fei
随着门前的流水
suizhe men qian de liushui
多少人的窗边
duoshao ren de chuang bian
都掠过一段回味
dou lüeguo yiduan huiwei
燕子归
yanzi gui
捎回童年的余味
shao hui tongnian de yuwei
直到此刻才懂它的美
zhidao cike cai dong ta di mei


小时候
xiaoshihou
曾唱过的童谣
ceng changguo de tongyao
日复一日 年复一年
ri fu yi ri nian fu yi nian
在心里萦绕
zai xinli yingrao
回过头
hui guotou
已是多少年纷扰
yi shi duo shao nian fenrao
可外婆家的秋千
ke waipo jia de qiuqian
依然还在摇
yiran hai zai yao


多少次
duoshao ci
总在梦里寻找
zong zai meng li xunzhao
曾经来不及珍惜的
cengjing laibuji zhenxi de
全都模糊了
quandou mohule
流过泪
liuguo lei
抬头看窗外喧嚣
taitou kan chuangwai xuanxiao
它从我眼前飞过
ta cong wo yanqian feiguo
像那首歌谣
xiang na shou geyao


燕子飞
yan zi fei
随着门前的流水
suizhe men qian de liushui
多少人的窗边
duoshao ren de chuang bian
都掠过一段回味
dou lüeguo yiduan huiwei
燕子归
yanzi gui
捎回童年的余味
shao hui tongnian de yuwei
直到此刻才懂它的美
zhidao cike cai dong ta di mei




燕子飞
yan zi fei
随着门前的流水
suizhe men qian de liushui
多少人的窗边
duoshao ren de chuang bian
都掠过一段回味
dou lüeguo yiduan huiwei
燕子归
yanzi gui
捎回童年的余味
shao hui tongnian de yuwei
直到此刻才懂它的美
zhidao cike cai dong ta di mei


一生一世我为它沉醉
yisheng yishi wo wei ta chenzui