Ad blocker interference detected!
Wikia is a free-to-use site that makes money from advertising. We have a modified experience for viewers using ad blockers

Wikia is not accessible if you've made further modifications. Remove the custom ad blocker rule(s) and the page will load as expected.
This song article is lacking a proper background. You can help by adding one! The relevant section in the Song Article Guideline is a good starting point, and this blog post may also be helpful. We apologize for the inconvenience this may cause in the meantime.

Song pages lacking proper backgrounds are automatically sorted into this category.
!

Warning:

This song contains questionable lyrics and themes; it may be inappropriate for younger audiences.

The Vocaloid Wiki does not have a policy on lyrical content or theme; however, it attempts to follow the Wikia TOU.
For further discussion see Thread:68883. Questionable songs are automatically sorted into this category.

!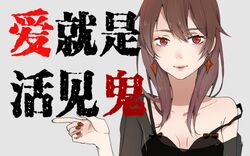 Song title
"爱就是活见鬼"
Traditional Chinese: 愛就是活見鬼
Pinyin: Ài Jiùshì Huójiànguǐ
English: Love is Nightmare
Uploaded January 14, 2016, with 150,000+ views
Singer(s)
Yuezheng Ling
Producer(s)
Jiang Wu Luan Wan (compose, arrange, guitar, lyrics, video editor)
Shuiwuyue Xuan (bass)
Mi Gao (illustrator)
Links
YouTube Broadcast (reprint)
bilibili Broadcast

Background
Edit
"Ài Jiùshì Huójiànguǐ" is an original song featuring Yuezheng Ling.
This song has exceeded 100,000 views on bilibili.
Chinese (中文歌词)
Pinyin (拼音)
准备好了吗?
Zhǔnbèi hǎole ma?
Hello 我是阿绫
Hello wǒ shì Ā Líng
这里需要一点high起来的味道
Zhèlǐ xūyào yīdiǎn high qǐlái de wèidào
come on 站起来
come on zhàn qǐlái
three two one, hey


抓一把枯叶撒向九霄云外
zhua yi ba ku ye sa xiang jiuxiaoyunwai
膀子甩开了才能落个自在
bangzi shuai kaile caineng luo ge zizai
开一道天眼再凿一沟地脉
kai yidao tianyan zai zao yi gou dimai
想什么呢 陶醉在自我为中心的后现代
xiang shenme ne taozui zai ziwo wei zhongxin de hou xiandai
wow Yeah


嘬一口hennesy再说人生百态
chuai yikou hennessy zaishuo rensheng bai tai
三巡还差一半怎么够痛快
san xun hai cha yiban zenme gou tongkuai
你若是安好何必惺惺作态
ni ruoshi an hao hebi xingxingzuotai
想什么呢 结局还不算太坏hey yeah
xiang shenme ne jieju hai bu suan tai huai hey yeah


Hello Hello 失恋不嫌多
Hello Hello shilian bu xian duo
即使一错再错也别让天命去背锅
jishi yi cuo zai cuo ye bie rang tianming qu bei guo
Hello Hello 谁来都不躲
Hello Hello shui lai dou bu duo
有能耐你就快收了我
you nengnai ni jiu kuai shoule wo


费洛蒙浅尝一嘴不敢回味
fei luo meng qianchang yi zui bu gan huiwei
哪来那么多天生一对
na lai name duo tiansheng yi dui
恋爱是下锅的水一点就沸
lian'ai shi xia guo de shui yidian jiu fei
到头来无色无味
daotoulai wu se wuwei
所以爱就是活见鬼
suoyi ai jiushi huojiangui
wow Yeah


once again come on
嘬一口hennesy再说人生百态
chuai yikou hennessy zaishuo rensheng bai tai
三巡还差一半怎么够痛快
san xun hai cha yiban zenme gou tongkuai
你若是安好何必惺惺作态
ni ruoshi an hao hebi xingxingzuotai
想什么呢 结局还不算太坏hey yeah
xiang shenme ne jieju hai bu suan tai huai hey yeah


Hello Hello 一句话概括
Hello Hello yiju hua gaikuo
谁缺爱谁消受谁束缚谁又去挣脱
shui que ai shui xiaoshou shui shufu shui you qu zhengtuo
Hello Hello 破罐子一个
Hello Hello po guanzi yige
再摔个两三次还是破 怎么破
zai shuai ge liang sanci haishi po zenme po


费洛蒙浅尝一嘴不敢回味
fei luo meng qianchang yi zui bu gan huiwei
哪来那么多天生一对
na lai name duo tiansheng yi dui
恋爱是下锅的水一点就沸
lian'ai shi xia guo de shui yidian jiu fei
到头来无色无味
daotoulai wu se wuwei
心灵鸡汤尝一嘴不想回味
xinling jitang chang yi zui buxiang huiwei
哪来那么多门当户对
na lai name duo mendanghudui
道理像黄沙一堆一吹就飞
daoli xiang huang sha yi dui yi chui jiu fei
敞不开心扉还催泪
chang bu kaixin fei hai cuilei
容我说一句所谓爱就是活见鬼
rong wo shuo yiju suowei ai jiushi huojiangui


别想那么多啦
Bié xiǎng nàme duō a


费洛蒙浅尝一嘴不敢回味
fei luo meng qianchang yi zui bu gan huiwei
哪来那么多天生一对
na lai name duo tiansheng yi dui
恋爱是下锅的水一点就沸
lian'ai shi xia guo de shui yidian jiu fei
到头来无色无味
daotoulai wu se wuwei
你看你三天三夜不醉不归
ni kan ni san tian san ye bu zui bu gui
淡漠了多少燕瘦环肥
danmole duoshao yan shou huan fei
你看你望穿秋水寂寞成堆
ni kan ni wangchuanqiushui jimo cheng dui
还非要说自己不累
hai fei yao shuo ziji bu lei
容我说一句所谓爱
rong wo shuo yiju suowei ai
所谓爱
suowei ai
所谓爱
suowei ai
所谓爱
suowei ai
所谓爱 还想什么呢
suowei ai hai xiang shenme ne
都是活见鬼
dou shi huojiangui