Ad blocker interference detected!
Wikia is a free-to-use site that makes money from advertising. We have a modified experience for viewers using ad blockers

Wikia is not accessible if you've made further modifications. Remove the custom ad blocker rule(s) and the page will load as expected.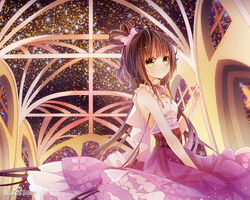 Song title
"爱神love song"
Traditional Chinese: 愛神love song
Pinyin: Àishén love song
English: Love Song of the Goddess of Love
Uploaded September 1, 2013, with 23,000+ views
Singer(s)
Luo Tianyi
Producer(s)
Qianyimohua-P (arrange, tuning)
GhostFinal (mixing)
Merlin (lyrics)
Ka­rei (illust)
Kreisee (PV)
Wang Chao (mastering)
Links
YouTube Broadcast (reprint)
bilibili Broadcast

Background
Edit
"Àishén love song" is an original Luo Tianyi song that is featured in the doujinshi album, First Step, and is followed by the song 怎么愛 (Zěnme Ài). It is about "grabbing the Venus and finding your loved one".
Be the lovers
All the lovers
Be my lover
All the lovers


Chinese (中文歌词)
Pinyin (拼音)
灾难预警 病菌入侵 躲不去 WOO
Zainan yujing bingjun ruqin duo bu qu WOO
分散个体 冷漠不语 在叹气 WOO
Fensan geti lengmo bu yu zai tanqi WOO
无论谁 都是平行 没有交集 WOO
Wulun shui dou shi pingxing meiyou jiaoji WOO
世界为敌 剩自己 身无所依 WOO
Shijie wei di sheng ziji shen wu suo yi WOO


再也不要向命运低头
Zai ye buyao xiang mingyun ditou
快牵住爱神的手 它让你不再一无所有
Kuai qian zhu ai shen de shou ta rang ni bu zai yiwusuoyou
对这世界大声说出口
Dui zhe shijie dasheng shuo chukou
快牵住爱神的手 她让你不再一无所有
Kuai qian zhu ai shen de shou ta rang ni bu zai yiwusuoyou


每颗心 跳动 去找寻
Mei ke xin tiaodong qu zhaoxun
在人群中相遇
Zai renqun zhong xiangyu
总有一个属于你
Zong you yige shuyu ni


每个人都无法独立对抗
Mei geren dou wufa duli duikang
神的领土 WOO YEAH
Shen de lingtu WOO YEAH
每个人都需要亲人爱人友人敌人
Mei geren dou xuyao qinren airen youren diren
依靠这所谓爱的力量紧密相依相存
Yikao zhe suowei ai de liliang jinmi xiangyi xiang cun
爱神的箭会留下伤口
Ai shen de jian hui liu xia shangkou
所以在愈合之前还是有些疼痛
Suoyi zai yuhe zhiqian haishi youxie tengtong
每个人都会在爱神的箭射中之后
Mei geren duhui zai ai shen de jian she zhong zhihou
害怕幸福偷偷溜走
Haipa xingfu toutou liu zou
害怕幸福偷偷溜走
Haipa xingfu toutou liu zou


灾难预警 病毒入侵 躲不去 WOO
Zainan yujing bingdu ruqin duo bu qu WOO
分散个体 冷漠不语 在叹气 WOO
Fensan geti lengmo bu yu zai tanqi WOO
无论谁都 是平行 没有交集 WOO
Wulun shui dou shi pingxing meiyou jiaoji WOO
世界为敌 剩自己 身无所依 WOO
Shijie wei di sheng ziji shen wu suo yi WOO


再也不要向命运低头
Zai ye buyao xiang mingyun ditou
快牵住爱神的手 她让你不再一无所有
Kuai qian zhu ai shen de shou ta rang ni bu zai yiwusuoyou
对这世界大声说出口
Dui zhe shijie dasheng shuo chukou
快牵住爱神的手 她让你不再一无所有
Kuai qian zhu ai shen de shou ta rang ni bu zai yiwusuoyou


每颗心 跳动 去找寻
Mei ke xin tiaodong qu zhaoxun
在人群中相遇
Zai renqun zhong xiangyu
总有一个属于你
Zong you yige shuyu ni


每个人都无法独立对抗
Mei geren dou wufa duli duikang
神的领土 WOO YEAH
Shen de lingtu WOO YEAH
每个人都需要亲人爱人友人敌人
Mei geren dou xuyao qinren airen youren diren
依靠这所谓爱的力量紧密相依相存
Yikao zhe suowei ai de liliang jinmi xiangyi xiang cun
爱神的箭会留下伤口
Ai shen de jian hui liu xia shangkou
所以在愈合之前还是有些疼痛
Suoyi zai yuhe zhiqian haishi youxie tengtong
每个人都会在爱神的箭射中之后
Mei geren duhui zai ai shen de jian she zhong zhihou
害怕幸福偷偷溜走
Haipa xingfu toutou liu zou
didididi
Be the lovers
All the lovers
Be my lover
All the lovers