Ad blocker interference detected!
Wikia is a free-to-use site that makes money from advertising. We have a modified experience for viewers using ad blockers

Wikia is not accessible if you've made further modifications. Remove the custom ad blocker rule(s) and the page will load as expected.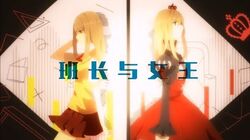 Song title
"班长与女王"
Traditional Chinese: 班長與女王
Pinyin: Bānzhǎng Yǔ Nǚwáng
English: Class Monitor and Queen
Uploaded January 7, 2015, with 160,000+ views
Singer(s)
Luo Tianyi
Producer(s)
Sya (lyrics, music, arrangement, tuning, illustration, video)
Special thanks: Ye aya San
Links
YouTube Broadcast (reprint)
bilibili Broadcast
5SING Broadcast

Background
Edit
This song is an original Chinese VOCALOID song featuring Luo Tianyi. It talks about the story of a female class monitor named Jia Shi (佳实), a character in the VOCALOID song series, A-side, by Sya, and a queen, a fictional character in a novel written by Jia Shi.
This song has exceeded 100,000 views.
Chinese (中文歌词)
Pinyin (拼音)
层叠的作业一本都不能缺少
cengdie de zuoye yi ben dou buneng queshao
本周四班会各就各位准备好
ben zhou si banhui gejiugewei zhunbei hao
人手一张纸请大家准备投票
renshou yi zhang zhi qing dajia zhunbei toupiao
虽然结果早已被预料
suiran jieguo zaoyi bei yuliao
今年又被束搏在班长这无聊名号
jinnian you bei shu bo zai banzhang zhe wuliao ming hao
为竖立所谓威严放弃独立思考
wei shuli suowei weiyan fangqi duli sikao
带上不符合年龄的面具
dai shang bu fuhe nianling de mianju
停止玩乐抑制住微笑 稍息立正按纪律站好
tingzhi wanle yizhi zhu weixiao shao xi lizheng an jilü zhan hao
这是我们最新的目标
zhe shi women zuixin de mubiao


作为一班之长 被羡慕或胆怯的眼神围绕
zuowei yi ban zhi chang bei xianmu huo danqie de yanshen weirao
墙上金色奖状 日夜努力贡献印刻在薄薄纸上
qiang shang jinse jiangzhuang riye nuli gongxian yinke zai bao bo zhi shang
模糊的手掌把真实想法伪装
mohu de shouzhang ba zhenshi xiangfa weizhuang
利用责任感支撑颤抖的心脏
liyong zerengan zhicheng chandou de xinzang
空教室只剩下 光鲜后孤独身影
kong jiaoshi zhi sheng xia guangxian hou gudu shenying
支撑无力倒下
zhicheng wuli dao xia


成叠的奏章一张都不能缺少
cheng die de zouzhang yi zhang dou buneng queshao
本周的会议围成一桌开始讲
ben zhou de huiyi wei cheng yi zhuo kaishi jiang
城外敌人已快攻陷坚固的墙
cheng wai diren yi kuai gongxian jiangu de qiang
形势出乎所有人预料
xingshi chu hu suoyou ren yuliao
会永远被束搏在女王这悲惨名号
hui yongyuan bei shu bo zai nüwang zhe beican ming hao
为竖立所谓威严放弃纯真外貌
wei shuli suowei weiyan fangqi chunzhen waimao
带上不符合年龄的面具
dai shang bu fuhe nianling de mianju
发号施令隐藏起微笑 快马加鞭将命令通报
fahaoshiling yincang qi weixiao kuaimajiabian jiang mingling tongbao
守护时刻将提前来到
shouhu shike jiang tiqian lai dao


作为一国之王 被期待或争议的流言围绕
zuowei yi guozhi wang bei qidai huo zhengyi de liuyan weirao
殿前先王画像 胆战心惊生活不流露惊恐悲伤
dian qian xianwang huaxiang danzhanxinjing shenghuo bu liulu jingkong beishang
冷酷的话语把真实想法伪装
lengku de huayu ba zhenshi xiangfa weizhuang
利用责任感支撑颤抖的心脏
li yong zerengan zhicheng chandou de xinzang
前方战士倒下 大殿中孤独身影
qianfang zhanshi dao xia dadian zhong gudu shenying
平静面对死亡
pingjing mian dui siwang


最终结局会是怎么样 无人理睬会被遗忘吧
zuizhong jieju hui shi zenme yang wu ren licai hui bei yiwang ba


只有一个人的空荡病房
zhiyou yige ren de kong dang bingfang
传来犹豫不决敲门声响
chuan lai youyu bu jue qiao men shengxiang
曾经不屑害怕的同学将红色花束献上
cengjing buxie haipa de tongxue jiang hongse huashu xianshang
睁开绝望空洞的眼眸
zheng kai juewang kongdong de yan mou
士兵围成保护的人墙
shibing wei cheng baohu de ren qiang
曾经反对的官员大臣拼死护送王到安全林郊
cengjing fandui de guanyuan dachen pinsi husong wang dao anquan lin jiao


已经不用忍耐了吧 积攒成河的眼泪瞬间挥洒
yijing buyong rennaile ba jizan chenghe de yanlei shunjian huisa
不要独自承担 赐予信任你的人共同快乐悲伤
buyao duzi chengdan ciyu xinren ni de ren gongtong kuaile beishang
真的可以吗露出柔弱的肩膀
zhen de keyi ma luchu rouruo de jianbang
卸下早已压垮底线的重压
xie xia zaoyi ya kua dixian de zhong ya
此世间的班长 彼世间的女王
ci shijian de banzhang bi shijian de nüwang
解放心中迷茫
jiefang xinzhong mimang
External links
Edit
| | |
| --- | --- |
| | Articles |
| | |
| --- | --- |
| | Downloads |