Ad blocker interference detected!
Wikia is a free-to-use site that makes money from advertising. We have a modified experience for viewers using ad blockers

Wikia is not accessible if you've made further modifications. Remove the custom ad blocker rule(s) and the page will load as expected.
!

Warning:

This song contains questionable lyrics and themes; it may be inappropriate for younger audiences.

The Vocaloid Wiki does not have a policy on lyrical content or theme; however, it attempts to follow the Wikia TOU.
For further discussion see Thread:68883. Questionable songs are automatically sorted into this category.

!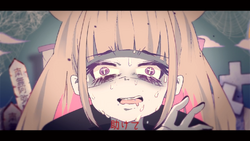 Song title
"生きてるおばけは生きている"
Romaji: Ikiteru Obake wa Ikiteiru
Official English: Living ghost is alive
Uploaded Feb 19, 2016, with 87,600+ (NND) and 59,700+ (YT) views
Singer(s)
flower
Producer(s)
Utsu-P (compose, arrange, lyrics)
Norainu (video)
Links
Niconico Broadcast • YouTube Broadcast

Background
Edit
"
flower can't seem to communicate.
"
 

— Author's comment
This song is Utsu-P's 46th published original song and is featured on flower's second album Ichigo Ichie. It depicts a girl that was buried alive.
Japanese (日本語歌詞)
Romaji (ローマ字)
おばけ おばけ おばけが 死んだと思ったら生きている
obake obake obake ga shinda to omottara ikiteiru
おばけ おばけ おばけが 逝ったと思ったら死んでいない
obake obake obake ga otta to omottara shindeinai
おばけ おばけ おばけが 消えたと思ったらそこにいる
obake obake obake ga kieta to omottara sokoniiru
おばけ おばけ おばけだ 生きてるおばけは生きている
obake obake obake ga ikiteru obake wa ikiteiru


(だだだだだぎゃー!!)
(da da da da da gyaa!!)
生まれてからずっと 何もなく生きている
umarete kara zutto nanmo naku ikiteiru
のんべんだらりと 何もすることなく
nonbendarari to nani mo suru koto naku
意識の棺に 閉じ込められている
ishiki no hitsugi ni tojikome rareteiru
おばけは生きてる 膨大な時間だらっと生きている
obake wa ikiteru boudaina jikan dara tto ikiteiru


いや、みんな何やってんの
iya, minna nani yatten no
僕そんなんじゃないと この暗晦の中で喚いている
boku sonnan ja nai to kono ake no naka de wameiteiru
恥も外聞もなくなって 声出そうとしても
haji mo gaibun mo nakunatte koe dasou toshite mo
喉より外に飛び出してくんないよ
nodo yori soto ni tobidashite kunnai yo
霊障も干渉も出来ない 伝わんない
reishou mo kanshou mo dekinai tsutawan nai
誤解が燃え広がってゆく
gokai ga moehirogatte yuku
助けて 助けて 助けて 誰か
tasukete tasukete tasukete dare ka


我 生存中 我 生存中
ga seizon chuu ga seizon chuu
我 生存中 我 生存中 まだ
ga seizon chuu ga seizon chuu mada


おばけと言えど 感覚や感情はある
obake to iedo kankaku ya kanjou wa aru
懸命に藻掻いている 瞼をこじ開けて生きている
kenmei ni mo kaiteiru mabuta o kojiakete ikiteiru


いや、みんな何やってんの 何弔ってんの
iya, minna nani yatten no nani tomuratten no
まだ元気でやってんだけど僕
mada genki de yatten dakedo boku
コミュニケーションの不全は 絶命と同じ
komyunikeeshon no fuzen wa zetsumei to onaji
横たわる僕が運ばれてゆく
yokotawaru boku ga hakobarete yuku
霊障も干渉も出来ない 伝わんない
reisho mo kanshou mo dekinai tsutawannai
誤解が燃え広がってゆく ついに棺に飛び火
gokai ga moehirogatte yuku tsui ni hitsugi ni tobihi
助けて 助けて 助けて
tasukete tasukete tasukete


おばけ おばけ おばけが 死んだと思ったら生きている
obake obake obake ga shinda to omottara ikiteiru
おばけ おばけ おばけが 逝ったと思ったら死んでいない
obake obake obake ga itta to omottara shindeinai
おばけ おばけ おばけが 消えたと思ったらそこにいる
obake obake obake ga kieta to omottara sokoniiru
おばけ おばけ おばけだ 生きてるおばけは生きていた
obake obake obake ga ikiteru obake wa ikiteita
External links
Edit
| | |
| --- | --- |
| | Articles |
| | |
| --- | --- |
| | Downloads |