This song article is lacking a proper background. You can help by adding one! The relevant section in the Song Article Guideline is a good starting point, and this blog post may also be helpful. We apologize for the inconvenience this may cause in the meantime.

Song pages lacking proper backgrounds are automatically sorted into this category.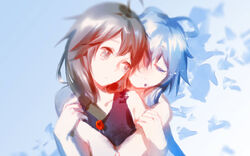 Song title
"白夜梦
Traditional Chinese: 白夜夢
Pinyin: Báiyè Mèng
English: White Night Dream
Uploaded July 15, 2016, with 127,000+ (BB) & 300+ (YT) views
Singer(s)
Luo Tianyi, Yuezheng Ling
Producer(s)
Atunemic (compose, arrange, tuning)
Ye Qiuchi (lyrics)
Sanmu YYB (illustrator)
Nil (filming)
NekoLoco (video editor)
Links
YouTube Broadcast
bilibili Broadcast
Backgound
Edit
"Báiyè Mèng" is an original song featuring Luo Tianyi and Yuezheng Ling.
This song exceeded 100,000 views on bilibili.
| | | | |
| --- | --- | --- | --- |
| Singer | Tianyi | Ling | Both |
| Color | 66CCFF | Crimson | Black |
Chinese (中文歌词)
Pinyin (拼音)

满城喧嚣 热闹的下雨天

man cheng xuanxiao renao de xia yutian

钟声伴随了 整个午夜

zhong sheng bansuile zhengge wuye

欢声笑语 将我彷徨浮现

huansheng xiaoyu jiang wo fanghuang fuxian

孤单挟持 赴一场盛宴

gudan xiechi fu yi chang shengyan




淋湿的思念 扩散着蔓延

lin shi de sinian kuosanzhe manyan

而我如同木偶 在表演

er wo rutong mu'ou zai biaoyan

在自导自演 妄想直到永远

zai zi dao ziyan wangxiang zhidao yongyuan

台灯也嘲笑着明灭

taideng ye chaoxiaozhe mingmie




已成瘾的刻骨 戒不掉 熄不灭

yi cheng yin de kegu jie bu diao xi bu mie

逃不掉的白夜 该远离 还依恋

tao bu diao de baiye gai yuanli hai yilian

天空 将思与念 都分解

tiankong jiang si yu nian dou fenjie

渗透进全世界 海角天边

shentou jin quan shijie hai jiao tianbian




紧握 彼此间的 子午线

jin wo bici jian de ziwuxian

相隔那么遥远 还坚持 不停歇

xiangge name yaoyuan hai jianchi bu tingxie

空虚 却想抵过那岁月

kongxu que xiang diguo na suiyue

那荒漠寂寥无边 也流连

na huangmo jiliao wubian ye liulian




冬生夏阳 秋池结霜

dong sheng xiayang qiuchi jie shuang

这四季景色其实一样

zhe siji jingse qishi yiyang

敌不过时光

di buguo shiguang

伶仃成泥浆
lingding cheng nijiang



和世界共享 情感分界线

he shijie gongxiang qinggan fen jiexian

只想你能快乐的执念

zhi xiang ni neng kuaile de zhi nian

那些单箭头 的无望爱恋

naxie dan jiantou de wuwang ailian

就是我在将 未来预演

jiushi wo zai jiang weilai yuyan




看着你侧脸 将自己催眠

kanzhe ni ce lian jiang ziji cuimian

微笑就会让 呼吸搁浅

weixiao jiu hui rang huxi geqian

只要能和你 还能路过擦肩

zhiyao neng he ni hai neng luguo ca jian

就算再远 心也情愿

jiusuan zai yuan xin ye qingyuan




已成瘾的刻骨 戒不掉 熄不灭

yi cheng yin de kegu jie bu diao xi bu mie

逃不掉的白夜 该远离 还依恋

tao bu diao de baiye gai yuanli hai yilian

天空 将思与念 都分解

tiankong jiang si yu nian dou fenjie

渗透进全世界 海角天边

shentou jin quan shijie hai jiao tianbian




紧握 彼此间的 子午线

jin wo bici jian de ziwuxian

相隔那么遥远 还坚持 不停歇

xiangge name yaoyuan hai jianchi bu tingxie

空虚 却想抵过那岁月

kongxu que xiang diguo na suiyue

那荒漠寂寥无边 也流连

na huangmo jiliao wubian ye liulian




已成瘾的刻骨熄不灭

yi cheng yin de kegu xi bu mie

逃不掉的白夜该远离还依恋

tao bu diao de baiye gai yuanli hai yilian

天空将思与念都分解

tiankong jiang si yu nian dou fenjie

渗透进全世界海角天边

shentou jin quan shijie hai jiao tianbian




紧握彼此间的子午线

jin wo bici jian de ziwu xian

相隔那么遥远还坚持不停歇

xiangge name yaoyuan hai jianchi bu tingxie

空虚却想抵过那岁月

kongxu que xiang diguo na suiyue

那荒漠寂寥无边也流连

na huangmo jiliao wubian ye liulian




绚烂烟火 夜色绚丽

xuanlan yanhuo yese xuanli

你的剪影 幻化成琉璃

ni de jianying huanhua cheng liuli

让它去散落

rang ta qu sanluo

在这白夜里
zai zhe baiye li
External links
Edit
| | |
| --- | --- |
| | Articles |