This song article is lacking a proper background. You can help by adding one! The relevant section in the Song Article Guideline is a good starting point, and this blog post may also be helpful. We apologize for the inconvenience this may cause in the meantime.

Song pages lacking proper backgrounds are automatically sorted into this category.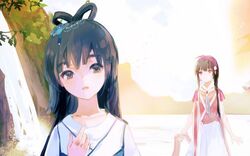 Song title
"白石溪"
Pinyin: Báishí Xī
English: White Stone Creek
Uploaded January 27, 2016, with 443,000+ (BB) / 5,000+ (YT) views
Singer(s)
Luo Tianyi, Yuezheng Ling
Producer(s)
Chunbai-P (compose, arrange)
Guozhi Liangcai (lyrics)
Moth (illustrator)
Irecorder (mixing)
A Cha (erhu)
Xi Dousha (video editor)
Links
YouTube Broadcast
bilibili Broadcast
Background
Edit
"Báishí Xī" is an original duet song featuring Luo Tianyi and Yuezheng Ling.
This song has exceeded 100,000 views on bilibili.
Succeeding versions
Edit
白·棠·彩 Remix

Featuring
Luo Tianyi, Yuezheng Ling, Stardust, Xin Hua
Author(s)
Chunbai-P (compose, lyrics), Ze Ye Hongzhi (arrange), Guozhi Liangcai (lyrics), Wei Cai Zhi Yi (lyrics), digger (tuning), Huar Bu Ku (tuning), Irecorder (mixing), Lu Qi (cover)
Category
Succeeding version, remix
| | | | |
| --- | --- | --- | --- |
| Singer | Tianyi | Ling | Both |
| Color | 66CCFF | Crimson | Black |
Chinese (中文歌詞)
Pinyin (拼音)

微露點滴 沾衿落袖

wei ludian di zhan jin luo xiu

麗日綽約 輕解蓮舟

li ri chuoyue qing jielianzhou

蒹葭榮茂 燕雀啁啾

jianjia rong mao yanque zhao jiu

白石溪畔 斜陽逐流

baishi xi pan xieyang zhu liu




可嫌金風玉露

兼程久

ke xian jin feng yulu

jiancheng jiu

靈犀心念

便相謀

lingxi xin nian

bian xiang mou

前路崎岖躞蹀攀援

亦同守

qian lu qiqu xie die panyuan

yi tong shou

共你百年暮昏

到白晝

gong ni bainian mu hun

dao baizhou

依山臨水

景看舊

yi shan lin shui

jing kan jiu

而你美勝山水萬籌

盡入一人眸

er ni mei shengshan shui wan chou

jin ru yiren mou


琴瑟願與 共沐春秋
qinse yuan yu gong mu chunqiu
滢溪潺潺 炊煙悠悠
ying xi chanchan chuiyan youyou
敢請東風 玉成雙偶
gan qing dongfeng yucheng shuang ou
遙遞佳信 知否知否
yao di jia xin zhi fou zhi fou


爲理雲鬓 爲簪銀鈎
wei li yunbin wei zan yin gou
明月可鑒 情深亦壽
mingyue ke jian qing shen yi shou
此生相依 人間白首
cisheng xiang yi renjian bai shou
千金不易 清茶淡粥
qianjin buyi qingcha dan zhou



前緣既斷 便再無求

qian yuan ji duan bian zai wu qiu

雲泥之異 難越鴻溝

yunni zhi yi nan yue honggou

相思不掃 久積彌厚

xiangsi bu sao jiuji mi hou

他年君歸 我葬南丘

ta nian jun gui wo zang nanqiu




逢春枯木忽生

花飛柳

feng chun kumu hu sheng

hua fei liu

紛紛綿綿

結作愁

fenfen mianmian

jie zuo chou

隨風四散卻又輕易

染眉頭

sui feng sisan que you qingyi

ran meitou

當時一雙鴛鴦

入深藕

dangshi yi shuang yuanyang

ru shen ou

荷香繞水

樂同遊

he xiang rao shui

le tong you

月下花前本來無酒

對看竟忘憂

yue xia hua qian benlai wu jiu

dui kan jing wang you



何年何夕 兩相執手

he nian he xi liang xiang zhi shou

蝕骨相思 風侵寒透

shi gu xiang si feng qin han tou

仙人近側 怕倚小樓

xianren jin ce pa yi xiao lou

金縷爲籠 歌樂成囚

jin lü wei long ge yue cheng qiu




涼夜淒長 應怨更漏

liangye qi zhang ying yuan geng lou

數得千枚 零落紅豆

shu de qian mei lingluo hongdou

遺君一心 一心怎收

yi jun yixin yixin zen shou

杳渺音絕 余我孤奏

yao miao yin jue yu wo gu zou



何年何夕 共沐春秋
he nian he xi gong mu chunqiu
銀漢邈邈 炊煙悠悠
yinhan niaoniao chuiyan youyou
敢請東風 小住暫留
gan qing dongfeng xiao zhu zan liu
托書天地 安否安否
tuo shu tiandi anfou anfou


塵心如練 長懸銀鈎
chenxinru lian zhang xuan yin gou
魚雁不聞 斯人難候
yuyan bu wen si ren nan hou
九霄一曲 人間白首
jiuxiao yi qu renjian bai shou
隔世相問 憶否憶否
geshi xiang wen yi fou yi fou