Ad blocker interference detected!
Wikia is a free-to-use site that makes money from advertising. We have a modified experience for viewers using ad blockers

Wikia is not accessible if you've made further modifications. Remove the custom ad blocker rule(s) and the page will load as expected.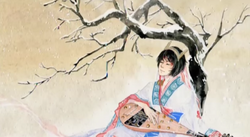 Song title
"白雪歌"
Pinyin: Báixuě Gē
English:Snow Song
Uploaded March 6, 2014, with 160,000+ views
Singer(s)
YANHE
Producer(s)
JUSF (compose, arrange, tuning)
Zongzi (inscription)
Cen Can (lyrics, original poet)
Weishanzi Yao Mai Shanzi (illustration)
Links
YouTube Broadcast (reprint)
bilibili Broadcast

Background
Edit
"Báixuě Gē" is a song featuring YANHE. The song is based on the poem, "Báixuě Gē Sòng Wǔ Pànguān Guī Jīng" (白雪歌送武判官歸京), written by Cen Can of the Tang dynasty.
This song has exceeded 100,000 views on bilibili.
Chinese (中文歌词)
Pinyin (拼音)
北風卷地白草折 胡天八月即飛雪
Beifeng juan de bai cao zhe hu tian ba yue ji fei xue
忽如一夜春風來 千樹萬樹梨花開
Hu ru yiye chunfeng lai qian shu wan shu lihua kai


散入珠簾濕羅幕 狐裘不暖錦衾薄
San ru zhu lian shi luo mu hu qiu bu nuan jin qin bao
將軍角弓不得控 都護鐵衣冷難著
Jiangjun jiao gong bude kong du hu tie yi leng nanzhe
北風卷地白草折 胡天八月即飛雪
Beifeng juan de bai cao zhe hu tian ba yue ji fei xue
忽如一夜春風來 千樹萬樹梨花開
Hu ru yiye chunfeng lai qian shu wan shu lihua kai


散入珠簾濕羅幕 狐裘不暖錦衾薄
San ru zhu lian shi luo mu hu qiu bu nuan jin qin bao
將軍角弓不得控 都護鐵衣冷難著
Jiangjun jiao gong bude kong du hu tie yi leng nanzhe
瀚海闌干百丈冰 愁雲慘淡萬里凝
Hanhai langan baizhang bing chouyun candan wanli ning
中軍置酒飲歸客 胡琴琵琶與羌笛
Zhong jun zhijiu yin gui ke huqin pipa yu qiangdi


北風卷地白草折 胡天八月即飛雪
Beifeng juan de bai cao zhe hu tian ba yue ji fei xue
忽如一夜春風來 千樹萬樹梨花開
Hu ru yiye chunfeng lai qian shu wan shu lihua kai
紛紛暮雪下轅門 風掣紅旗凍不翻
Fenfen muxue xia yuanmen feng che hongqi dong bu fan
輪台東門送君去 去時雪滿天山路
Lun taidong men song jun qu qu shi xue man tian shanlu
山回路轉不見君 雪上空留馬行處
Shan huilu zhuan bujian jun xue shangkong liu ma xing chu