!

Warning:

This song contains questionable lyrics and themes; it may be inappropriate for younger audiences.

The Vocaloid Wiki does not have a policy on lyrical content or theme; however, it attempts to follow the Wikia TOU.
For further discussion see Thread:68883. Questionable songs are automatically sorted into this category.

!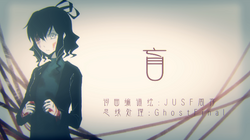 Song title
"盲"
Pinyin: Máng
Official English: Blind
Uploaded November 12, 2015, with 350,000+ views
Singer(s)
Luo Tianyi
Producer(s)
JUSF (compose, arrange, lyrics, illustrator, tuning, mixing)
GhostFinal (mixing)
Sya (video editor)
Links
YouTube Broadcast (reprint)
bilibili Broadcast

Background
Edit
"Máng" is an original Luo Tianyi song.
This song has exceeded 100,000 views on bilibili.
Succeeding versions
Edit
Xin Hua's Short Cover

| | |
| --- | --- |
| Featuring | Xin Hua |
| Author(s) | JUSF |
| Category | Succeeding version |
Chinese (中文歌词)
Pinyin (拼音)
时时想起
shishi xiangqi
寸步难行
cunbunanxing
叩问自己
kou wen ziji
无人回应
wu ren huiying
若我离去
ruo wo li qu
若我死去
ruo wo siqu
枯萎于这幽暗的井底
kuwei yu zhe you'an de jing di
长眠不醒
changmian bu xing


鲜花座椅
xianhua zuo yi
弥漫香馨
miman xiang xin
乐趣享尽
lequ xiang jin
致我的心
zhi wo de xin
宣判来临
xuanpan lailin
列队而进
liedui er jin
乞吻那对腐烂的翅羽
qi wen na dui fulan de chi yu
等待黎明
dengdai liming


记住的忘记的想念的憎恶的
ji zhu de wangji de xiangnian de zengwu de
郁结在心中欲呼喊
yujie zai xinzhong yu huhan
恶意的善意的有序的杂乱的
eyi de shanyi de you xu de zaluan de
锁住那苍白的称赞
suo zhu na cangbai de chengzan
揣测着诬陷着织就着诅咒着
chuaicezhe wuxianzhe zhi jiuzhe zuzhouzhe
不过是生命的必然
buguo shi shengming de biran
索取所爱并加害
suoqu suo ai bing jiahai


记住的忘记的想念的憎恶的
ji zhu de wangji de xiangnian de zengwu de
郁结在心中欲呼喊
yujie zai xinzhong yu huhan
恶意的善意的有序的杂乱的
eyi de shanyi de you xu de zaluan de
锁住那苍白的称赞
suo zhu na cangbai de chengzan
揣测着诬陷着织就着诅咒着
chuaicezhe wuxianzhe zhi jiuzhe zuzhouzhe
不过是生命的必然
buguo shi shengming de biran
索取所爱并加害
suoqu suo ai bing jiahai
External links
Edit
| | |
| --- | --- |
| | Lyrics |