This song article is lacking a proper background. You can help by adding one! The relevant section in the Song Article Guideline is a good starting point, and this blog post may also be helpful. We apologize for the inconvenience this may cause in the meantime.

Song pages lacking proper backgrounds are automatically sorted into this category.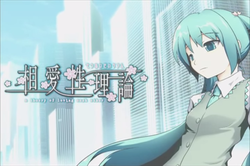 Song title
"相愛性理論"
Romaji: Sou Ai Sei Ri Ron
English: The Theory of Loving Each other
Uploaded April 14, 2009, with 694,380+ (NND), 186,110+ (YT) views
Singer(s)
Hatsune Miku
Producer(s)
DECO*27 (music, lyrics, arrangement, mixing, recording, electric guitar, synthesizer, programming)
Ryo Uemura (mastering)
Saji (illust, director, planner)
woose (logo designer)
Maque (motion designer)
Links
Niconico Broadcast • YouTube Broadcast (official)
YouTube Broadcast (reprint, English subs)

Background
Edit
"Sou Ai Sei Ri Ron" is an original song by DECO*27 featuring Hatsune Miku.
This song is featured in DECO*27's album, Sou Ai Sen Ri Ron, DECO*27 VOCALOID COLLECTION 2008~2012 and Sou Ai -so i-.
This song has entered the Hall of Fame and has exceeded over 100,000 views.
Japanese (日本語歌詞)
Romaji (ローマ字)
例えばどちらかが 好きになったとして
tatoeba dochira ka ga suki ni natta to shite
それを終わりと言うなら 始まりはどこでしょうか
sore wo owari to iu nara hajimari wa doko deshou ka
例えばどちらかが 好きを辞めたとして
tatoeba dochira ka ga suki wo yameta to shite
それが終わりと言うなら 始まりはどこでしょうか
sore ga owari to iu nara hajimari wa doko deshou ka


始まりがどこにもないように
hajimari ga doko ni mo nai you ni
終わりもどこにもありません
owari mo doko ni mo arimasen
想いは誰にも見えないから
omoi wa dare ni mo mienai kara
このように歌にしてみたのです
kono you ni uta ni shite mita no desu


「好きだよ」と言う度に 増える「好き」の気持ちは
"suki da yo" to iu tabi ni fueru "suki" no kimochi wa
きっと僕が死ぬまで 伝えきれないけど
kitto boku ga shinu made tsutaekirenai kedo
君は云う「それ以上は幸せすぎて死んじゃうから。」
kimi wa iu "sore ijou wa shiawase sugite shinjau kara."


例えはつまらないので廃止しました
tatoe wa tsumaranai no de haishi shimashita
申し訳「いや、てかなんつーか難しい言い方は止めにするわ」
moushiwake "iya, teka nantsuuka muzukashii iikata wa yame ni suru wa"


互いを想い合うように
tagai wo omoi au you ni
笑い、傷付け合うように
warai, kizutsuke au you ni
ぶつかり合う片思いが
butsukari au kataomoi ga
競り合って両想いになるように
seriatte ryou omoi ni naru you ni


「好きだよ」と言う前に触れる 君の気持ちに
"suki da yo" to iu mae ni fureru kimi no kimochi ni
見た事あるアホ面
mita koto aru aho men
「あれ…?僕だ…。」
"are…? boku da…."
「ねえお願い…。キミといると、死んじゃうかも。」
"nee onegai…. kimi to iru to, shinjau kamo."


「好きだよ」と言う度に 増える「好き」の気持ちは
"suki da yo" to iu tabi ni fueru "suki" no kimochi wa
きっと僕が死ぬまで…
kitto boku ga shinu made…
いや、死んでも残さず届けるよ 君がいなくなる前に
iya, shinde mo nokosazu todokeru yo kimi ga inaku naru mae ni


「良いよ?」
"ii yo?"
「いいの?僕なんかで。」
"ii no? boku nanka de."
「いいの。もっと好きになって。」
"ii no. motto suki ni natte."


僕ら終わらないように
bokura owaranai you ni
External links
Edit
| | |
| --- | --- |
| | Articles |
| | |
| --- | --- |
| | Lyrics |