Ad blocker interference detected!
Wikia is a free-to-use site that makes money from advertising. We have a modified experience for viewers using ad blockers

Wikia is not accessible if you've made further modifications. Remove the custom ad blocker rule(s) and the page will load as expected.
The following song article is still a work in progress. For information on how to help, see the song article guideline. We apologize for the inconvenience this may cause in the meantime.

What is being worked on?

Needs background, official Japanese lyrics.

Work-in-progress song pages are automatically sorted into this category.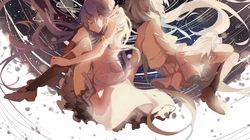 Song title
"神的女儿们"
Traditional Chinese: 神的女兒們
Pinyin: Shén de Nǚ'érmen
English: Daughters of God
Uploaded August 10, 2015, with 150,000+ views
Singer(s)
Xin Hua
Producer(s)
湯ん (compose, arrange)
Mu Rong Feng (lyrics, screenplay)
Cha Cha (illustrator)
Digger (tuning)
Kongse Huan Zou (video editor)
Links
YouTube Broadcast (reprint)
bilibili Broadcast

Background
Edit
"Shén de Nǚ'érmen" is an original song featuring Xin Hua.
This song has exceeded 100,000 views on bilibili.
Succeeding versions
Edit
Miku's Japanese Version

| | |
| --- | --- |
| Featuring | Hatsune Miku |
| Author(s) | 湯ん (compose, arrange), Mu Rong Feng (lyrics, screenplay), Cha Cha (illustrator), Digger (tuning), Kongse Huan Zou (video editor) |
| Category | VOCALOID cover, succeeding version |
Chinese (中文歌詞)
Pinyin (拼音)
陌生的世界中她孤單的醒來
Mosheng de shijie zhong ta gudan de xing lai
緊握著時間 即使終將離開
Jin wozhe shijian jishi zhong jiang likai
交織在幻想與現實中的所有期待
Jiaozhi zai huanxiang yu xianshi zhong de suoyou qidai
追尋著明天 收穫不同的精彩
Zhuixunzhe mingtian shouhuo butong de jingcai
如同人偶般遲鈍的這個軀殼
Rutong ren ou ban chidun de zhege quke
記錄著誕生 直到離開的那一刻
Jiluzhe dansheng zhidao likai di na yike
塵封許久的記憶與歌聲一同綻放
Chenfeng xujiu de jiyi yu gesheng yitong zhanfang
撥開了迷霧 衝脫灰色的迷惘
Bo kaile miwu chong tuo huise de miwang


播種在這世界的希望 正悄悄綻放花蕾
Bozhong zai zhe shijie de xiwang zheng qiaoqiao zhanfang hualei
歌唱著飄散在記憶中閃爍的光芒 就這樣駛向了遠方
Gechangzhe piaosan zai jiyi zhong shanshuo de guangmang jiu zheyang shi xiangle yuanfang


渴望著天空的女孩 黑夜降臨前輕聲許下願望
Kewangzhe tiankong de nühai heiye jianglin qian qingsheng xu xia yuanwang
悵然若失的她 期待著滿載快樂的時光
Changranruoshi de ta qidaizhuo manzai kuaile de shiguang
憧憬著平凡的女孩 在夢想的土壤之中悄然生長
Chongjingzhe pingfan de nühai zai mengxiang de turang zhi zhong qiaoran shengzhang
充滿了陌生的孤寂的世界早已忘卻少年的模樣
Chongmanle mosheng de guji de shijie zaoyi wangque shaonian de muyang


陌生的世界中他孤單的醒來
Mosheng de shijie zhong ta gudan de xing lai
緊握著時間 即使終將離開
Jin wozhe shijian jishi zhong jiang likai
交織在幻想與現實中的所有期待
Jiaozhi zai huanxiang yu xianshi zhong de suoyou qidai
追尋著明天 收穫不同的精彩
Zhuixunzhe mingtian shouhuo butong de jingcai


傳遞於你我之間夢想 正悄悄綻放花蕾
Chuandi yu ni wo zhi jian mengxiang zheng qiaoqiao zhanfang hualei
聆聽著賜予這個世界的生命 從未有過的力量和翅膀
Lingtingzhe ciyu zhege shijie de shengming cong wei youguo de liliang he chibang


翱翔在浩瀚銀河中 指尖把玩著星辰月色朦朧
Aoxiang zai haohan yinhe zhongzhi jian bawanzhe xingchen yue se menglong
消失在眼前的雲彩與時間輕緩的流動
Xiaoshi zai yanqian de yuncai yu shijian qing huan de liudong
凝視你的瞳孔 撫慰著心中所有傷痕苦痛
Ningshi ni de tongkong fuweizhe xinzhong suoyou shanghen kutong
溫柔的哭泣著 即將迎來天亮的女孩沉睡在夢中
Wenrou de kuqizhe jijiang ying lai tianliang de nühai chenshui zai mengzhong


只是許下了願望 一個願望的重量
Zhishi xu xiale yuanwang yige yuanwang de zhongliang
只是原諒了自己 卻無法被原諒
Zhishi yuanliangle ziji que wufa bei yuanliang
我和你的距離越來越遙遠
Wo he ni de juli yue lai yue yaoyuan
聲嘶力竭的痛哭著 淚如雨下
Shengsilijie de tongkuzhe lei ru yu xia


渴望著天空的女孩 黑夜降臨前輕聲許下願望
Kewangzhe tiankong de nühai heiye jianglin qian qingsheng xu xia yuanwang
悵然若失的她 期待著滿載快樂的時光
Changranruoshi de ta qidaizhuo manzai kuaile de shiguang
憧憬著平凡的女孩 在夢想的土壤之中悄然生長
Chongjingzhe pingfan de nühai zai mengxiang de turang zhi zhong qiaoran shengzhang
想起了過去的世界痛聲哭泣著
Xiangqile guoqu de shijie tong sheng kuqizhe


渴望著天空的女孩 展開翅膀在藍天自由翱翔
Kewangzhe tiankong de nühai zhankai chibang zai lantian ziyou aoxiang
始樂園的主人 追尋夢想將來臨的方向
Shi leyuan de zhuren zhuixun mengxiang jiang lailin de fangxiang
相擁而泣的女孩們 真實的話語不會再次埋藏
Xiang yong er qi de nühaimen zhenshi de huayu bu hui zaici maicang
悲傷的淚水也掩蓋著虛假的幸福 駛向了遠方
Beishang de leishui ye yangaizhe xujia de xingfu shi xiangle yuanfang
Derivatives
Edit
O Lou QAQ's Cover

| | |
| --- | --- |
| Featuring | O Lou QAQ |
| Author(s) | O Lou QAQ |
| Category | Human cover |