Ad blocker interference detected!
Wikia is a free-to-use site that makes money from advertising. We have a modified experience for viewers using ad blockers

Wikia is not accessible if you've made further modifications. Remove the custom ad blocker rule(s) and the page will load as expected.
This song article is lacking a proper background. You can help by adding one! The relevant section in the Song Article Guideline is a good starting point, and this blog post may also be helpful. We apologize for the inconvenience this may cause in the meantime.

Song pages lacking proper backgrounds are automatically sorted into this category.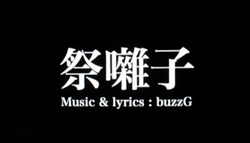 Song title
"祭囃子"
Romaji: Matsuribayashi
English: Festival Music
Uploaded June 17, 2011, with 150,000+ views
Singer(s)
GUMI
Producer(s)
buzzG (music, lyrics)
[TEST] (guitar)
Kei Nakamura (bass)
LUNA SEA (drums)
Tatsuya Abe (PV)
Links
Niconico Broadcast • YouTube Broadcast (reprint)

Background
Edit
A VOCALOID3 remake of buzzG's previous VOCALOID2 Megpoid song. It was used as an early demonstration song for V3 Megpoid, at the time it was still referred to as "GUMI extend".
Preceding versions
Edit
V2 GUMI ver.

Featuring
GUMI
Author(s)
buzzG
Category

Description

The original version of the song using V2 GUMI, featured in the album

Matsuri Bayashi

.
Japanese (日本語歌詞)
Romaji (ローマ字)
和太鼓の音 林檎飴
wadaiko no oto ringo ame
花火の灯(ひ)に照らされた横顔
hanabi no hi ni terasareta yokogao


明日になれば 夢の跡
ashita ni nare ba yume no ato
巻き戻せないと気づいてしまった日曜日
maki modosenai to kizuite shimatta nichiyoubi


その日から何かが変わっていったんだ
sono hi kara nanika ga kawatte ittan da


声を張り上げて本気で笑ったり
koe o hariagete honki de warattari
涙枯れるまで一晩中泣いたり
namida kareru made hitobanhuu nai tari
そういうのが馬鹿らしいことだなんて
souiu noga bakarashii koto da nante
気づいたフリをしてやり過ごしても
kizuita furi o shite yari sugoshite mo
積み重ねた後悔と
tsumikasaneta koukai to
増えてった荷物が背中にのしかかって歩けないんだ
fuetetta nimotsu ga senaka ni noshi kakatte aruke nain da


突然の雨 独り言
totsuzen no ame hitorigoto
浴衣の先が透けた色情夜
yukata no saki ga suketa shikijouya


拙い声と 林檎飴
tsutanai koe to ringo ame
隙間を埋めたくて愛を消費して
sukima o umetakute ai o shouhi shite


優しいフリが得意なんだ僕は・・・
yasashii furi ga tokuinan da boku wa...


新しい音が聴こえるよ 祭囃子が呼んでるよ
atarashii oto ga kikoeru yo matsuribayashi ga yonderu yo
「僕だけは騙せない」 ああまた余計な感情か・・・
"boku dake wa damase nai" aa mata yokei na kanjou ka...
もういいや
mou ii ya


心削るまで誰かを愛したり
kokoro kezuru made dareka o aishitari
ボロボロになって逃げ込んで怯えたり
boroboro ni natte nigekon de obietari
そういうのと失うのの繰り返し
souiu no to ushinau no no kurikaeshi
寸先の未来なんてどうでもいいんだよ
sunsaki no mirai nante dou demo iin da yo
積み重ねた後悔と
tsumikasaneta koukai to
背負い込んだ荷物の分だけ笑えるって信じたいんだ
shoikonda nimotsu no bun dake waraerutte shinjitain da


お祭りの続きさ 終わらない音楽
omatsuri no tsuzuki sa owaranai ongaku
Derivatives
Edit
SUGARLESS FACTORY's PV Edit

| | |
| --- | --- |
| Featuring | GUMI |
| Author(s) | SUGARLESS FACTORY |
| Category | PV |
Other media appearances
Edit
External links
Edit
| | |
| --- | --- |
| | Articles |