Ad blocker interference detected!
Wikia is a free-to-use site that makes money from advertising. We have a modified experience for viewers using ad blockers

Wikia is not accessible if you've made further modifications. Remove the custom ad blocker rule(s) and the page will load as expected.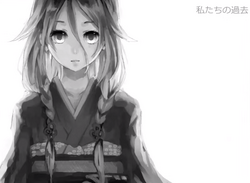 Song title
"私たちの過去"
Romaji: Watashitachi no Kako
English: Our Past
Uploaded May 9, 2013, with 700+ views
Singer(s)
IA
Producer(s)
Dreamochi
Links
YouTube Broadcast
Background
Edit
"Watashitachi no Kako" is an original IA song.
Japanese (日本語歌詞)
Romaji (ローマ字)
English
年が経過した
toshi ga keika shita
Years has passed
私は今メモリだ
watashi wa ima memorida
I'm a memory now
あなたはべつじんになった
anata wa betsu jin ni natta
You've become a different person
多分君は強くなった
tabun kimi wa tsuyoku natta
You've probably grew stronger
または多分下
matawa tabun shita
Or maybe lower
実を言うと
jitsuwoyuuto
To tell you the truth
私にはわからない
watashi ni wa wakaranai
I don't know
しかし皆ドリームス
shikashi kai doriimusu
But everyone dreams
それは事実です
sore wa jijitsu desu
That's a fact
私は私の夢が叶う期待
watashi wa watashi no yume ga kanau kitai
I hope my dreams come true
私は愚かでかもしれない
watashi wa orokade kamo shirenai
I may be stupid
Yupそれは本当だ
Yup, sore wa hontouda
Yup, that's true
あなたにもう一度見る必要がある
anata ni mou ichido miru hitsuyou ga aru
Need to see you again


何ももはやもない
nani mo mohaya mo nai
There's no longer anything
私たち
watashitachi
Us
それは信じがたい
sore wa shinji gatai
It's hard to believe
その言葉は無用です
sono kotoba wa muyou desu
That word is useless
私はあなたを待っている
watashi wa anata o matte iru
I'm waiting for you
あなたは戻りません
anata wa modorimasen
You won't return
私が知っている
watashi ga shitte iru
I know that


私たちは常に一緒でした
watashitachi wa tsuneni isshodeshita
We were always together
今では他の誰かだ
ima dewa hoka no dareka da
It's someone else now
それを受け入れる必要が
sore o ukeireru hitsuyou ga
Have to accept it
それは難しいだろう
sore wa muzukashii darou
It'll be hard
私も他の誰かを見つけることができます
watashi mo hoka no dareka o mitsukeru koto ga dekimasu
I'll find someone else too
しかし、私は幸せではありません
shikashi, watashi wa shiawase de wa arimasen
But I won't be happy
あなたと私は幸せだ
anatatowatashi wa shiawase da
I'm happy with you
わたしには、あなたが必要ですいつも
watashi ni wa, anata ga hitsuyōdesu, itsumo
I need you, always
私はあなたに会いたい
watashi wa anata ni aitai

I want to see you



何ももはやもない
nani mo mohaya mo nai
There's no longer anything
私たち
watashitachi
Us
それは信じがたい
sore wa shinji gatai
It's hard to believe
その言葉は無用です
sono kotoba wa muyou desu
That word is useless
私はあなたを待っている
watashi wa anata o matte iru
I'm waiting for you
あなたは戻りません
anata wa modorimasen
You won't return
私が知っている
watashi ga shitte iru
I know that
External links
Edit
| | |
| --- | --- |
| | Downloads |