Ad blocker interference detected!
Wikia is a free-to-use site that makes money from advertising. We have a modified experience for viewers using ad blockers

Wikia is not accessible if you've made further modifications. Remove the custom ad blocker rule(s) and the page will load as expected.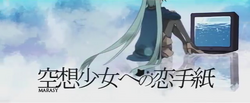 Song title
"空想少女への恋手紙"
Romaji: Kuusou Shoujo e no Koitegami
English: Love Letters to an Imaginary Girl
Uploaded November 12, 2012, with 261,700+ views
Singer(s)
Hatsune Miku
Producer(s)
marasy (composition, lyrics)
Issei Ambo (arrangement, guitar, mixing)
CHRIS (illustrations, video)
Links
Niconico Broadcast • YouTube Broadcast

Background
Edit
"
The song of a man who fell in love with the second dimension.
"
 

— marasy
marasy's 6th original VOCALOID song, a ballad-like song about a man who has fallen in love with an imaginary girl and his lamentations at being unable to be with her. This song is included on marasy's first album, Kuusou Memorize, and has entered the Hall of Fame.
Succeeding versions
Edit
Piano Version

Author(s)
marasy
Category
Arrangement

Description

marasy's piano version of the song, it has attracted over 300,000 views on YouTube.
Japanese (日本語歌詞)
Romaji (ローマ字)
幼馴染とか 転校生とか
osananajimi to ka tenkousei to ka
驚くほど 何もない
odoroku hodo nani mo nai
ライトノベルの主人公みたいな
raito noberu no shujinkou mitai na
非日常に憧れる
hinichijou ni akogareru


そこに君が降り立った
soko ni kimi ga oritatta
透き通る瞳に吸い込まれたんだ
sukitooru hitomi ni suikomareta nda
宛先が君のラブレターは どこに出せば届くのかな
atesaki ga kimi no rabu retaa wa doko ni dasebatodoku no ka na
画面の中で君が笑う
gamen no naka de kimi ga warau


遠くて 近くて やっぱり遠い届かない
tookute chikakute yappari tooi todokanai
僕の想いは 一方通行
boku no omoi wa ippoutsuukou
一生のお願いが ここで叶えられるなら
isshou no onegai ga koko de kanaerareru nara
君と同じ 世界を生きてみたいよ
kimi to onaji sekai wo ikitemitai yo


何か強大な 異変が起こって
nanika kyoudai na ihen ga okotte
画面の世界へこんにちは
gamen no sekai e kon'nichiwa
マンガやゲームじゃ 見慣れたものだけど
manga ya geemu ja minareta mono dakedo
そんな奇跡が起きないかな
son'na kiseki ga okinai ka na


君はいつでも笑顔だ
kimi wa itsudemo egao da
落ち込む事、悲しむ事あるのかな
ochikomu koto, kanashimu koto aru no ka na
僕は君に会えないかと こんなにジタバタしているのに
boku wa kimi ni aenai ka to kon'na ni jitabata shiteiru no ni
画面の中で君は笑う
gamen no naka de kimi wa warau


近くて 遠くて それでも目の前にある
chikakute tookute soredemo me no mae ni aru
この画面は 超えられぬ壁
kono gamen wa koerarenu heki
一生のお願いが ここで叶えられるなら
isshou no onegai ga koko de kanaerareru nara
次元を超え 笑い合いたいな
jigen wo koe warai aitai na


遠くて 近くて やっぱり届かないけど
tookute chikakute yappari todokanai kedo
君に会えて 僕は幸せだ
kimi ni aete boku wa shiawase da
都合よく奇跡が起き、この恋手紙を君へ
tsugou yoku kiseki ga oki, kono koitegami wo kimi e
空想少女へ
kuusou shoujo e
一生のお願いが ここで叶えられるなら
isshou no onegai ga koko de kanaerareru nara
君に届け 出会ってくれてありがとう
kimi ni todoke deattekurete arigatou
ありがとう
arigatou
Derivatives
Edit
Mifuyu's Cover

| | |
| --- | --- |
| Featuring | Mifuyu |
| Author(s) | Mifuyu |
| Category | Human cover |
Kijineko's Cover

| | |
| --- | --- |
| Featuring | Kijineko |
| Author(s) | Kijineko |
| Category | Human cover |
Nanadonibu's Cover

| | |
| --- | --- |
| Featuring | Nanadonibu |
| Author(s) | Nanadonibu (cover), Mutou (mix, encode) |
| Category | Human cover |
Kakimuki's Arrangement

| | |
| --- | --- |
| Author(s) | Kakimuki |
| Category | Arrangement |
External links
Edit
| | |
| --- | --- |
| | Official |
| | |
| --- | --- |
| | Articles |
| | |
| --- | --- |
| | Downloads |