Ad blocker interference detected!
Wikia is a free-to-use site that makes money from advertising. We have a modified experience for viewers using ad blockers

Wikia is not accessible if you've made further modifications. Remove the custom ad blocker rule(s) and the page will load as expected.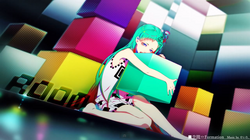 Song title
"空閒⇔Formation"
Romaji: Kuukan⇔Formation
English: Room⇔Formation
Uploaded November 25th, 2013, with 91,000+ (NND) & 87,000+ (YT) views
Singer(s)
GUMI
Producer(s)
Yairi (music, lyrics)
Akiakane (illustration, video)
Mimori Suzuko (speaking voice)
Links
Niconico Broadcast • YouTube Broadcast (official upload)

Background
Edit
"
The lament of a certain special girl.
"
 
This song is featured on the album SQUARE. The theme for this song is room.
Note: The lyrics in italics are spoken by Mimori Suzuko.
Japanese (日本語歌詞)
Romaji (ローマ字)
私は作り出すことができるけど、
watashi wa tsukuridasu koto ga dekiru kedo,
それらを利用する方法を知らない。
sorera o riyousuru houhou o shiranai.


消費者が居なきゃ、作り出すものだって無意味で無価値なのに、
shouhisha ga inakya, tsukuridasu mono datte muimi de mukachi nanoni,
私は臆病でずるいから、部屋に閉じこもる。
watashi wa okubyou de zurui kara, heya ni tojikomoru.


そのくせ、誰かに存在を気付いて欲しくて、厚い壁の中で叫ぶ。
sonokuse, dareka ni sonzai o kidzuite hoshikute, atsui kabe no naka de sakebu.
守ってくれる誰かを、利用してくれる誰かを、
mamottekureru dareka o, riyoushitekureru dareka o,


ただ、待ってる。
tada, matteru.


知られること無い 秘密の場所なら
shirareru koto nai himitsu no basho nara
誰も彼も ハイになるのさ
dare mo kare mo hai ni naru no sa


傍に居たいのに 居られないのなら
soba ni itai noni irarenai no nara
今すぐ 殻に篭(こも)り 自分を守るのよ
imasugu kara ni komori jibun o mamoru no yo


揺れる 鼓動 正す 意味を
yureru kodou tadasu imi o
絶えず 日々を 奪うように
taezu hibi o ubau youni
叫ぶ 声が 部屋に 響く
sakebu koe ga heya ni hibiku
忘れられない
wasurerarenai


全ては ここから あふれ出すメロディ
subete wa koko kara afuredasu merodi
世界が いつもより 白く 白くなって
sekai ga itsumo yori shiroku shiroku natte
今でも 心は 忘れてはいないよって
imademo kokoro wa wasurete wa inai yo tte
閉じ込めた 部屋さ
tojikometa heya sa


知られること無い 秘密を捨てたら
shirareru koto nai himitsu o sutetara
何もかもが 灰になるのさ
nanimokamo ga hai ni naru no sa


傍に居たいのが 愛の証でしょ?
soba ni itai no ga ai no akashi desho?
今すぐ 殻を破り あたしを守ってよ
imasugu kara o yaburi atashi o mamotte yo


感じている
kanjiteiru


痛み 眩暈 動悸 吐き気
itai memai douki hakike
治す 薬 あげるのに
naosu kusuri ageru noni
叫ぶ 声が 部屋に 響く
sakebu koe ga heya ni hibiku
忘れられてるんじゃない?
wasure rare terun janai?


統(す)べては 世界が 思い出すメモリー
subete wa sekai ga omoidasu memory
涙が いつもより 黒く 黒くなって
namida ga itsumo yori kuroku kuroku natte
今でも 心は 幸せが欲しいよって
imademo kokoro wa shiawase ga hoshii yo tte
閉じ込めた 部屋さ
toji kometa heya sa


感じている
kanjiteiru


如何(いか)に あたし 弱いのかを
ikani atashi yowai no ka o
治す 薬 無くなって
naosu kusuri nakunatte
叫ぶ 声が 部屋に 響く
sakebu koe ga heya ni hibiku
忘れられてるんじゃない?
wasure rare terun janai?


全ては ここから 溢れてたメロディ
subete wa koko kara afureteta merodi
世界が いつもより シロク シロク ナッテ
sekai ga itsumo yori shiroku shiroku natte
今でも 心は 忘れてはいないよって
imademo kokoro wa wasurete wa inai yo tte
閉じ込めた 部屋さ
tojikometa heya sa


閉じ込めた 部屋さ
tojikometa heya sa
Derivatives
Edit
Rewo's Cover

| | |
| --- | --- |
| Featuring | Rewo |
| Author(s) | |
| Category | Human cover |
3部's Cover

| | |
| --- | --- |
| Featuring | 3部 |
| Author(s) | |
| Category | Human cover |
Tearu's Cover

| | |
| --- | --- |
| Featuring | Tearu |
| Author(s) | |
| Category | Human cover |
External links
Edit
| | |
| --- | --- |
| | Articles |
| | |
| --- | --- |
| | Lyrics |