This song article is lacking a proper background. You can help by adding one! The relevant section in the Song Article Guideline is a good starting point, and this blog post may also be helpful. We apologize for the inconvenience this may cause in the meantime.

Song pages lacking proper backgrounds are automatically sorted into this category.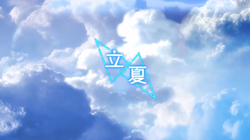 Song title
"立夏"
Pinyin: Lìxià
English: Beginning of Summer
Uploaded May 5, 2016, with 120,000+ views
Singer(s)
Luo Tianyi, Yuezheng Ling
Producer(s)
Sangren Shang de Houzi (compose, arrange, lyrics)
Xiao Ou Ω (compose, arrange, mixing)
Wenke Sheng Misaki (lyrics, tuning)
Shi Xun (illustrator)
Fei Tiao (video editor)
Links
YouTube Broadcast (reprint)
bilibili Broadcast

Background
Edit
"Lìxià" is an original song featuring Luo Tianyi and Yuezheng Ling.
This song has exceeded 100,000 views on bilibili.
| | | |
| --- | --- | --- |
| Singer | Tianyi | Ling |
| Color | 66CCFF | Crimson |
Chinese (中文歌词)
Pinyin (拼音)

翻开了这一页新篇

fan kaile zhe yi ye xin pian

蔚蓝色的起点

weilan se de qidian

心中那彩色的期望

xinzhong na caise de qiwang

散开在空气间

san kai zai kongqi jian

追逐这升起的太阳

zhuizhu zhe sheng qi de taiyang

洒满了你身边

sa manle ni shenbian

放逐那自由的梦想

fangzhu na ziyou de mengxiang

我们的初夏天

women de chuxia tian




光 晴空的回航

guang qingkong de huihang

载着视线流浪

zaizhe shixian liulang

驶向地平远方

shi xiang diping yuanfang

光 雨滴的幻想

guang yudi de huanxiang

带着夏日晴朗

daizhe xia ri qinglang

彩虹在你身旁

caihong zai ni shen pang




翻开了这一页新篇

fan kaile zhe yi ye xin pian

蔚蓝色的起点

weilan se de qidian

心中那彩色的期望

xinzhong na caise de qiwang

散开在空气间

san kai zai kongqi jian

追逐这升起的太阳

zhuizhu zhe sheng qi de taiyang

洒满了你身边

sa manle ni shenbian

放逐那自由的梦想

fangzhu na ziyou de mengxiang

我们的初夏天

women de chuxia tian




光 晴空的回航

guang qingkong de huihang

载着视线流浪

zaizhe shixian liulang

驶向地平远方

shi xiang diping yuanfang

光 雨滴的幻想

guang yudi de huanxiang

带着夏日晴朗

daizhe xia ri qinglang

彩虹在你身旁

caihong zai ni shen pang