竹取オーバーナイトセンセーション (Taketori Overnight Sensation)
Comments

2
3,444pages on
this wiki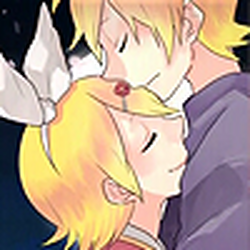 Song title
"竹取オーバーナイトセンセーション"
Romaji: Taketori Oobaanaito Senseeshon
English: Taketori Overnight Sensation
Uploaded September 27, 2012, with 499,000+ (NND) and 294,900+ (YT) views
Singer(s)
Kagamine Rin and Kagamine Len
Producer(s)
HoneyWorks: Gom (music, lyrics)
HoneyWorks: Kaizoku Ou (guitar)
mogelatte (illustration, video)
Akutoku 1 (MMD part)
Kanihara (bear 3D modeling, panda 3D modeling)
Links
Niconico Broadcast / YouTube Broadcast (uploaded by the author)

Background
Edit
HoneyWorks' 9th published original VOCALOID work; with an utaite version uploaded a day after the Kagamine version's upload. "Taketory Overnight Sensation" comes with a humorous PV which in some cases clashes with it's serious lyrics. There is a brief appearance (in the MMD part) of the panda bears, representing Rin and Len during the fight; which appeared in another HoneyWorks song "Suki Kirai".
This song was originally commissioned for the compilation album BabyPod ~VocaloidP × Utaite collaboration collection~, sung by the utaites Soraru and Lon. The VOCALOID version of this song is found in HoneyWorks' album Rokugen Astrology.
This song entered the Hall of Fame on October 3, 2012.
This song is featured in the album Yoen Waso Emaki.
Preceeding Version
Edit
Soraru and Lon's Version

| | |
| --- | --- |
| Featuring | Soraru, Lon |
| Author(s) | Soraru, Lon |
| Category | Utaite |
Japanese and Romaji Lyrics
Edit
Japanese (日本語歌詞)
Romaji (ローマ字)
兎にも角にも 恋に落ちたわけであります
toni mo kakuni mo koi ni ochita wake de arimasu
千年先覚めやらん 詠え踊れや心模様
sennen saki same ya ran utae odore ya kokoro moyou


やれやれ 数多の人身をいたづらに・・・
yare yare amata no jinshin wo ita dzura ni...
そんな私めが 帝に仕え逢うその体裁は必需品ですの
sonna watashi me ga mikado ni tsukae au sono riyuu wa hitsuju hindesu no


尚でもっては更の事
nao demo tte wa sara no koto
月のまにまに お手を拝借
tsuki no manimani o te wo haishaku


其の侭、運命子午線突破眠れない
sono mama, unmei shigosen toppa nemurenai
此の侭、蓬莱の境界線切って問答無用
kono mama, hōrai no kyōkai sen kitte mondō muyou


月に背を向けた弱竹の
tsuki ni se wo muketa nayotake no
我が侭姫君 嗚呼愛ししし
wagamama hime kimi aa kana shishishi


兎にも角にも 恋に落ちたわけであります
toni mo kakuni mo koi ni ochita wakede arimasu
国色天香 才徳兼備 大盤振舞 四元素
kokushiki tenkou saito kukenbi ooban burumai yongenso


今更不死の薬と富士の煙 くゆる私が
ima sara fushi no kusuri to fuji no kemuri ku yuru watashi ga
君が為の時 想イ想ワレ 何を囁こう
kimi ga tame no toki omoiomo ware nani wo sasayakou


率して直に申します
soshite jikani mooshimasu
お嫁に一ついかがですです?
o yome ni hitotsu ikaga desu desu?


其の侭、天地環状線突破眠れない
sono mama, tenchi kanjousen toppa nemurenai
此の侭、退屈な自由より騒乱へ徒来
kono mama, taikutsuna jiyuu yori souran he torai


月に背を向けた弱竹の
tsuki ni se wo muketa nayotake no
我が侭な私 許してねねね
wagamama na watashi yurushite ne ne ne


あっちはポイして こっちは欲しくて
atchi wa poi shite kotchi wa hoshikute
あっちはポイして こっちは
atchi wa poi shite kotchi wa
「トントン」 「ん?」
"tonton" "n?"


あっちも欲しくて こっちも欲・し・い・の
atchi mo hoshikute kotchi mo yoku・shi・i・no
あっちも欲しくて hrhrhrhrr...
atchi mo hoshikute hrhrhrhrr...


知ってる自由を探す事なんて今更馬鹿げてる
shitteru jiyuu wo sagasu koto nante ima sara bakage teru
隣のカゴに飛び移った鳥みたいじゃない
tonari no kago ni tobi utsutta tori mitai janai
知ってるどうやっても何処にでもあるような二律背反
shitteru dou yatte mo doko ni demo aru youna niritsu haihan
つまり全身全霊の今は嘘なんかじゃ
tsumari zenshin zenrei no ima wa uso nankaja


ないから
naikara


運命子午線突破眠れない
unmei shigosen toppa nemurenai
此の侭、蓬莱の境界線切って問答無用
kono mama, hourai no kyoukaisen kitte mondou muyou


月に背を向けた弱竹の
tsuki ni se wo muketa nayotake no
威風に堂々 東方に不敗
ifuu ni doudou touhou ni fuhai
我が侭姫君 嗚呼愛ししし
wagamama himegimi aa aishi shishi
Derivatives
Edit
96Neko and Reji's Cover

| | |
| --- | --- |
| Featuring | 96Neko, Reji |
| Author(s) | 96Neko |
| Category | Utaite cover |
A24 and Chanoko's cover

| | |
| --- | --- |
| Featuring | A24, Chanoko |
| Author(s) | A24 |
| Category | Utaite cover |
un:c's Cover

| | |
| --- | --- |
| Featuring | un:c |
| Author(s) | un:c |
| Category | Utaite cover |
50 Person Cover

| | |
| --- | --- |
| Featuring | Various utaite |
| Author(s) | voca-ro (mix) |
| Category | Nico Nico Chorus; utaite cover |
Guitar cover

| | |
| --- | --- |
| Featuring | Kagamine Rin, Kagamine Len |
| Author(s) | Waffuru (guitar cover) |
| Category | Instrument cover; arrange |
External links
Edit