Ad blocker interference detected!
Wikia is a free-to-use site that makes money from advertising. We have a modified experience for viewers using ad blockers

Wikia is not accessible if you've made further modifications. Remove the custom ad blocker rule(s) and the page will load as expected.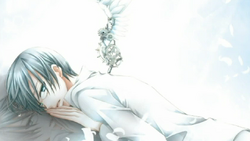 Song title
"籠の鳥"
Romaji: Kago no Tori
English: Bird Cage
Uploaded July 13, 2013, with 4,200+ views
Singer(s)
Hiyama Kiyoteru
Producer(s)
Mermaid-P (music, lyrics)
Kasuga Setarou (illustration)
Alicenotes (drum, bass, mix)
You (guitar)
Links
Niconico Broadcast
Background
Edit
This song is featured in the Kiyoteru compilation album Color palette.
Japanese (日本語歌詞)
Romaji (ローマ字)
高い空から降る輝きに
takai sora kara furu kagayaki ni
この眼は酷く痛むんだ
kono me wa hidoku itamunda
慣れないものを見たせいなんだろう
narenai mono o mita sei nandarou
だってここは暗く無機質な籠の中
datte koko wa kuraku mukishitsuna kago no naka


枷を引き摺る音は聞こえず
kase o hikizuru oto wa kikoezu
ただ鉛のように重い 足が
tada namari no you ni omoi ashi ga
君へと続く扉を見つめた
kimi e to tsuzuku tobira o mitsumeta
開く瞬間 僕の生命が咲く
hiraku shunkan boku no inochi ga saku


「怖いの?」 ここにいるよ 僕を見てよ そこじゃないよ
"kowai no?" koko ni iru yo boku o mite yo soko ja nai yo
「痛いの?」 傍に居るよ 違う 違う
"itai no?" soba ni iru yo chigau chigau
『そこにはいないよ。』
"soko ni wa inai yo."


抱かれて 軋んだ 背中の羽は捥げた
dakarete kishinda senaka no hane wa mogeta
あぁ 何て 幸せ
aa nante shiawase


愛してって上手く歌えたなら
aishitette umaku utaeta nara
君はくれますか? 僕にくれますか?
kimi wa kuremasuka? boku ni kuremasuka?
がさつく声を塞ぐ唇に溺れる
gasatsuku koe o fusagu kuchibiru ni oboreru
また僕は歌えない ガラクタ
mata boku wa utaenai garakuta


愛さなくていいんだ 手を繋いでて
aisanakute iinda te o tsunai de te
君を連れ出すよ 青空の向こう
kimi o tsuredasu yo aozora no mukou


閉ざされた箱庭を壊して
tozasareta hakoniwa o kowashite
君は行くんだ さぁ歌うよ
kimi wa ikunda saa utau yo


愛してって上手く歌えないけど
aishitette umaku utae nai kedo
愛していたんだ 鎖ごと君を
aishite itanda kusari goto kimi o


枯れゆく声を塞ぐ
kare yuku koe o fusagu
愛しい 唇
kanashii kuchibiru
離れるその刹那 紡ぐ
hanareru sono setsuna tsumugu
―さよなら
sayonara
External links
Edit
| | |
| --- | --- |
| | Official |
| | |
| --- | --- |
| | Articles |