Ad blocker interference detected!
Wikia is a free-to-use site that makes money from advertising. We have a modified experience for viewers using ad blockers

Wikia is not accessible if you've made further modifications. Remove the custom ad blocker rule(s) and the page will load as expected.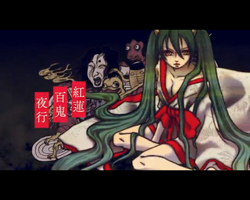 Song title
"紅蓮百鬼夜行"
Romaji: Guren Hyakkiyakou
English: Guren Pandemonium
Uploaded December 14, 2011, with 57,380+ views
Singer(s)
Hatsune Miku
Producer(s)
Kiraboshi Hikaru (music)
Michirugahaku (lyrics)
58-86-6 (video)
Chestnut (picture)
Links
Niconico Broadcast
Background
Edit
"Guren Hyakkiyakou" is an original Japanese song featuring Hatsune Miku.
This song is featured on the compilation album, Karakuri Manyoshu.
Japanese (日本語歌詞)
Romaji (ローマ字)
切り裂きたい 咲けない
kirisakitai sakenai
貴方の裏切りが灯す呪い火
anata no uragiri ga tomosu noroi hi
愛と憎悪(ぞうお)は走り出す
ai to zouo wa hashiri dasu
紅蓮百鬼夜行
guren hyakkiyakou


誰よりも君は美しいと
dare yori mo kimi wa utsukushii to
想うのは君一人だけだと
omou no wa kimi hitori dakedato


初めての恋 優しい嘘を信じ
hajimete no koi yasashii uso o shinji
愚かな少女は真の地獄に堕ちた
orokana shoujo wa shin no jigoku ni ochita


跪(ひざまず)いて 慟哭(ない)ても
hizamazu ite nai temo
終焉(おわり)は来ないの
owari wa konai no
永遠(とわ)に結ぶと 契(ちぎ)りを交わしたでしょう?
towa ni musubu to chigiri o kawashita deshou?


切り裂きたい 咲けない
kirisakitai sakenai
貴方の裏切りが灯す呪い火
anata no uragiri ga tomosu noroi hi
愛と憎悪(ぞうお)は走り出す
ai to zouo wa hashiri dasu
紅蓮百鬼夜行
guren hyakkiyakou


後悔しても もう遅いのよ だって
koukai shite mo mou osoi no yo datte
まるで私は、破滅を求める夜叉(やしゃ)
marude watashi wa, hametsu o motomeru yasha
跪(ひざまず)いて 慟哭(ない)ても
hizamazu ite nai temo
終焉(おわり)は来ないの
owari wa konai no
永遠(とわ)に結ぶと 契(ちぎ)りを交わしたでしょう?
towa ni musubu to chirigi o kawashita deshou?


愛するほど深まる 痛みの快楽
aisuru hodo fukamaru itami no kairaku
供に逝(い)きましょう 金色(こんじき)の鬼と生(な)れ
ikimashou konjiki no oni to nama nare
紅蓮百鬼夜行
guren hyakkiyakou
External links
Edit
| | |
| --- | --- |
| | Articles |