Ad blocker interference detected!
Wikia is a free-to-use site that makes money from advertising. We have a modified experience for viewers using ad blockers

Wikia is not accessible if you've made further modifications. Remove the custom ad blocker rule(s) and the page will load as expected.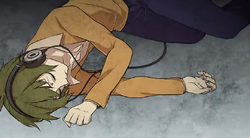 Song title
"絶境パラノイア"
Romaji: Zekkyou Paranoia
English: Remote Paranoia
Uploaded September 10, 2013 (NND) and April 13, 2014 (YT), with 107,000+ (NND) and
19,000+ (YT) views
Singer(s)
IA
Producer(s)
TOTAL OBJECTION (music, lyrics)
Ako (illust)
ke-sanβ (video)
Links
Niconico Broadcast • YouTube Broadcast (official)

Background
Edit
This song was uploaded on September 10, 2013 on Nico Nico Douga and on April 13, 2014 on YouTube and is in the Hall of Fame. This song is also featured in IA/VT Colorful.
Succeeding versions
Edit
Japanese (日本語歌詞)
Romaji (ローマ字)
誰もが無能で 何もかもがムダ
dare mo ga munou de nani mo kamo ga muda


関わりってなんだっけ?
kakawaritte nan dakke?
愛しさってなんだっけ?
itoshisatte nan dakke?
傷つけないことだっけ?
kizutsuke nai koto dakke?


嗚呼 建前の微笑
aa tatemae no bishou
そこが境界線
soko ga kyoukaisen


絶対拒絶消えない深い溝(ボーダー)
zettai kyozetsu kie nai boodaa
慢性的病的 拒否反応(リジェクション)
manseiteki byouteki rijekushon
入らないで 侵さないで
haira naide okasa naide
優しさなどいらない
yasashisa nado iranai


天涯孤独の唯我独尊(パラノイア)
tengai kodoku no paranoia
人畜無害の 人 恐怖症(フォビア)
jinchiku mugai no hito fobia
触らないで 変わらないって
sawara naide kawara nai tte
下を向いては這って泣いて
shita o muite wa hatte naite


もうイヤダ もうイヤダ
mou iyada mou iyada
逆さまの世界を見上げて
sakasama no sekai o miagete
束ねた過去
tabaneta kako
今 崩壊音(ノイズ)と
ima noizu to
不協和音(ディスコード)だけ響かせて
disukoodo dake hibi kasete


温もりってなんだっけ?
nukumoritte nan dakke?
優しさってなんだっけ?
yasashisatte nan dakke?
怯えて生まれる 不信感(ディストラスト)
obiete umareru disutorasuto


想像しては嫌いになって
souzou shite wa kirai ni natte
妄想しては不快になって
mousou shite wa fukai ni natte
閉じこもって 傷になって
tojikomotte kizuni natte
再生しては掻き毟って
saisei shite wa kaki mushitte


行ったり来たりの唯我独尊(パラノイア)
ittari kitari no paranoia
妄想肥大の人恐怖症(フォビア)
mousou hidai no hito fobia
逃げ回って 逃げ回って
nige mawatte nige mawatte
どうかもっとそっと触れてみて
douka motto sotto furete mite


もうイヤダ もうイヤダ
mou iyada mou iyada
誤りの世界を見下げて
ayamari no sekai o misagete
変わらない
kawaranai
狎れあいなら
nare ai nara
他に誰もいなくていい
hoka ni dare mo inakutte ii


嗚呼 生まれてきてから
aa umarete kitekara
心は 404 not found(みつけることができないから)
kokoro wa mitsukeru koto ga dekinai kara


愛したり切ったり貼ったり嫉妬して
ai shitari kittari hattari shitto shite
面倒臭いものこそが素敵だって
mendoukusai mono koso ga suteki datte
知ってるって 知ってるって
shitteru tte shitteru tte
今は非調和(ディスコミュニケーション)
ima wa disukomyunikeeshon


たわいのない事だけしたくって
tawai no nai koto dake shitakutte
妄想だけから逃げ出して
mousou dake kara nigedashite
絡み合って 絡み合って
karami atte karami atte
上を向いて笑って立って
ue o muite waratte tatte


本当は 欲しいよ
hontou wa hoshii yo
貴方とだけ繋ぐ心線(ケーブル)
anata to dake tsunagu keeburu
伝わる声
tsutawaru koe
紡ぐ和音(コード)
tsumugu koodo
一人じゃないと知ったから
hitori ja nai to shittakara


関わりってなんだっけ?
kakawaritte nan dakke?
愛しさってなんだっけ?
itoshisatte nan dakke?
何もわかってなくたって
nani mo wakatte nakutatte
感じてるんだ今は
kanjite runda ima wa


そこからは飛び出しちゃって
soko kara wa tobidashichatte
ここからは逃げ出しちゃって
koko kara wa nigedashichatte
だってイヤじゃない ヤじゃない
datte iya janai ya janai
ヤジャナイ ヤじゃない ヤじゃない
ya janai ya janai ya janai
変われるはずだから
kawareru hazu dakara
Derivatives
Edit
YUU's cover

| | |
| --- | --- |
| Featuring | YUU |
| Author(s) | Jorro Treul (cover), Konran-P (mix, mastering) |
| Category | VOCALOID cover |
Other media appearances
Edit
External links
Edit
| | |
| --- | --- |
| | Lyrics |