Ad blocker interference detected!
Wikia is a free-to-use site that makes money from advertising. We have a modified experience for viewers using ad blockers

Wikia is not accessible if you've made further modifications. Remove the custom ad blocker rule(s) and the page will load as expected.
This song article is lacking a proper background. You can help by adding one! The relevant section in the Song Article Guideline is a good starting point, and this blog post may also be helpful. We apologize for the inconvenience this may cause in the meantime.

Song pages lacking proper backgrounds are automatically sorted into this category.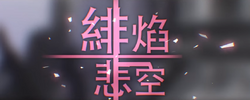 Song title
"緋焰悲空"
Simplified Chinese: 绯焰悲空
Pinyin: Fēi Yàn Bēi Kōng
Uploaded January 14, 2016, with 140,000+ (BB) / 4,000+ (YT) views
Singer(s)
Xin Hua
Producer(s)
Yukinsnow (compose, arrange, lyrics)
Lian Shang-P (guitar)
Digger (tuning)
IRecorder (mixing)
Ling Mo (illustrator)
Zhongben Gu (video editor)
Links
YouTube Broadcast
bilibili Broadcast
Background
Edit
"Fēi Yàn Bēi Kōng" is an original song featuring Xin Hua.
This song has exceeded 100,000 views on bilibili.
Chinese (中文歌词)
Pinyin (拼音)
梦魇终将破茧 造访烈焰人间
mengyan zhong jiang po jian zaofang lieyan renjian
鲜血涂抹的长卷 描清几张嘴脸
xianxie tumo de chang juan miao qing ji zhang zuilian
末日编纂谎言 模糊人性的底线
mori bianzuan huangyan mohu renxing de dixian
战火的毒涎 开遍死神的裙边
zhanhuo de du xian kai bian sishen de qun bian


神坛已败为残垣 信仰皆被改写
shen tan yi bai wei can yuan xinyang jie bei gaixie
灾厄围成困兽之圈 我岂会藏其中
zai e wei cheng kun shou zhi quan wo qi cang qizhong


当悲叹响满在这天空
dang beitan xiang man zai zhe tiankong
当记忆拥抱刺目绯红(绝望疯涌)
dang jiyi yongbao cimu feihong (juewang feng yong)
百年后怨恨都被缓冲
bainian hou yuanhen dou bei huanchong
仅天地竭力吞吐哀恸(谁梦中)
jin tiandi jieli tuntu aitong (shui meng zhong)


亡骨才能明辨 绞刑架吊起圣洁
wang gu caineng ming bian jiaoxing jia diao qi shengjie
倚赖着假面 混淆黑白的世界
yilaizhe jia mian hunxiao heibai de shijie


神坛已败为残垣 信仰皆被改写
shen tan yi bai wei can yuan xinyang jie bei gaixie
灾厄围成困兽之圈 我岂会藏其中
zai e wei cheng kun shou zhi quan wo qi cang qizhong


当眼泪燃烧在这天空
dang yanlei ranshao zai zhe tiankong
当地面落上寂静的城(能有多重)
dangdi mian luo shang jijing de cheng (neng you duochong)
百年后生死归于从容
bainian hou shengsi guiyu congrong
余一口剩勇向死而生(我梦中)
yu yikou sheng yong xiang si er sheng (wo meng zhong)


不会去质问命运不公
bu hui qu zhiwen mingyun bugong
因为我不奢求谁应声(冲破樊笼)
yinwei wo bu sheqiu shui yingsheng (chongpo fanlong)
我为天降甘霖我为风
wo wei tian jiang ganlin wo wei feng
我为独活枭雄 破蛹
wo wei duhuo xiaoxiong po yong


当悲叹响满在这天空
dang beitan xiang man zai zhe tiankong
当记忆拥抱刺目绯红(绝望疯涌)
dang jiyi yongbao cimu feihong (juewang feng yong)
百年后怨恨都被缓冲
bainian hou yuanhen dou bei huanchong
仅天地竭力吞吐哀恸
jin tiandi jieli tuntu aitong
External links
Edit
| | |
| --- | --- |
| | Lyrics |