Ad blocker interference detected!
Wikia is a free-to-use site that makes money from advertising. We have a modified experience for viewers using ad blockers

Wikia is not accessible if you've made further modifications. Remove the custom ad blocker rule(s) and the page will load as expected.
!

Warning:

This song contains questionable lyrics and themes (

blood, hell

); it may be inappropriate for younger audiences.

The Vocaloid Wiki does not have a policy on lyrical content or theme; however, it attempts to follow the Wikia TOU.
For further discussion see Thread:68883. Questionable songs are automatically sorted into this category.

!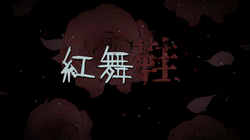 Song title
"红舞鞋"
Traditional Chinese: 紅舞鞋
Pinyin: Hóng Wǔ Xié
English: Red Dancing Shoes
Uploaded October 31, 2015, with 87,000+ views
Singer(s)
Yuezheng Ling
Producer(s)
Chong Chong (compose, arrange)
Xiu Lan (lyrics)
Cheng Sang, Xia C (illustrators)
Xin (tuning, mixing)
Shi Xiang Se (video editor)
Links
YouTube Broadcast (reprint)
bilibili Broadcast

Background
Edit
"Hóng Wǔ Xié" is an original song featuring Yuezheng Ling. It tells of a cursed pair of red dancing shoes, that can never be taken off once the wearer puts them on.
Every night is spent at an isolated castle dancing nonstop, and the shoes force you to abandon all pride and take away freedom. It can be inferred that the ballroom is so horrendous that it can serve as a metaphor for hell; "你看那是 属于地狱烙印下的记号" roughly translates to "Look and see, that's the symbol of hell."
Chinese (中文歌词)
Pinyin (拼音)
月亮安静祈祷 玫瑰花舞蹈
yueliang anjing qidao meigui hua wudao
荆棘丛中蝙蝠睡着觉
jingji cong zhong bianfu shuizhe jue
浓雾弥漫巷道 牧师正传召
nong wu miman hangdao mushi zheng zhuan zhao
城堡顶端站着乌鸦吹口哨
chengbao dingduan zhanzhe wuya chui koushao
猫咪刚刚吃饱 伸一个懒腰
maomi ganggang chi bao shen yige lan yao
跳进她的怀里眯眼笑
tiao jin ta de huai li mi yan xiao
壁炉热烈燃烧 歌唱的火苗
bilu relie ranshao gechang de huomiao
照亮她的嘴角微微往上翘
zhao liang ta de zuijiao weiwei wang shang qiao


落灰古老旧地窖 浓汤上升热气泡
luo hui gulao jiu dijiao nong tang shangsheng de qipao
玻璃杯里红酒发酵 鲜艳甜蜜的味道
boli bei li hongjiu faxiao xianyan tianmi de weidao
金丝笼夜莺尖叫 钟摆摇晃静悄悄
jin si long yeying jian jiao zhongbai yaohuang jing qiaoqiao
透明水汽蒸发温暖 眼前什么都看不到
touming shuiqi zhengfa wennuan yanqian shenme dou kan bu dao


啊 禁锢在脚尖的魔法
a jingu zai jiaojian de mofa
是天使赐予的惩罚
shi tianshi ciyu de chengfa
永远旋转着的步伐
yongyuan xuanzhuanzhe de bufa
啊 黑白琴键音符落下
a heibai qinjian yinfu luoxia
人群里面谁在喧哗
renqun limian shui zai xuanhua
听不见她哭泣泪掉下
ting bujian ta kuqi lei diao xia


红色舞鞋穿上脱不掉
hongse wu xie chuan shang tuo bu diao
听说它曾被魔鬼宣召
ting shuo ta ceng bei mogui xuanzhao
丝绒礼帽精致 晚礼服很妖娆
sirong limao jingzhi wan lifu hen yaorao
留心记好 盛大晚会可不要迟到
liuxin ji hao shengda wanhui ke buyao chidao
红色舞鞋穿上脱不掉
hongse wu xie chuan shang tuo bu diao
听说它曾被诅咒缠绕
ting shuo ta ceng bei zuzhou chanrao
交换所有自由 放弃最后骄傲
jiaohuan suoyou ziyou fangqi zuihou jiao'ao
你看那是 属于地狱烙印下的记号
ni kan na shi shuyu diyu laoyin xia de jihao


小老鼠咬坏衣角 偷偷吃奶油蛋糕
xiao laoshu yao huai yi jiao toutou chi naiyou dangao
撞到烛台抱紧面包 慌乱著到处逃跑
zhuang dao zhutai bao jin mianbao huangluanzhe daochu taopao
葬礼预言新讣告 奏响了亡灵哀悼
zangli yuyan xin fugao zou xiangle wangling aidao
十字架里封印咒语 不知不觉已经颠倒
shizijia fengyin zhouyu buzhi bu jue yijing diandao


红色舞鞋穿上脱不掉
hongse wu xie chuan shang tuo bu diao
听说它曾被魔鬼宣召
ting shuo ta ceng bei mogui xuanzhao
丝绒礼帽精致 晚礼服很妖娆
sirong limao jingzhi wan lifu hen yaorao
留心记好 盛大晚会可不要迟到
liuxin ji hao shengda wanhui ke buyao chidao
红色舞鞋穿上脱不掉
hongse wu xie chuan shang tuo bu diao
听说它曾被诅咒缠绕
ting shuo ta ceng bei zuzhou chanrao
交换所有自由 放弃最后骄傲
jiaohuan suoyou ziyou fangqi zuihou jiao'ao
你看那是 属于地狱烙印下的记号
ni kan na shi shuyu diyu laoyin xia de jihao


裹一身黑色长袍
guo yishen heise changpao
苍老翘胡须士兵手里握紧坚韧钢刀
canglao qiao huxu shibing shou li wo jin jianren gang dao
黑森林布满泥泽
hei senlin bu man ni ze
田野山顶上寻找
tianye shanding shang xunzhao
隔绝出卖尘世的灵魂游荡在遗落荒岛
gejue chumai chenshi de linghun youdang zai yi luohuang dao


红色舞鞋穿上脱不掉
hongse wu xie chuan shang tuo bu diao
听说它曾被魔鬼宣召
ting shuo ta ceng bei mogui xuanzhao
丝绒礼帽精致 晚礼服很妖娆
sirong limao jingzhi wan lifu hen yaorao
留心记好 盛大晚会可不要迟到
liuxin ji hao shengda wanhui ke buyao chidao
红色舞鞋穿上脱不掉
hongse wu xie chuan shang tuo bu diao
听说它曾被诅咒缠绕
ting shuo ta ceng bei zuzhou chanrao
交换所有自由 放弃最后骄傲
jiaohuan suoyou ziyou fangqi zuihou jiao'ao
你看那是 属于地狱烙印下的记号
ni kan na shi shuyu diyu laoyin xia de jihao


月亮安静祈祷 玫瑰花舞蹈
yueliang anjing qidao meigui hua wudao
荆棘丛中蝙蝠睡着觉
jingji cong zhong bianfu shuizhe jue
浓雾弥漫巷道 牧师正传召
nong wu miman hangdao mushi zheng zhuan zhao
城堡顶端站着乌鸦吹口哨
chengbao dingduan zhanzhe wuya chui koushao
Derivatives
Edit
Stardust's Cover

| | |
| --- | --- |
| Featuring | Stardust |
| Author(s) | Shichen |
| Category | VOCALOID cover |
External links
Edit
| | |
| --- | --- |
| | Lyrics |