Ad blocker interference detected!
Wikia is a free-to-use site that makes money from advertising. We have a modified experience for viewers using ad blockers

Wikia is not accessible if you've made further modifications. Remove the custom ad blocker rule(s) and the page will load as expected.
This song article is lacking a proper background. You can help by adding one! The relevant section in the Song Article Guideline is a good starting point, and this blog post may also be helpful. We apologize for the inconvenience this may cause in the meantime.

Song pages lacking proper backgrounds are automatically sorted into this category.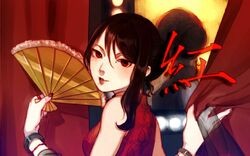 Song title
"红"
Traditional Chinese: 紅
Pinyin: Hóng
English: Red
Uploaded June 9, 2016, with 180,000+ views
Singer(s)
Yuezheng Ling
Producer(s)
Xiwang Suo Ren Hezi (compose, arrange)
Guozhi Liangcai (lyrics)
Na Lan Xun Feng (tuning)
Hai Ya, Diye'Er (illustrators)
Yi Dian Yingxiang (video editor)
Links
YouTube Broadcast (reprint)
bilibili Broadcast

Background
Edit
"Hóng" is an original song featuring Yuezheng Ling.
This song has exceeded 100,000 views on bilibili.
Chinese (中文歌词)
Pinyin (拼音)
今夜摘的玫瑰比往常更妩媚
jinye zhai de meigui bi wangchang geng wumei
凑近点跟我说 有没有偷含一口香水
coujin dian gen wo shuo you meiyou tou han yikou xiangshui
钩在窗沿的月也努力更暧昧
gou zai chuangyan de yue ye nuli geng aimei
朦朦胧的侧脸 此刻最有韵味
meng menglong de ce lian cike zui you yunwei
现在自然剥开请柬 别把风华鼎盛都愧对
xianzai ziran bo kai qingjian bie ba fenghua dingsheng dou kui dui
左顾右盼的人啊何必把心动浪费
zuoguyoupan de ren a hebi ba xindong langfei


眼中百花翻飞 蜂鸟误识裙袂
yanzhong baihua fan fei fengniao wu shi qun mei
鼓足勇气牵起的人最美
gu zu yongqi qian qi de ren zuimei
任天地都入睡 仍要继续喧豗
ren tiandi dou rushui reng yao jixu xuan hui
音乐未停怎能败兴而归
yinyue wei ting zen neng baixing er gui
若你相邀 舍命相陪
ruo ni xiang yao sheming xiang pei


肩胛涂满汗水丝毫不见疲惫
jianjia tu man hanshui sihao bujian pibei
精心妆红的嘴 艳丽到午夜依然不褪
jingxin zhuang hong de zui yanli dao wuye yiran bu tui
我心中的鬼祟它跃在你的眉
wo xinzhong de guisui ta yue zai ni de mei
尽量安分一些 怕会跌到粉碎
jinliang an fen yixie pa hui die dao fensui
庸庸碌碌众生愚昧 别把满身蜜糖都愧对
yong yong lulu zhongsheng yumei bie ba man shen mi tang dou kui dui
满场间顾盼神飞替谁留心头虚位
man chang jian gupan shen fei ti shei liu xintou xu wei


纵有万般珍贵 万般终将成灰
zong you wanban zhengui wanban zhong jiangcheng hui
推脱拿捏不妨趁此一醉
tuituo nanie bufang chen ci yi zui
舞到脸颊生绯 全数直言不讳
wu dao lianjia sheng fei quanshu zhiyan buhui
人间游弋无奈锁死心扉
renjian youyi wunai suo si xinfei
若你扣门 蓬荜生辉
ruo ni kou men peng bi sheng hui


眼中百花翻飞 蜂鸟误识裙袂
yanzhong baihua fan fei fengniao wu shi qun mei
心无旁骛挥洒的人最美
xinwupangwu huisa de ren zuimei
舞到脸颊生绯 全数直言不讳
wu dao lianjia sheng fei quanshu zhiyan buhui
人间游弋无奈锁死心扉 在等谁
renjian youyi wunai suo si xinfei zai deng shei


纵有万般珍贵 万般终将成灰
zong you wanban zhengui wanban zhong jiangcheng hui
观你到目眩也难讨一醉 斟满杯
guan ni dao muxuan ye nan tao yi zui zhen man bei
任天地都入睡 仍要继续喧豗
ren tiandi dou rushui reng yao jixu xuan hui
音乐未停怎能败兴而归
yinyue wei ting zen neng baixing er gui
若你相邀 舍命相陪
ruo ni xiang yao sheming xiang pei
External links
Edit
| | |
| --- | --- |
| | Lyrics |