Ad blocker interference detected!
Wikia is a free-to-use site that makes money from advertising. We have a modified experience for viewers using ad blockers

Wikia is not accessible if you've made further modifications. Remove the custom ad blocker rule(s) and the page will load as expected.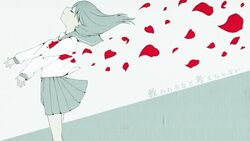 Song title
"美しき果実"

Romaji: Utsukushiki Kajitsu
English: Beautiful fruit
Uploaded April 18, 2013, with 17,000+ views
Singer(s)
Kagamine Rin
Producer(s)
Yamaji (music and lyrics)
456 (illustration)
Potako (video)
Tomodachi Boshuu-P (mastering)
Links
Niconico Broadcast (deleted)

Background
Edit
Yamaji's 23rd published work.
This song is featured in the album Shishunki Complex.
Japanese (日本語歌詞)
Romaji (ローマ字)
憧れていた魔法の国は
akogarete ita mahou no kuni wa
神様の庭 現実になる
kamisama no niwa genjitsu ni naru


鼻を突く臭いに いよいよ人集(たか)ってきて
hana wo tsuku nioi ni iyoiyo hito takatte kite
昏睡の愛で今日も塞いでいく
konsui no ai de kyou mo fusaide iku


咲きかけの花びらを脱ぎ捨てて
saki kake no hanabira wo nugi sutete
生まれる前を思い出して
umareru mae wo omoida shite
美しく生きるだけが能じゃないと
utsukushiku ikiru dake ga nou janaito
無表情で呟いた
muhyoujou de tsubuyaita


雨にやられた腐った根が
ame ni yarareta kusatta ne ga
救われるなど考えちゃない
sukuwareru nado kangaecha nai


剥(は)げた壁画に刻み込んだ
Wageta hekiga ni kizama konda
僕の名前をもう見ないでよ
boku no namae wo mou minai de yo
止めた呼吸の存在が 君だけの生を謳歌して
tome ta kokyuu no sonzai ga kimi dake no nama wo ooka shite
吐き気を催す硝煙も 嘲笑うように顔を出した
hakike wo moyoosu shooen mo azawarau you ni kao o dashita


溢れ出す言葉と ノートに綴った ABC
afuredasu kotoba to NOTE ni tsuzutta ABC
見向きもされぬ感情を 拾うことは優しさだろう?
mimukimosare nu kanjoo wo hirou koto wa yasashi-sa darou?


咲きかけの花の底で芽生えた
saki kake no hana no soko de mebaeta
鮮やかな果実は無視され
azayaka na kajitsu wa mushi sa re
色のない服を着た王子の様に
iro no nai fuku o kita ooji no you ni
身体丸めて眠った
shintai marumete nemutta


君とずっと生きてきたよ
kimi to zutto ikite kita yo
別れなんて寂しいな
wakare nante sabishii na


空の底に射したその光が
kara no soko ni sashita sono hikari ga
美しい果実を実らせ
utsukushii kajitsu wo minora se
咲きかけの花びらは君の為に
saki kake no hanabira wa kimi no tame ni
過去に吹かれ舞い上がる
kako ni fukaremaiagaru
External links
Edit