Ad blocker interference detected!
Wikia is a free-to-use site that makes money from advertising. We have a modified experience for viewers using ad blockers

Wikia is not accessible if you've made further modifications. Remove the custom ad blocker rule(s) and the page will load as expected.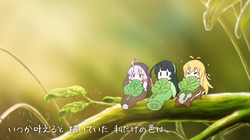 Song title
"羽のない背中に"
Romaji: Hane no Nai Senaka ni
English: On My Wingless Back
Uploaded November 18, 2015, with 154,000+ (NDD) & 25,000+ (YT) views
Singer(s)
Tohoku Zunko
Producer(s)
TriadD Grid (music, lyrics)
Gagame (video, illust)
Links
Niconico Broadcast • YouTube Broadcast

Background
Edit
"Hane no Nai Senaka ni" is an original song composed by TriadD Grid with Tohoku Zunko. It tells the story of three caterpillars (Tohoku Zunko, Yuzuki Yukari and Tsurumari Maki), who all become butterflies. However, the middle caterpillar does not grow wings when she comes out of her chrysallis, unlike her two friends. Devastated by her missing wings, the butterfly runs away from all her friends and dreams of one day becoming able to fly.
While she hides away, her friends are suddenly captured by a young boy (Yoshida-kun ), who collects butterflies and pins them to his wall. Among them are two young, twin butterflies (Tsukuyomi Shota and Tsukuyomi Ai), and a beautiful butterfly (Hatsune Miku) who have also been captured, and pinned to the wall. Discovering her friends are in danger, the wingless butterfly rushes to their aid courageously, using a pod of edamame beans and creating a magical bow and arrow. She shoots an arrow into the boy's room, its explosion blowing away the pins and freeing all of her captured friends. After saving all of them, the wingless butterfly comes to grips with her body, no longer feeling sorrowful about how she was made, and meets two others who are wingless, just like she is (Tohoku Itako and Tohoku Kiritan).
This song has entered the Hall of Fame.
Japanese (日本語歌詞)
Romaji (ローマ字)
羽のない この背中に あのころの
hane no nai kono senaka ni ano koro no
サナギを 背負ったまま
sanagi o shotta mama


いつか叶えると描(えが)いていた 私だけの色は
itsuka kanaeru to egaite ita watashi dake no iro wa
青いサナギの中 広がらずに千切れた
aoi sanagi no naka hirogarazu ni chigireta


並んだ友の 羽ばたきを横目に
naranda tomo no habataki o yokome ni
いつかの未来が 詰まった過去にしがみつく
itsuka no mirai ga tsumatta kako ni shigamitsuku


誰もがみつめる 模様は 薄く 軽く
daremo ga mitsumeru moyou wa usuku karuku
何者にも成れないまま 振り回される
nanimono ni mo narenai mama furimawasareru


羽のない この背中に あのころの
hane no nai kono senaka ni ano koro no
サナギを背負ったまま 硝子の靴を待つ
sanagi o shotta mama garasu no kutsu o matsu
広がるはずだった未来 手放せぬまま
hirogaru hazu datta mirai tebanasenu mama
逆立ちで見下ろす 高みは 青く
sakadachi de miorosu takami wa aoku


当たり前にもなれない 私だけ の色を
atarimae ni mo narenai watashi dake no iro o
汚されたくなくて 握り締めていた
yogosaretaku nakute nigirishimete ita


かつての友の 輝きは遠くに
katsute no tomo no kagayaki wa tooku ni
千切れた未来は 手の中で腐っていく
chigireta mirai wa te no naka de kusatte iku


誰もがみつめる 模様の裏側にも
daremo ga mitsumeru moyou no uragawa ni mo
知らない舞台 もがき苦しむ
shiranai butai mogaki kurushimu
届かぬ悲鳴がある
todokanu himei ga aru


羽のないこの背中に 私だけ の
hane no nai kono senaka ni watashi dake no
繕う新しい 色は 始まるから
tsukurou atarashii iro wa hajimaru kara
見上げた大空へ高く 一声をあげて
miageta oozora e takaku hitokoe o agete
踏み出す 裸足を 染めてゆく 景色
fumidasu hadashi o somete yuku keshiki


羽の無いこの背中に あのころの
hane no nai kono senaka ni ano koro no
涙は乾いて 今 新しく風を切る
namida wa kawaite ima atarashiku kaze o kiru
飾らず みつめて そのままの 私
kazarazu mitsumete sono mama no watashi
遠くで羽ばたく友にも 恥ないように!
tooku de habataku tomo ni mo haji nai you ni!


私だけ の描く未来 背負ってく色
watashi dake no kaku mirai shotteku iro
サナギの外でこそ 変わってくから
sanagi no soto de koso kawatteku kara
External links
Edit
| | |
| --- | --- |
| | Articles |
| | |
| --- | --- |
| | Lyrics |