Ad blocker interference detected!
Wikia is a free-to-use site that makes money from advertising. We have a modified experience for viewers using ad blockers

Wikia is not accessible if you've made further modifications. Remove the custom ad blocker rule(s) and the page will load as expected.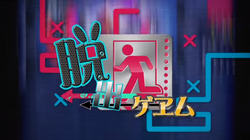 Song title
"脱出ゲヱム"
Romaji: Dasshutsu Geemu
English: Escape Game
Uploaded November 20, 2013, with 123,000+ (NND) & 96,000+ (YT) views
Singer(s)
GUMI
Producer(s)
Yucha-P (music, lyrics)
emumelo (video)
yasu (mastering)
kyo zip (illustration)
Links
Niconico Broadcast • YouTube Broadcast

Background
Edit
"
"I played the Real Escape Game, but I can't do it and it is impossible."
"
 

— Author's comment
"Dasshutsu Game" is an original Japanese song by Yucha-P featuring GUMI. The song was inspired by the producer playing the video game Real Escape Game (REG), and being unable to beat it. It's featured on EXIT TUNES compilation album, GUMity.
This song has entered the Hall of Fame.
Japanese (日本語歌詞)
Romaji (ローマ字)
興味ないフリ 正味うんざり
kyoumi nai furi shoumi unzari
こんな毎日 繰り返す
konna mainichi kurikaesu
ちょっとぼんやり 見えてどうやら
chotto bon'yari miete douyara
迷い込んだ 虚実で
mayoi konda kyojitsu de


そう これは いわゆる証明ゲーム
sou kore wa iwayuru shoumei geemu
試されてる 少年A
tamesareteru shounen A
誰がやった 線条痕
dare ga yatta senjoukon
明け透けな アジテーション
akesuke na ajiteeshon


そう 咀嚼してる キーワード
sou soshaku shiteru kiiwaado
生憎様 ノーヒント
ainikusama noohinto
意味を成さぬ 感情論
imi wo nasanu kanjouron
裏の裏 イミテーション
ura no ura imiteeshon


期待 したい みたい
kitai shitai mitai
近い ミライ いない
chikai mirai inai
痛い みたい
itai mitai


弱い 弱い 擬態
yowai yowai gitai
したい シタイ みたい
shitai shitai mitai
酷い 痴態
hidoi chitai


ねえ 確かめたくて
nee tashikame takute
探って 探って
sagutte sagutte
答え合わせにはまだ早いって
kotae awase ni wa mada hayaitte
ねえ まだ解らない?
nee mada wakaranai?
悩んで 悩んで
nayande nayande
また見落とした真実嵌(はま)ってく
mata miotoshita shinjitsu hamatteku


ショート寸前 どうも漠然
shooto sunzen doumo bakuzen
なんて茶番 繰り返す?
nante chaban kurikaesu?
違和感は 消えないのに
iwakan wa kienai noni
作り上げた 辻褄で
tsukuriageta tsujitsuma de


駄目元でも 正攻法
damemoto ​​demo seikouhou
それも通じない 方法論
sore mo tsuujinai houhouron
どうしようもなく 立ち往生
doushiyou mo naku tachioujou
思考回路 ディストーション
shikou kairo disutooshon


そう 心折れて ノーガード
sou kokoro orete noo gaado
御愁傷様 ゲームセット
goshuushousama geemu setto
思い出せない 成功例
omoi dasenai seikou rei
衰弱のシチュエーション
suijaku no shichueeshon


あれ これ それ どれ
are kore sore dore
数えて 試して
kazoete tameshite


どうして こうして
doushite koushite
教えて オシエテ
oshiete oshiete


ねえ 答えを頂戴
nee kotae wo choudai
頼って 頼って
tayotte tayotte
なんて言えるはずもなく詰んでる
nante ieru hazu mo naku tsunderu
もうお手上げです
mou oteage desu
足掻いて 足掻いて
agaite agaite
出口の無い迷路まだ彷徨ってる
deguchi no nai meiro mada samayotteru


ねえ 確かめたくて
nee tashikametakute
探って 探って
sagutte sagutte
答え合わせにはまだ早いって
kotae awase ni wa mada hayaitte
ねえ それでも疑って
nee sore demo utagatte
挑んで 挑んで
idonde idonde
まだ諦めない理由は なあに?
mada akiramenai riyuu wa naani?


ねえ 閃いた正解
nee hirameita seikai
繋いで 繋いで
tsunaide tsunaide
ゲームオーバーなんて 考えないって
geemu oobaa nante kangaenai tte
ねえ これから本番
nee kore kara honban
悩んで 悩んで
nayande nayande
また見落とした真実暴いてく
mata miotoshita shinjitsu abaiteku
External Links
Edit
| | |
| --- | --- |
| | Articles |
| | |
| --- | --- |
| | Lyrics |