!

Warning:

This song contains explicit lyrics and themes; it may be inappropriate for younger audiences.

The Vocaloid Wiki does not have a policy on lyrical content or theme; however, it attempts to follow the Wikia TOU.
For further discussion see Thread:68883. Explicit songs are automatically sorted into this category.

!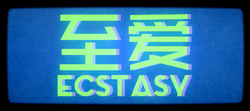 Song title
"至爱·Ecstasy"
Traditional Chinese: 至愛·Ecstasy
Pinyin: Zhìài·Ecstasy
English: Beloved · Ecstasy
Uploaded June 18, 2015, with 180,000+ views
Singer(s)
Luo Tianyi, GUMI English
Producer(s)
Yong Yin Xuan: Hetianye (lyrics)
Qianyimohua (music, arrangement, tuning, mixing)
GhostFinal (mastering)
Bingzhen Tian Doujiang (video)
Links
bilibili Broadcast
Background
Edit
This song is an original Chinese VOCALOID song featuring Luo Tianyi and Megpoid English. It is featured in the album 行星∞. In the album, this song represents the planet Uranus.
This song has exceeded 100,000 views.
Succeeding versions
Edit
Sya and 浅姨磨花's Cover

| | |
| --- | --- |
| Featuring | Sya, Qianyimohua |
| Author(s) | Hetianye (lyrics), Qianyimohua (music, arrangement, mixing), GhostFinal (mastering), Bingzhen Tian Doujiang (video) |
| Category | Self-cover |
| Singer | Color |
| --- | --- |
| Luo Tianyi | Desire |
| GUMI | Forest Green |
Chinese (中文歌词)
Pinyin (拼音)

现在将时间忽略 放下所有的杂念

xianzai jiang shijian hulüe fangxia suoyou de zanian

没有意识的语言 交付于喘息之间

meiyou yishi de yuyan jiaofu yu chuan xi zhi jian

将所有怀疑和顾虑 过去将来统统抛弃

jiang suoyou huaiyi he gulü guoqu jianglai tongtong paoqi

Ah 全部都忘记

Ah quanbu dou wangji




Do you have some pain for me tonight

心中被名为妒忌的情绪填满

xinzhong bei ming wei duji de qingxu tian man

Do you have some love for me tonight

今天也如野兽一般将你怜爱

jintian ye ru yeshou yiban jiang ni lian'ai




Give me more Give me more

Kiss my toe Kiss my loin

燃烧殆尽后心有余火 我想我可能着了魔

ranshao dai jin hou xin youyu huo wo xiang wo kenengzhaole mo




Give me more Give me more

Take my toy Take my soul

意乱情迷的舞池正中 你我都别再想逃脱

yi luan qing mi de wuchi zhengzhong ni wo du bie zai xiang taotuo




Get it high Get it high

Be someone Put on fire

心跳在此刻漏停一拍 不被诅咒的爱不痛快

xintiao zai cike lou ting yi pai bu bei zuzhou de ai bu tongkuai




Get it high Get it high

Let us dance till we die

销魂蚀骨的磨人夜晚 再多感慨也停不下来

xiaohun shi gu de mo ren yewan zai duo gankai ye ting bu xialai






我是那么地热烈 而你却视而不见

wo shi name di relie er ni que shi'erbujian

在这片欲盖弥彰 虚妄的漆黑之夜

zai zhe pian yugaimizhang xuwang de qihei zhi ye

想要狠狠地占有你 全不顾身不由自己

xiang yao hen hen de zhanyou ni quan bugu shen buyou ziji

Ah 越陷越痴迷

Ah yue xian yue chimi




Do you have some pain for me tonight

今天也如昨日一般不知悔改

jintian ye ru zuori yiban buzhi huigai

Do you have some love for me tonight

至高无上的爱由我亲手打开

zhigaowushang de ai you wo qinshou dakai




Give me more Give me more

Kiss my toe Kiss my loin

闭上眼就能触到天空 零下N度也不觉得冷

bi shang yan jiu neng chu dao tiankong lingxia N du ye bu juede leng




Give me more Give me more

Take my toy Take my soul

昼夜不分的舞池正中 让我不朽让爱得永生

zhouye bu fen de wuchi zhengzhong rang wo buxiu rang ai de yongsheng




Get it high Get it high

Be someone Put on fire

遍体鳞伤也并无大碍 没有痛楚的爱不痛快

biantilinshang ye bing wu da ai meiyou tongchu de ai bu tongkuai




Get it high Get it high

Let us dance till we die

神魂颠倒的罪恶夜晚 再多慰藉也停不下来

shenhun diandao de zui'e yewan zai duo weiji ye ting bu xialai




在这目空一切的世界 品尝爱恨交织的泪水

zai zhe mukongyiqie de shijie pinchang ai hen jiaozhi de leishui

真假善恶都被摧毁 快来感受这完美

zhen jia shan e dou bei cuihui kuai lai ganshou zhe wanmei

我的爱已经深入骨髓 要你配合我心甘情愿

wo de ai yijing shenru gusui yao ni peihe wo xinganqingyuan

下一秒不要崩溃 已经来不及后悔

xia yi miao buyao bengkui yijing laibuji houhui




Give me more Give me more

Kiss my toe Kiss my loin

燃烧殆尽后心有余火 我想我可能着了魔

ranshao dai jin hou xin youyu huo wo xiang wo kenengzhaole mo




Give me more Give me more

Take my toy Take my soul

意乱情迷的舞池正中 你我都别再想逃脱

yi luan qing mi de wuchi zhengzhong ni wo du bie zai xiang taotuo




Get it high Get it high

Be someone Put on fire

心跳在此刻漏停一拍 不被诅咒的爱不痛快

xintiao zai cike lou ting yi pai bu bei zuzhou de ai bu tongkuai




Get it high Get it high

Let us dance till we die

销魂蚀骨的磨人夜晚 再多感慨也停不下来

xiaohun shi gu de mo ren yewan zai duo gankai ye ting bu xialai
External links
Edit
| | |
| --- | --- |
| | Articles |