Ad blocker interference detected!
Wikia is a free-to-use site that makes money from advertising. We have a modified experience for viewers using ad blockers

Wikia is not accessible if you've made further modifications. Remove the custom ad blocker rule(s) and the page will load as expected.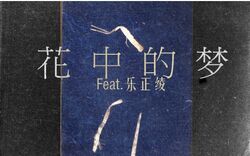 Song title
"花中的梦"
Traditional Chinese: 花中的夢
Pinyin: Huā Zhōng de Mèng
English: Dream in a Flower
Uploaded July 26, 2015, with 24,000+ views
Singer(s)
Yuezheng Ling
Producer(s)
Xin-Kun (compose, arrange, mixing, lyrics)
Wugui (compose)
Links
bilibili Broadcast
Background
Edit
"Huā Zhōng de Mèng" is an original Yuezheng Ling song. The lyrics are fairly vague, but it revolves around the idea of a teenager trying to pursue their dreams. However, they feel lost as they are unsure of how to chase it.
Chinese (中文歌词)
Pinyin (拼音)
还犹豫不决 背叛这思念
Hai youyu bu jue beipan zhe sinian
寂夜无人知晓的巷街
Ji ye wu ren zhixiao de xiang jie
通往无人描述的世界
Tong wang wu ren miaoshu de shijie


如何作出道别 追寻的境界线
Ruhe zuochu daobie zhuixun di jingjie xian
被遗忘于花中的梦
Bei yiwang yu hua zhong de meng
埋在人来人往的明天
Mai zai ren lai ren wang de mingtian


就算可以找得到
Jiusuan keyi zhao dedao
人生零碎的目标
Rensheng lingsui de mubiao
为所谓理想奔跑
Wei suowei lixiang benpao
小丑般只会惹人嘲笑
Xiaochou ban zhi hui re ren chaoxiao


理应看到的光芒
Liying kan dao de guangmang
却不知隐藏何方
Que buzhi yincang hefang
不经意的去思考
Bujingyi de qu sikao
憧憬着什么而受煎熬
Chongjingzhe shenme er shou jian'ao


从何来从何流浪
Cong he lai cong he liulang
天空像一幕罗网
Tiankong xiang yimu luowang
想凌空展翅飞翔
Xiang lingkong zhanchi feixiang
却摔落得遍体鳞伤
Que shuai luode biantilinshang


从何起从何沧桑
Cong he qi cong he cangsang
城市像一幕铁墙
Chengshi xiang yimu tie qiang
想独自一人启航
Xiang duzi yiren qi hang
却撞倒在失落的身旁
Que zhuang dao zai shiluo de shen pang


不愿再 被遗忘
Bu yuan zai bei yiwang


还犹豫不决 背叛这思念
Hai youyu bu jue beipan zhe sinian
寂夜无人知晓的巷街
Ji ye wu ren zhixiao de xiang jie
通往无人描述的世界
Tong wang wu ren miaoshu de shijie


如何作出道别 追寻的境界线
Ruhe zuochu daobie zhuixun di jingjie xian
被遗忘于花中的梦
Bei yiwang yu hua zhong de meng
埋在人来人往的明天
Mai zai ren lai ren wang de mingtian


就算可以找得到
Jiusuan keyi zhao dedao
人生零碎的目标
Rensheng lingsui de mubiao
为所谓理想奔跑
Wei suowei lixiang benpao
小丑般只会惹人嘲笑
Xiaochou ban zhi hui re ren chaoxiao


理应看到的光芒
Liying kan dao de guangmang
却不知隐藏何方
Que buzhi yincang hefang
不经意的去思考
Bujingyi de qu sikao
憧憬着什么而受煎熬
Chongjingzhe shenme er shou jian'ao


从何来从何流浪
Cong he lai cong he liulang
天空像一幕罗网
Tiankong xiang yimu luowang
想凌空展翅飞翔
Xiang lingkong zhanchi feixiang
却摔落得遍体鳞伤
Que shuai luode biantilinshang


从何起从何沧桑
Cong he qi cong he cangsang
城市像一幕铁墙
Chengshi xiang yimu tie qiang
想独自一人启航
Xiang duzi yiren qi hang
却撞倒在失落的身旁
Que zhuang dao zai shiluo de shen pang


不愿再 被遗忘
Bu yuan zai bei yiwang
External links
Edit
| | |
| --- | --- |
| | Lyrics |