Ad blocker interference detected!
Wikia is a free-to-use site that makes money from advertising. We have a modified experience for viewers using ad blockers

Wikia is not accessible if you've made further modifications. Remove the custom ad blocker rule(s) and the page will load as expected.
This song article is lacking a proper background. You can help by adding one! The relevant section in the Song Article Guideline is a good starting point, and this blog post may also be helpful. We apologize for the inconvenience this may cause in the meantime.

Song pages lacking proper backgrounds are automatically sorted into this category.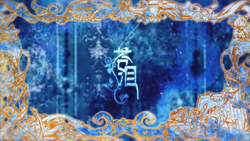 Song title
"苍泪"
Traditional Chinese: 蒼淚
Pinyin: Cāng Lèi
English: Azure Tears
Uploaded September 11, 2015, with 35,000+ views
Singer(s)
Yuezheng Ling
Luo Tianyi (harmonies)
Producer(s)
Xiaodou (compose, arrange, lyrics, tuning, illustrator, video editor)
Mocha Aoi (illustrator)
Links
YouTube Broadcast (reprint)
bilibili Broadcast

Background
Edit
"Cāng Lèi" is an original song featuring Yuezheng Ling.
Chinese (中文歌词)
Pinyin (拼音)
是谁翘首倚靠礁岩边缘
shi shui qiaoshou yikao jiao yan bianyuan
迷茫望天轻叹息无尽的长夜
mimang wang tian qing tanxi wujin de changye
海天之间缭绕绝美声线
haitian zhi jian liaorao jue mei sheng xian
有谁在静静听一遍又一遍
you shui zai jing jing ting yibian you yibian
邂逅王子的心愿 化作泡沫的梦魇
xiehou wangzi de xinyuan hua zuo paomo de mengyan
多少痴恋多少誓言 天真的眷念
duoshao chi lian duoshao shiyan tianzhen de juannian


无数星辰无数夜
wushu xingchen wushu ye
引断奏唱的琴弦
yin duan zou chang de qin xian
映照在火光烈焰
yingzhao zai huoguang lieyan
是你流泪的诀别
shi ni liulei de juebie
悸动是唯美的遇见
ji dong shi weimei de yujian
明眸皓齿的笑靥
mingmou hao chi de xiaoye
如同诱惑的鲜血
rutong youhuo de xianxie
唇齿间迷乱嗅觉
chunchi jian mi luan xiujue


渴求幻化舞池中的蹁跹
keqiu huanhua wuchi zhong de pianxian
是渔人在弹奏凄美的诗篇
shi yu ren zai tan zou qimei de shipian
永生传说正在悄然蔓延
yongsheng chuanshuo zhengzai qiaoran manyan
水手痴梦在等待捕获的凯旋
shuishou chimeng zai dengdai buhuo de kaixuan


无数星辰无数夜
wushu xingchen wushu ye
引断奏唱的琴弦
yin duan zou chang de qin xian
映照在火光烈焰
yingzhao zai huoguang lieyan
是你流泪的诀别
shi ni liulei de juebie
悸动是唯美的遇见
ji dong shi weimei de yujian
明眸皓齿的笑靥
mingmou hao chi de xiaoye
如同诱惑的鲜血
rutong youhuo de xianxie
迷乱嗅觉
mi luan xiujue


也不曾有前车之鉴
ye buceng you qianchezhijian
却只能一往直前
que zhi neng yi wang zhiqian
谁知化骨的胆怯
shui zhi hua gu de danqie
迷失在这片海原
mishi zai zhe pian haiyuan
忘记所有凡俗生前
wangji suoyou fansu shengqian
只求见你一面
zhi qiujian ni yimian
诡计滋生阴谋暗潜
guiji zisheng yinmou an qian
多少牺牲被踏践
duoshao xisheng bei ta jian


纵使时光能轮转千百年
zongshi shiguang neng lunzhuan qian bai nian
也会有无畏的心在挂念
ye hui you wuwei de xin zai guanian
贪婪在鲛人哀鸣中搁浅
tanlan zai jiao ren aiming zhong geqian
古老传言在不老泉实现
gulao chuanyan zai bulao quan shixian
External links
Edit
| | |
| --- | --- |
| | Lyrics |