Ad blocker interference detected!
Wikia is a free-to-use site that makes money from advertising. We have a modified experience for viewers using ad blockers

Wikia is not accessible if you've made further modifications. Remove the custom ad blocker rule(s) and the page will load as expected.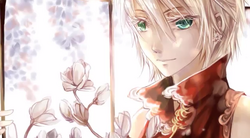 Song title
"茉莉花开"
Traditional Chinese: 茉莉花開
Pinyin: Mòlìhuā Kāi
English: Jasmine Flower Blooms
Uploaded November 15, 2013, with 140,000+ views
Singer(s)
YANHE
Producer(s)
Wang Chao (compose, arrange, tuning, guitar, ha­rmonies)
Banan (lyrics)
Kreisee (illust, PV)
Spoker (mixing)
HuDuoDuo (flute)
Links
Niconico Broadcast (reprint) • YouTube Broadcast (reprint, subbed)
bilibili Broadcast

Background
Edit
"
As we grow up, some things gradually grow further and further apart. We wander around in the outside world, all alone by ourselves. When we're alone, we think back to our faraway hometown, and our family members who aren't by our side.
"
 

— Author's comment (translated by Shiwarabbit)
"Mòlìhuā Kāi" is an original YANHE song. It is based on the famous Chinese folk song, (茉莉花/Jasmine Flower).
The famous poem in the beginning of the song is by Mèng Jiāo (孟郊) of the Tang Dynasty and is called "A Traveller's Song" (遊子吟).
Mòlìhuā Kāi has exceeded 100,000 views on bilibili.
Chinese (中文歌词)
Pinyin (拼音)
夜空霓虹
Yekong ni hong
事故暖冷
Shigu nuan leng
一双脚走过漫漫异乡路前程
Yishuang jiao zouguo manman yixiang lu qiancheng
运是不同
Yun shi butong
难却万重
Nan que wan zhong
但有人关心着你的春夏和秋冬
Dan youren guanxinzhe ni de chun xia he qiudong


故乡的花
Guxiang de hua
香气飘散天涯
Xiangqi piaosan tianya
散不掉是我的牵挂
San bu diao shi wo de qiangua


故乡的花
Guxiang de hua
盛开在那枝桠
Shengkai zai na zhiya
呼唤着漂泊游子啊
Huhuanzhe piaobo youzi a


快回家
Kuai hui jia


夜空霓虹
Yekong ni hong
事故暖冷
Shigu nuan leng
一双脚走过漫漫异乡路前程
Yishuang jiao zouguo manman yixiang lu qiancheng
运是不同
Yun shi butong
难却万重
Nan que wan zhong
但有人关心着你的春夏和秋冬
Dan youren guanxinzhe ni de chun xia he qiudong


故乡的花
Guxiang de hua
香气飘散天涯
Xiangqi piaosan tianya
散不掉是我的牵挂
San bu diao shi wo de qiangua


故乡的花
Guxiang de hua
还开在那枝桠
Hai kai zai na zhiya
总会梦到的故乡啊
Zong hui meng dao de guxiang a


开满茉莉花
Kai man molihua
茉莉花
Molihua
茉莉花
Molihua


香气盈天下
Xiangqi ying tianxia
芬芳圣洁满枝桠
Fenfang shengjie man zhiya
又香又白人人夸
You xiang you bairen ren kua
茉莉茉莉花
Moli molihua