Ad blocker interference detected!
Wikia is a free-to-use site that makes money from advertising. We have a modified experience for viewers using ad blockers

Wikia is not accessible if you've made further modifications. Remove the custom ad blocker rule(s) and the page will load as expected.
!

Warning:

This song contains questionable lyrics and themes; it may be inappropriate for younger audiences.

The Vocaloid Wiki does not have a policy on lyrical content or theme; however, it attempts to follow the Wikia TOU.
For further discussion see Thread:68883. Questionable songs are automatically sorted into this category.

!
This song article is lacking a proper background. You can help by adding one! The relevant section in the Song Article Guideline is a good starting point, and this blog post may also be helpful. We apologize for the inconvenience this may cause in the meantime.

Song pages lacking proper backgrounds are automatically sorted into this category.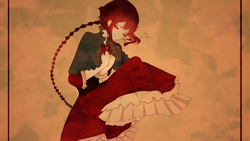 Song title
"药"
Traditional Chinese: 藥
Pinyin: Yào
English: Medicine
Uploaded July 24, 2015, with 75,000+ views
Singer(s)
Yuezheng Ling
Luo Tianyi, YANHE
Producer(s)
Heibai-P (compose, arrange, lyrics, tuning, video editor)
Chi Tu, Shichang, Er Sha, fall of fall, st (illustrators)
Links
YouTube Broadcast (reprint)
bilibili Broadcast

Background
Edit
"Yào" is an original song featuring Yuezheng Ling, with Luo Tianyi and YANHE as backup vocals.
Chinese (中文歌詞)
Pinyin (拼音)
清麗之月高掛天空 破敗的欄橋
qingli zhi yue gao gua tiankong pobai de lan qiao
孤身一人的少女 靠著欄杆微笑
gushen yiren de shaonü kaozhe langan weixiao
既然早已厭煩了這世界的喧鬧
jiran zaoyi yanfanle zhe shijie de xuannao
那就去找一個清淨的地方睡覺
na jiu qu zhao yige qingjing di difang shuijiao
正當她下定了決心縱身往下跳
zhengdang ta xiadingle juexin zongshen wang xia tiao
面前的欄杆上突然出現一瓶藥
mianqian de langan shang turan chuxian yi ping yao
男子身著的黑裝
nanzi shenzhe de hei zhuang
普通的紅色膠囊
putong de hongse jiaonang
是否已經覺得無聊?他這樣說
shifou yijing juede wuliao? ta zheyang shuo
想要有趣地活嗎
xiang yao youqu de huo ma
那就吃下這藥吧
na jiu chi xia zhe yao ba
在這月色下起舞吧
zai zhe yue se xia qiwu ba
不用去想 不用思考 傾聽本能 你的夙願
buyong qu xiang buyong sikao qingting benneng ni de suyuan
打亂少女心情的紅色藥丸
da luan shaonü xinqing de hongse yaowan
握在手中發抖的透明玻璃
wo zai shouzhong fadou de touming boli
明明來這的本意是斬斷與這世界的所有瓜葛
mingming lai zhe de benyi shi zhan duan yu zhe shijie de suoyou guage


一秒兩秒三秒四秒五秒六秒七秒八秒九秒十秒
yi miao liang miao san miao si miao wu miao liu miao qi miao ba miao jiu miao shi miao
少女終於拧開瓶蓋吃下藥丸
shaonü zhongyu ning kai ping gai chi xia yaowan



被侵蝕著

鮮豔紅色

bei qinshizhe

xianyan hongse

疼痛穿心而過透徹
tengtong chuan xin erguo touche

因藥而得

毀滅之歌

yin yao er de

huimie zhi ge

只要將這心情唱出
zhiyao jiang zhe xinqing chang chu

來起舞吧

來歌唱吧

lai qiwu ba

lai gechang ba

鐘聲即將敲響時刻
zhong sheng jijiang qiao xiang shike

是這樣吧

是這樣啊

shi zheyang ba

shi zheyang a

別想太久十二個小時的藥效
bie xiang tai jiu shi'er ge xiaoshi di yao xiao

麻木之因

哭泣之因

mamu zhi yin

kuqi zhi yin

這世界所虧欠著的
zhe shijie suo kuiqianzhe de

全部返還

統統返還

quanbu fanhuan

tongtong fanhuan

根本就不需要將你自己犧牲
genben jiu bu xuyao jiang ni ziji xisheng

毀滅之歌

重生之歌

huimie zhi ge

chongsheng zhi ge

全部都在 所有都在
quanbu dou zai suoyou dou zai
盡情享用藥所帶來的一切吧
jinqing xiang yongyao suo dai lai de yiqie ba


溫暖的陽光照射下 寂靜的街道
wennuan de yangguang zhaoshe xia jijing de jiedao
簇擁著少女的夥伴們露出微笑
cuyongzhe shaonü de huobanmen luchu weixiao
今天三樓的窗口沒人吃飯正好
jintian san lou de chuangkou mei ren chifan zhenghao
等下再一起到超市旁邊喝奶茶
deng xia zai yiqi dao chaoshi pangbian he naicha
為什麼你們都這樣跟在我身邊
weisheme nimen dou zheyang gen zai wo shenbian
明明沒有一張臉是我認識的哪
mingming meiyou yi zhang lian shi wo renshi de na
這件事很重要嗎
zhe jian shi hen zhongyao ma
何必去在意它呢
hebi qu zaiyi ta ne
來吧我會成為你最好的同伴
lai ba wo hui chengwei ni zui hao de tongban
看到的只有虛假
kan dao de zhiyou xujia
但是感覺不錯吧
danshi ganjue bucuo ba
拋卻心中無謂想法
paoque xinzhong wuwei xiangfa
不用去想 不用思考 傾聽本能 你的夙願
buyong qu xiang buyong sikao qingting benneng ni de suyuan
從一開始渴求的身邊同伴
cong yi kaishi keqiu de shenbian tongban
之所以那天打算從橋跳下
zhi suoyi neitian dasuan cong qiao tiao xia
終於不再寂寞了啊
zhongyu bu zai jimole a
全部都要感謝吃下了藥哪
quanbu dou yao ganxie chi xiale yao na


可是 到底 不明 原因 究竟 藥里
keshi daodi buming yuanyin jiujing yaoli
昨天吃下藥后到底身體發生了什麼樣的改變呢
zuotian chi xiayao hou daodi shenti fashengle shenme yang de gaibian ne



重生之歌

毀滅之歌

chongsheng zhi ge

huimie zhi ge

這世上唯一的資格
zhe shishang weiyi de zige

去摧毀吧

去刷新吧

qu cuihui ba

qu shuaxin ba

殘留記憶無法作答
canliu jiyi wufa zuoda

來起舞吧

來歌唱吧

lai qiwu ba

lai gechang ba

月色再臨時針刻畫
yue se zai linshi zhen kehua

是這樣吧

是這樣啊

shi zheyang ba

shi zheyang a

無需懼怕只要再度將藥服下
wuxu jupa zhiyao zaidu jiang fu xia

無法脫逃

無暇悲傷

wufa tuotao

wuxia beishang

篡改與否誰人覺察
cuangai yu fou shei ren juecha

全部返還

統統返還

quanbu fanhuan

tongtong fanhuan

根本就不需要將你自己犧牲
genben jiu bu xuyao jiang ni ziji xisheng

毀滅之歌

重生之歌

huimie zhi ge

chongsheng zhi ge

一切都在 所有都在
yiqie dou zai suoyou dou zai
盡情享用藥所帶來的一切吧
jinqing xiang yongyao suo dai lai de yiqie ba
External links
Edit
| | |
| --- | --- |
| | Articles |
| | |
| --- | --- |
| | Lyrics |