Ad blocker interference detected!
Wikia is a free-to-use site that makes money from advertising. We have a modified experience for viewers using ad blockers

Wikia is not accessible if you've made further modifications. Remove the custom ad blocker rule(s) and the page will load as expected.
This song article is lacking a proper background. You can help by adding one! The relevant section in the Song Article Guideline is a good starting point, and this blog post may also be helpful. We apologize for the inconvenience this may cause in the meantime.

Song pages lacking proper backgrounds are automatically sorted into this category.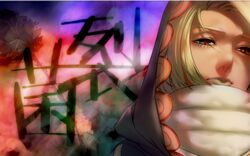 Song title
"菌裂"
Traditional Chinese: 皸裂
Pinyin: Jūnliè
Uploaded May 22, 2015, with 95,000+ (BB) & 2,000+ (YT) views
Singer(s)
YANHE
Producer(s)
Xiwang Suo Ren Hezi (compose, arrange)
Guozhi Liangcai (lyrics)
St (description)
Na Lan Xun Feng (mastering)
She Yan, Yi Yu (illustrators)
NekoLoco (video editor)
alkhor (3D modelling)

Links
YouTube Broadcast
bilibili Broadcast
Background
Edit
"Jūnliè" is an original YANHE song.
Chinese (中文歌词)
Pinyin (拼音)
充满着各类禽兽的大地
chongmanzhe ge lei qinshou de dadi
剥开后竟是如此贫瘠
bo kai hou jing shi ruci pinji
黑玫瑰扎不下高贵根系
hei meigui zha buxia gaogui genxi
颤栗后悠闲地等待死去
zhanli hou youxian di dengdai siqu


我不是个复杂的生命体
wo bushi ge fuza de shengming ti
没有什么需要我牢记
meiyou she me xuyao wo laoji
伞盖代替肺泡维持呼吸
san gai daiti feipao weichi huxi
所有角落都供我栖息
suoyou jiaoluo dou gong wo qixi


深藏在缝隙
shen cang zai fengxi
我就属于这么卑劣的族群
wo jiu shuyu zheme beilie de zuqun
谈什么延续
tan shenme yanxu
撒出孢子静静地沉睡成泥
sa chu baozi jing jing de chenshui cheng ni


壮大了丛生的菌落
zhuangdale congsheng de junluo
七嘴八舌争着附和
qi zui ba she zhengzhe fuhe
是听从腐朽的树干
shi tingcong fuxiu de shugan
还是为了霉斑高歌
haishi weile mei ban gaoge


究竟是谁依附谁呢
jiujing shi shui yifu shui ne
谁离开彼此不成活
shui likai bici bu chenghuo
没有了我们的寄托
meiyoule women de jituo
宿主它会不会寂寞
suzhu ta hui bu hui jimo


人们愿意信仰至高神明
renmen yuanyi xinyang zhigao shenming
残存思索被布道清洗
cancun sisuo bei budao qingxi
如果万物都由标准划定
ruguo wanwu dou you biaozhun hua ding
漆黑一片的我讨不讨喜
qihei yipian de wo tao bu tao xi


所钟爱的一切鞭长莫及
suo zhong'ai de yiqie bianchangmoji
瞬息就可能得到永寂
shunxi jiu keneng dedao yong ji
最后还有什么值得争取
zuihou hai you she me zhide zhengqu
消费这场唯一的生命
xiaofei zhe chang weiyi de shengming


深藏在缝隙
shen cang zai fengxi
我就属于这么卑劣的族群
wo jiu shuyu zheme beilie de zuqun
谈什么延续
tan shenme yanxu
撒出孢子静静地沉睡成泥
sa chu baozi jing jing de chenshui cheng ni


反抗着荒唐的压迫
fankangzhe huangtang de yapo
我分裂出了另一个
wo fenlie chule ling yige
但是出于什么选择
danshi chu yu shenme xuanze
它竟又成为另一个我
ta jing you chengwei ling yige wo


为了摆脱命运左右
weile baituo mingyun zuoyou
不断地寻觅着同伙
buduan de xunmizhe tonghuo
正各怀心思地密谋
zheng ge huai xinsi de mimou
晴天把我们都淹没
qingtian ba women dou yanmo


填补着不安的空洞
tianbuzhe bu'an di kongdong
以为众多不会怯弱
yiwei zhongduo bu hui qieruo
但是出于什么选择
danshi chu yu shenme xuanze
复制了一个又一个我
fuzhile yige you yige wo


壮大了丛生的菌落
zhuangdale congsheng de junluo
却依然是苟且独活
que yiran shi gouqie duhuo
而麻木等待的黎明
er mamu dengdai di liming
终会把我们都淹没
zhong hui ba women dou yanmo
External links
Edit
| | |
| --- | --- |
| | Lyrics |