Ad blocker interference detected!
Wikia is a free-to-use site that makes money from advertising. We have a modified experience for viewers using ad blockers

Wikia is not accessible if you've made further modifications. Remove the custom ad blocker rule(s) and the page will load as expected.
This song article is lacking a proper background. You can help by adding one! The relevant section in the Song Article Guideline is a good starting point, and this blog post may also be helpful. We apologize for the inconvenience this may cause in the meantime.

Song pages lacking proper backgrounds are automatically sorted into this category.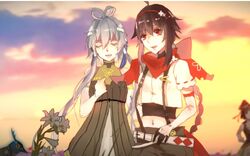 Song title
"落日余歌-启程之诗"
Traditional Chinese: 落日餘歌-啟程之詩
Pinyin: Luòrì Yú Gē-Qǐchéng zhī Shī
Uploaded August 1, 2015, with 54,000+ views
Singer(s)
Luo Tianyi, Yuezheng Ling
Producer(s)
Wing Yi (compose)
CuTTleFish (mixing, mastering)
Zhe v and Qingfeng Zhi Lian (tuning)
Lingyuan Yousa (lyrics)
Moli KUKJ, Jintianchong, KIRAKIRA, Shuanglan, Xiling, Fengyou, ROC DFF, Zao, Cangtong, Aster Leo, Xiaozhen, Mila, Lunhui (illustrators)
Links
YouTube Broadcast (reprint)
bilibili Broadcast

Background
Edit
"Luòrì Yú Gē-Qǐchéng zhī Shī" is an original duet song featuring Luo Tianyi and Yuezheng Ling.
Singer + Color
Tianyi
Both
Ling
Chinese (中文歌词)
Pinyin (拼音)

在树荫下昏昏不语的牧羊

zai shu yin xia hun hun bu yu de muyang

倚坐岩上沐浴着最后的余温

yi zuo yanshang muyuzhe zuihou de yu wen

依恋天空的落日偷偷地瞻望

milian tiankong de luori toutou de zhanwang

交相辉映 淡淡的月牙

jiaoxiang huiying dandan de yueya

恍若轻纱的薄云缓缓流淌

huang ruo qing sha de bo yun huan huan liutang

随着风向 借过光晕 轻慰着灵魂

suizhe fengxiang jieguo guang yun qingweizhe linghun

小小的钟增加了口袋的重量

xiao xiao de zhong zengjiale koudai de zhongliang

滴答滴答 送走遗落的时光

dida dida song zou yi luo de shiguang




牧童归家的笛声

mutong gui jia de di sheng

伴着当当铜铃奏响

banzhe dangdang tong ling zou xiang

拨开蒿草叶的臂膀

bo kai hao cao ye de bibang

渐渐

添上新伤

jianjian

tianshang xin shang



昨日出芽在今日盛开的花

zuori chuya zai jinri shengkai de hua

映着余晖 镶嵌着光芒

yingzhe yuhui xiang qianzhe guangmang

随风纷飞拂过了相携而行的少女

sui feng fenfei fuguole xiang xie er xing de shaonü

夕阳下沾满了温热的脸庞

xiyang xia zhan manle wen re de lianpang

旅人谱写流传着古老的歌

lüren puxie liu chuanzhe gulao de ge

无忧无虑 放声高唱

wu you wu lü fangsheng gao chang

咽下微风饮一口收在行囊的烈酒

yan xia weifeng yin yikou shou zai hang nang de lie jiu

撒溅在脚下的土壤

sa jian zai jiaoxia de turang




渐渐逼近的马蹄声

jianjian bijin de mati sheng

悠悠晃晃路过身旁

youyou huang huang luguo shen pang

摇曳轻颤着的枝桠

yaoye qing chanzhe de zhiya

滤过

斑斑金光

lüguo

banban jinguang



闪烁透亮未干的汗粒落下

shanshuo touliang wei gan de han li luoxia

浸透衣衫沾湿了鬓发

jintou yishan zhan shile binfa

并肩同行交换了 带着笑容的话语

bingjian tongxing jiao huanle daizhe xiaorong de huayu

每一句都化作天边的云霞

mei yiju dou hua zuo tianbian de yunxia

雕刻铭文坚韧无比的高墙

diaoke mingwen jianren wubi de gao qiang

背对身后丢弃在远方

bei dui shenhou diuqi zai yuanfang

跟着毫无眷恋的风与歌 一唱一和

genzhe hao wu juanlian de feng yu ge yichang yihe

旅人的背影奔向斜阳
lüren de beiying ben xiang xiayang



夕阳余晖下慢慢融化

xiyang yuhui xia man man ronghua
External links
Edit
| | |
| --- | --- |
| | Lyrics |