Ad blocker interference detected!
Wikia is a free-to-use site that makes money from advertising. We have a modified experience for viewers using ad blockers

Wikia is not accessible if you've made further modifications. Remove the custom ad blocker rule(s) and the page will load as expected.
This song article is lacking a proper background. You can help by adding one! The relevant section in the Song Article Guideline is a good starting point, and this blog post may also be helpful. We apologize for the inconvenience this may cause in the meantime.

Song pages lacking proper backgrounds are automatically sorted into this category.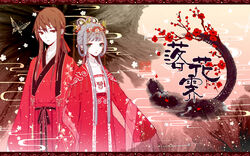 Song title
"落花霁"
Traditional Chinese: 落花祭
Pinyin: Luòhuā Jì
Uploaded May 2, 2016, with 321,000+ views
Singer(s)
Luo Tianyi, Yuezheng Ling
Producer(s)
Zhuan Chang Langren (compose, arrange, lyrics, mixing)
Tian zZ (tuning)
Tongzi (poetry)
Gangtie Xintu (guitar)
Si Gu Jun (drums)
Wasi Ba Hao (dulcimer)
Ningmeng CC Lu (zhonghu)
Tao Te (guzheng)
Yuan Ban Maiya (pipa)
O Tianqi Qinglang O (flute)
Setsuya, Shinya, Muu, kuuus, M Jun, Sheng Yu Xi Meng (illustrators)
hisakagami (illustrator, uploader)
A Nai, Wei Tu♂, Yue Yuan (coloring)
AA (logo)
Hai Ya (video editor)
Chen Feng Dao (copyright)
Links
YouTube Broadcast (reprint)
bilibili Broadcast
5SING Broadcast

Background
Edit
"Luòhuā Jì" is an original duet song featuring Luo Tianyi and Yuezheng Ling.
This song has exceeded 100,000 views on bilibili.
Singer + Color
Tianyi
Both
Ling
Chinese (中文歌词)
Pinyin (拼音)

梦中的那个身影是谁

meng zhong di nage shenying shi shei

手心残留温热的眼泪

shouxin canliu wen re de yanlei

倘若三世如流水

tangruo sanshi ru liushui

一去向东不复回

yi quxiang dong bu fu hui

曾盼得人心欲碎

ceng pan derenxin yu sui

却未见君颜归

que wei jian jun yan gui




又是一年桃花开正美

you shi yi nian taohua kai zhengmei

指尖流淌微风的细碎

zhi jian liutang weifeng de xisui

倘若三世如流水

tangruo sanshi ru liushui

此情一梦难追回

ci qing yi meng nan zhui hui

如今望向你眼眉

rujin wang xiang ni yanmei

却看不到那

熟悉的谁

que kan bu dao na

shuxi de shei



落花也有泪

luohua yeyou lei

敲得人心欲碎

qiao derenxin yu sui

恍若隔世的谁

huang ruo geshi de shei

不再为君憔悴

bu zai wei jun qiaocui




落花也有泪

luohua yeyou lei

就将这片心融化成灰

jiu jiang zhe pian xin ronghua cheng hui

枉凝眉 若崩溃

wang ning mei ruo bengkui

是否无悔

shifou wu hui




你身旁的那个人是谁

ni shen pang di nage ren shi shei

仿佛有着迷人的眼眉

fangfu you zhao miren de yanmei

如果这一切终将成为

ruguo zhe yiqie zhong jiang chengwei

相忘于今世的伤悲

xiang wang yu jinshi de shang bei

曾盼得人心欲碎

ceng pan derenxin yu sui

如今幻化成灰

rujin huanhua cheng hui




桃花芬芳枝头吐新蕊

taohua fenfang zhi tou tu xin rui

却奈何在寒风中枯萎

que naihe zai han feng zhong kuwei

如果这一切终将成为

ruguo zhe yiqie zhong jiang chengwei

此生无法背负的罪

cisheng wufa beifu de zui

莫留下催心的怼

mo liu xia cui xin de dui

在岁月中

轮回

zai suiyue zhong

lunhui



曾许下年少诺言 与你共相随

ceng xu xia nianshao nuoyan yu ni gong xiang sui




到如今四目相望 陌生了年岁

dao rujin si mu xiang wang moshengle nian sui



让这一湖的春水 融化成眼泪
rang zhe yi hu de chunshui ronghua cheng yanlei
化成春雨 梨花中纷飞
huacheng chunyu lihua zhong fenfei
是多么令人唏嘘的凄美
shi duome ling ren xixu de qimei



你眼中带笑

ni yanzhong dai xiao

掩盖不住悲伤

yangai bu zhu beishang




同心鸳鸯图上

tongxin yuanyang tu shang

只见你心血在飞

zhi jian ni xinxue zai fei



不再为你落泪
bu zai wei ni luo lei
不再为你心碎 为你崩溃
bu zai wei ni xin sui wei ni bengkui
相忘于这一生 不再轮回
xiang wang yu zhe yisheng bu zai lunhui


春寒未过 桃花已落 是否无悔
chunhan weiguo taohua yi luo shifou wu hui