Ad blocker interference detected!
Wikia is a free-to-use site that makes money from advertising. We have a modified experience for viewers using ad blockers

Wikia is not accessible if you've made further modifications. Remove the custom ad blocker rule(s) and the page will load as expected.
The following song article is still a work in progress. For information on how to help, see the song article guideline. We apologize for the inconvenience this may cause in the meantime.

What is being worked on?

Needs Japanese lyrics.

Work-in-progress song pages are automatically sorted into this category.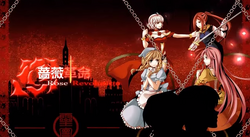 Song title
"蔷薇革命"
Traditional Chinese: 薔薇革命
Pinyin: Qiángwēi Gémìng
Official English: Rose Revolution
Uploaded May 16, 2013, with 110,000+ views
Singer(s)
Luo Tianyi
Producer(s)
misu (compose)
koi (arrange)
Xian Yu Qian Qian (lyricist)
Links
YouTube Broadcast (reprint)
bilibili Broadcast

Background
Edit
"Rose Revolution" is an original Luo Tianyi song.
This song has exceeded 100,000 views on bilibili.
Preceding and succeeding versions
Edit
50% Complete

| | |
| --- | --- |
| Featuring | Luo Tianyi |
| Author(s) | misu (compose), koi (arrange), Xian Yu Qian Qian (lyricist) |
| Category | Preceding version |
Miku's Japanese Version

| | |
| --- | --- |
| Featuring | Hatsune Miku |
| Author(s) | misu (compose), koi (arrange), Yu nop (Japanese lyrics) |
| Category | VOCALOID cover, Succeeding version |
Chinese (中文歌词)
Pinyin (拼音)
盛开的蔷薇 娇艳的花蕊铁蹄下绽放的美
shengkai de qiangwei jiaoyan de huarui tieti xia zhanfang di mei
枯萎 破碎 带着香味
kuwei posui daizhe xiangwei
血红的玫瑰渴望的蓓蕾 刀锋里旋转纷飞
xiehong de meigui kewang de bei lei daofeng li xuanzhuan fenfei
泪水悲伤 交替轮回
leishui beishang jiaoti lunhui
欲望的诱媚 面对原罪谁无悔
yuwang de you mei mian dui yuanzui shei wu hui
权力的光辉下坠 羞愧 被摧毁
quanli de guanghui xiazhui xiukui bei cuihui
华丽的舞会可怜的误会
huali de wuhui kelian de wuhui
这一杯献给过往曾有的依偎
zhe yibei xian gei guowang ceng you de yiwei
冰封的王位嗜血的高贵 统御着碌碌鼠辈
bing feng de wangwei shi xie de gaogui tong yuzhe lulu shubei
虚伪谄媚 奉承的嘴
xuwei chanmei fengcheng de zui
为何不下跪 为何不敬畏
weihe bu xia gui weihe bu jingwei
为何要流着眼泪
weihe yao liu zhuo yanlei
违背 反对吾之王妹
weibei fandui wu zhi wang mei
理智在后退 卑微愚昧无所谓
lizhi zai houtui beiwei yumei wusuowei
清醒被击溃沉醉沉睡心疲惫
qingxing bei jikui chenzui chenshui xin pibei
相见的狼狈 感情的拖累不忌讳
xiang jian de langbei ganqing de tuolei bu jihui
手中剑一挥 誓将你夺回
shouzhong jian yi hui shi jiang ni duohui


整军出征 蔷薇血统咆哮沸腾
zheng jun chuzheng qiangwei xuetong paoxiao feiteng
滚烫的刀刃 解开所有的虚伪 融化冰冷
guntang de daoren jie kai suoyou de xuwei ronghua bingleng
用我的赤诚换回你消散去的纯真
yong wo de chicheng huan hui ni xiaosan qu de chunzhen
残酷战争 只不过是必要的牺牲
canku zhanzheng zhi buguo shi biyao de xisheng


致命的亲吻刺破红唇 荆棘缠绕歌声
zhiming de qinwen ci po hong chun jingji chanrao gesheng
固执的抗争 谁死谁生转动命运齿轮
guzhi de kangzheng shei si shei sheng zhuandong mingyun chilun
破碎的灵魂
posui de linghun


蔷薇无力呼喊 百合破败腐烂
qiangwei wuli huhan baihe pobai fulan
编织成你头上的皇冠
bianzhi cheng ni tou shang de huangguan
何必不安斩断温柔麻烦
hebi bu'an zhan duan wenrou mafan
这不正是你 心中期盼
zhe buzheng shi ni xinzhong qi pan


不经意间迷惘害怕将你淡忘
bujingyi jian miwang haipa jiang ni danwang
虚势声张 无法阻止
xu shi shengzhang wufa zuzhi
利剑刺破那脆弱的心脏
li jian ci po na cuiruo de xinzang
所谓坚强不过是说谎
suowei jianqiang buguo shi shuohuang


你的嘴角挂着浅笑 嘲笑这尘嚣 我们却无法出逃
ni de zuijiao guazhe qian xiao chaoxiao zhe chenxiao women que wufa chutao
我的内心中在哭号 因你所受煎熬 我却无法知晓
wo de neixin zhong zai ku hao yin ni suo shou jian'ao wo que wufa zhixiao


渺小的无奈 伟大的无奈 你躺在我的胸怀
miaoxiao de wunai weida de wunai ni tang zai wo de xionghuai
发呆直到 死神到来
fadai zhidao sishen daolai
平民的无奈 国王的无奈 失控的情绪崩坏摇摆
pingmin de wunai guowang de wunai shikong de qingxu beng huai yaobai
徘徊 停不下来
paihuai ting bu xialai
斧头挥舞在 尸骸 腐败 的阴霾
futou huiwu zai shihai fubai de yinmai
旗帜降落在 低矮 狭窄 的要塞
qizhi jiangluo zai di ai xiazhai de yao sai
蔷薇的盛开鲜血的灌溉
qiangwei de shengkai xianxie de guangai
花园外他们都对我们不理不睬
huayuan wai tamen dou dui women bu li bu cai
正义的制裁正确的制裁 自以为是的制裁
zhengyi de zhicai zhengque de zhicai ziyiweishi de zhicai
伤害 倦怠将我淘汰
shanghai juan dai jiang wo taotai
反抗的制裁 革命的制裁自说自话的制裁
fankang de zhicai geming de zhicai zi shuo zi hua de zhicai
变态 奇怪 无力更改
biantai qiguai wuli genggai
混乱的盆栽东歪西歪被踏碎
hunluan de penzai dong wai xi wai bei ta sui
动荡的时代 表白坦白被掩埋
dongdang de shidai biaobai tanbai bei yanmai
你的笑容在我的歌声外
ni de xiaorong zai wo de gesheng wai
渐渐离开 疯狂的人们依然没有释怀
jianjian likai fengkuang de renmen yiran meiyou shihuai


禁忌的吻痕依然残留你的体温
jinji de wen hen yiran canliu ni de tiwen
无情的绑捆 蔷薇的眼中你与我一视同仁
wuqing de bang kun qiangwei de yanzhong ni yu wo yishitongren
不能够区分 天空的怨恨究竟有多深
bu nenggou qufen tiankong de yuanhen jiujing you duo shen
残酷战争总会留下遍地痛苦灵魂
canku zhanzheng zong hui liu xia biandi tongku linghun


悲伤的眼神凝望远方城门暮雨纷纷
beishang de yanshen ningwang yuanfang cheng men muyu fenfen
诸神的黄昏在不知不觉中将会降下
zhu shen de huanghun zai buzhi bu jue zhong jiang hui jiangxia
最后的严惩
zuihou de yancheng


蔷薇正在哭喊百合不再灿烂
qiangwei zhengzai ku han baihe bu zai canlan
你的笑在缓慢变黯淡
ni de xiao zai huanman bian andan
何必不安看穿死亡乐章
hebi bu'an kanchuan siwang yuezhang
不正是你想要的终端
buzheng shi ni xiang yao de zhongduan


黑暗就快过去黎明将会到来
hei'an jiu kuai guoqu liming jiang hui daolai
在这最后的时候只想对你说
zai zhe zuihou de shihou zhi xiang dui ni shuo
原谅我无法立刻到你身边相伴
yuanliang wo wufa like dao ni shenbian xiangban


已经够了吗 足够了吗
yijing goule ma zugoule ma
所有那些谎话 虚假 足够了吧
suoyou naxie huanghua xujia zugoule ba
已经够了吗 足够了吗
yijing goule ma zugoule ma
所有那些 代价 惩罚 足够了吧
suoyou naxie daijia chengfa zugoule ba
已经够了吗足够了吗
yijing goule ma zugoule ma
所有那些 害怕 挣扎 足够了吧
suoyou naxie haipa zhengzha zugoule ba
已经够了吗请你快点停手吧
yijing goule ma qing ni kuai dian tingshou ba
快停下来吧 快停下来吧
kuai ting xialai ba kuai ting xialai ba
停下这歌声喧哗 留下 残渣 肆意轰炸
ting xia zhe gesheng xuanhua liu xia canzha siyi hongzha
快停下来吧快停下来吧
kuai ting xialai ba kuai ting xialai ba
停下这歌声举刀挥下 斩杀 血液喷发
ting xia zhe gesheng ju dao hui xia zhan sha xieye penfa
屠杀开始吧 来了 断了泪落下
tusha kaishi ba lai liaoduanle lei luoxia
洗净罪恶吧 滴答 滴答 恨冲刷
xi jing zui'e ba dida dida hen chongshua
献出灵魂吧用蔷薇鞭挞
xian chu linghun ba yong qiangwei bianta
尖刺萌芽 绽放出血花 美丽纯洁无瑕
jian ci mengya zhanfang chuxie hua meili chunjie wu xia
快停下来吧快停下来吧
kuai ting xialai ba kuai ting xialai ba
停下这歌声嘶哑 狡诈 浮夸 多么优雅
ting xia zhe gesheng siya jiaozha fukua duome youya
快停下来吧 快停下来吧
kuai ting xialai ba kuai ting xialai ba
停下这歌声惊诧击垮 崩塌结束了吗
ting xia zhe gesheng jingcha ji kua bengta jieshule ma
请不要害怕 有我在你的身旁
qing buyao haipa you wo zai ni de shen pang
请不要哭泣有我永远爱着你
qing buyao kuqi you wo yongyuan aizhe ni
在这最后的时刻请与我共同见证
zai zhe zuihou de shike qing yu wo gongtong jianzheng
高贵的蔷薇花遍地绽放
gaogui de qiangwei hua biandi zhanfang