Ad blocker interference detected!
Wikia is a free-to-use site that makes money from advertising. We have a modified experience for viewers using ad blockers

Wikia is not accessible if you've made further modifications. Remove the custom ad blocker rule(s) and the page will load as expected.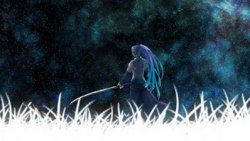 Song title
"藍色の蝶"
Romaji: Aiiro no Chou
English: Indigo Butterfly
Uploaded July 6, 2011 (album), with 7,200+ (short pv) views
Singer(s)
Camui Gackpo
Producer(s)
Machigerita-P (music, lyrics)
Links
Background
Edit
| | | |
| --- | --- | --- |
| " | I wonder if the butterfly that watches us two, in the gently falling inidgo rain will be able to fly with it's cut wings. | " |
This song was written for EXIT TUNES' Vocalonation album.
Succeeding versions
Edit
Vocalonation PV

Featuring
Camui Gackpo
Author(s)
Machigerita (music, lyrics), pio (video)
Category
PV

Description

A short PV made to promote the song's reelase on

Vocalonation
Japanese (日本語歌詞)
Romaji (ローマ字)
吊り下がる葡萄の一粒一粒に霊験。
tsuri sagaru budou no hitotsubu hitotsubu ni reigen.
睡蓮がひとつ、ひとつ、ひとつ、ひとつ――。
suiren ga hitotsu, hitotsu, hitotsu, hitotsu ――.


彼の白い背に憑きし焔は憧り自らを焼く。
kare no shiroi se ni tsukishi homura wa okageri mizukara o yaku.
紛い沈んで腕に噛み付く、忌忌し面。
magai shizunde ude ni kamitsuku, yuyushi tsura.


小指を結んで契る姿はおとろしい罪。
koyubi o musunde chigiru sugata wa otoroshii tsumi.
隙間から覗く女は異し眼で何を思う――。
sukima kara nozoku onna wa ayashi menako de nani o omou ――.


番の二人を見つめ蝶と成り消え昇っていく姿は、
tsugai no futari o mitsume chou to nari kie nobotteiku sugata wa,
藍色の雨が静かに降りしきる中。
aiiro no ame ga shizuka ni furishikiru naka.


千切れかけた羽で飛ぶのだろう――。
chigire kaketa hane de tobu no darou ――.