This song article is lacking a proper background. You can help by adding one! The relevant section in the Song Article Guideline is a good starting point, and this blog post may also be helpful. We apologize for the inconvenience this may cause in the meantime.

Song pages lacking proper backgrounds are automatically sorted into this category.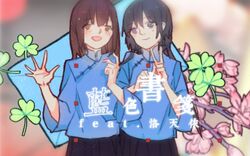 Song title
"藍色書箋"
Simplified Chinese: 蓝色书笺
Pinyin: Lán Sè Shū Jiān
English: Blue Letter
Uploaded June 25, 2015, with 39,000+ views
Singer(s)
Luo Tianyi
Producer(s)
LittleMusic Studio: Ai Si Zhai (music)
Ai Si Zhai, Xiaodou (arrangement)
Xiaodou (lyrics, tuning, mix, video)
YE (illustration)
Links
YouTube Broadcast (reprint)
bilibili Broadcast

Background
Edit
This song is an original Chinese VOCALOID song featuring Luo Tianyi.
Chinese (中文歌詞)
Pinyin (拼音)
指輕翻 朱顏嘆 舊年相冊
zhi qing fan zhuyantan jiu nian xiangce
仍未寄出的信封
reng wei ji chu de xinfeng
若相逢 再聚首 又會如何
ruo xiangfeng zai jushou you hui ruhe
思緒重回那一刻
sixu chong hui na yike
春雷動 花雨落 留連驚蟄
chunlei dong hua yu luo liulian jingzhe
記憶匯一泓清澤
jiyi hui yi hong qing ze
曾記否 夜共攜 細數銀河
ceng ji fou ye gong xie xi shu yinhe
看夢把黎明染色
kan meng ba liming ranse


知分合 贈驪歌 送一程
zhi fen he zeng lige song yi cheng
有誰會捨得
you shui hui shede


輕狂埋藏在舊校舍
qingkuang maicang zai jiu xiaoshe
笑談一起翹過的課
xiaotan yiqi qiaoguo de ke
垂絲沐浴南風
chui si muyu nan feng
掬華光予我可?
ju hua guang yu wo ke?




淚 暈衣褶
lei yun yi zhe
願 寄白鴿
yuan ji bai ge
夢 亦冷
meng yi leng
韶華呢?
shaohua ne?


憐筆記零星柳帶折
lian biji lingxing liu dai zhe
望遠送迢迢到船舸
wangyuan song tiaotiao dao chuan ge
歲月荏苒坎坷
suiyue renran kanke
不忘舊時同樂
bu wang jiushi tong le


藍色書箋若隱字跡青澀
lan se shu jian ruo yin ziji qing se
躺著我寫你的歌
tangzhe wo xie ni de ge
External links
Edit
| | |
| --- | --- |
| | Downloads |