This song article is lacking a proper background. You can help by adding one! The relevant section in the Song Article Guideline is a good starting point, and this blog post may also be helpful. We apologize for the inconvenience this may cause in the meantime.

Song pages lacking proper backgrounds are automatically sorted into this category.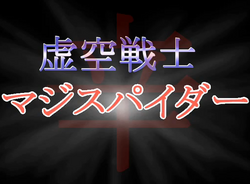 Song title
"虚空戦士マジスパイダー"
Romaji: Kokuu Senshi Maji Supaidaa
Uploaded April 19, 2008, with 55,240+ views
Curry Mix: June 09, 2008, with 102,910+ views
Singer(s)
KAITO
Producer(s)
Shin-P (music, lyrics)
Links
Niconico Broadcast
Background
Edit
"Kokuu Senshi Maji Spider" is an original Japanese VOCALOID song by Shin-P featuring KAITO.
This song is featured in the albums Ha☆chi☆Su☆zu☆me Original Soundtrack 2 and Hachi Suzume Complete Box.
Succeeding versions
Edit
Curry Mix

Featuring
KAITO
Author(s)
Shin-P
Category
Succeeding version

Description

This version has over 102,000+ views
Naoto Fūga's cover

Featuring
Naoto Fūga
Author(s)
Shin-P
Category
Human cover; self-cover

Description

This version is featured in Shin-P's non-VOCALOID album Hikyou Sentai Urotander.
Japanese (日本語歌詞)
Romaji (ローマ字)
今すぐマジスパに行こうよ!
ima sugu majisupa ni ikou yo!


カレーーーーーーーー
kareeeeeeeee


あいつに連れられて 噂のマジスパに
aitsu ni tsurerarete uwasa no majisupa ni
初めて入ってみたのさ
hajimete haitte mita no sa
そこはスープカレーのとてもおいしい店さ
soko wa suupu karee no totemo oishii misesa
wktkしながら入るのさ
wakuteka shi nagara hairu no sa


あいつが言うことには 辛い方がおいしいと
aitsu ga iu koto ni wa karai hou ga oishii to
だから僕は一番辛いヤツを頼んでみたよ
dakara boku wa ichiban karai yatsu o tanonde mita yo


運ばれてきたカレーは 色がやたらと赤いよ
hakobarete kita karee wa iro ga yatara to akai yo
それと 何故か器も大きい
soreto nazeka utsuwa mo oukii
おそるおそるスープを すくって口に運んだ
osoru osoru suupu o sukutte kuchi ni hakonda
ココロが虚空に誘われる
kokoro ga kokuu ni sasowareru


かれぇええええええぇぇぇ
kareeeeeeeee


あいつが爽やかに 辛いけれど旨いねと
aitsu ga sawayaka ni karai keredo umai ne to
同意を求めて来るけど
doui o motometekuru kedo
口が熱くて何も言い返せないよ
kuchi ga atsukute nani mo iikaesenai yo
恨めしく睨みつけるだけ
urameshiku nira mitsukeru dake


隣に座るあの子が 心配そうに見てるけど
tonari ni suwaru ano ko ga shinpai sou ni miteru kedo
ただひたすら 頷き笑いながらごまかすしかない
tada hitasura unazuki warai nagara gomakasu shikanai


辛い辛い辛いと 熱い熱い熱いと
karai karai karai to atsui atsui atsui to
だけどなぜかやめられないよ
dakedo naze ka yamerarenai yo
あいつが汗垂らして 僕も涙流すよ
aitsu ga asetarashite boku mo namida nagasu yo
世界は虚空に囚われて
sekai wa kokuu ni torawarete


キタ━━━━━━(゜∀゜)━━━━━━!!
kita━━━━━━(゜∀゜)━━━━━━!!


慌てて頼むラッシーは 冷たくてとても美味しいよ
awatete tanomu rqasshii wa tsumetakute totemo oishii yo
甘酸っぱくて なぜか切なくなって テラ癒される
amazuppakute naze ka setsunaku natte tera iyasareru


ただただ目の前のカレーがこの世の全てさ
tada tada me no mae no karee ga konoyo no subete sa
他には何も見当たらないよ
ta ni wa nani mo miataranai yo
いつかはマジスパの伝説の戦士夢見て
itsuka wa majisupa no densetsu no senshi yumemite
ココロは虚空を羽ばたいて Fire
kokoro wa kokuu o habataite Fire
Derivatives
Edit
Murata's PV

| | |
| --- | --- |
| Featuring | KAITO |
| Author(s) | Murata |
| Category | Fanmade PV |
External links
Edit
| | |
| --- | --- |
| | Articles |
| | |
| --- | --- |
| | Lyrics |
Ad blocker interference detected!
Wikia is a free-to-use site that makes money from advertising. We have a modified experience for viewers using ad blockers

Wikia is not accessible if you've made further modifications. Remove the custom ad blocker rule(s) and the page will load as expected.