Ad blocker interference detected!
Wikia is a free-to-use site that makes money from advertising. We have a modified experience for viewers using ad blockers

Wikia is not accessible if you've made further modifications. Remove the custom ad blocker rule(s) and the page will load as expected.
This song article is lacking a proper background. You can help by adding one! The relevant section in the Song Article Guideline is a good starting point, and this blog post may also be helpful. We apologize for the inconvenience this may cause in the meantime.

Song pages lacking proper backgrounds are automatically sorted into this category.
!

Warning:

This song contains questionable lyrics and themes; it may be inappropriate for younger audiences.

The Vocaloid Wiki does not have a policy on lyrical content or theme; however, it attempts to follow the Wikia TOU.
For further discussion see Thread:68883. Questionable songs are automatically sorted into this category.

!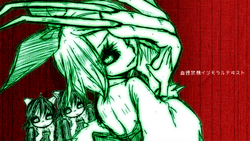 Song title
"血煙旅情インモラルテヰスト"
Romaji: Chikemuri Ryojo Inmoraru Teisuto
English: Immoral Taste of the Bloody Travel
Uploaded September 8, 2012, with 25,700 (NND) & 5,400 views
Singer(s)
Kagamine Rin
Producer(s)
Kagome-P (music, lyrics)
Morita Seragi (lyrics, illust)
Links
Niconico Broadcast • YouTube Broadcast

Background
Edit
"Chikemuri Ryojo Immoral Taste" is an original song by Kagome-P featuring Kagamine Rin.
Note: This song is known as "An Immortalist With a Spurting Blood Traveling Mood" in the Western fandom, but "Immoral Taste of the Bloody Travel" is more suitable. This tradition comes from BerrySub's mistranslated title.
Japanese (日本語歌詞)
Romaji (ローマ字)
「すがりつく声は 終わりなく・・・・・・」 あらら、お時間ね。
"sugaritsuku koe wa owari naku......" arara, o jikan ne.
次の語りはいつでしょう? アナタの声・・・・・・
tsugi no katari wa itsudeshou? Anata no koe......


よ・る 踏み出すオブジェ カ・タ 片足を回れ右
yoru fumidasu obuje ka ta kataashi o maware migi
夢なき夢に乗せられ 今宵 生贄(にえ)を探しましょ
yume naki yume ni nose rare koyoi nie o sagashimasho


そっと 血煙旅情 もう 帰れないゴゼンニジ
sotto chikemuri ryojou mou kaerenai gozen'niji
私の愛した人よ 甘い脳髄(あたま) いただ・き・ます♪
watashi no ai shita hito yo amai atama i tadakimasu ♪


Delicious!!
Tres bien!!
Que gostoso!!
Uuh...


「愛した人は 生贄(にえ)となりて・・・・・・」 あらら、お電話ね。
"ai shita hito wa ikenie to narite......" arara, o denwa ne.
次の語りはいつの日か・・・・・・ 「どちら様で?」
tsugi no katari wa itsunohika "dochirasama de?"


「Put your hands up!!」


(たたかっています?)
(tatakatteimasu?)


「Put your hands up!!」


愛してるって 愛してるって アナタだけを愛してるのにって
aishiteru tte aishiteru tte anata dake o aishi terunoni tte
逃がさなくって 逃がさなくって 今夜私アナタが欲しくって
nigasanakutte nigasanakutte kon'ya watashi anata ga hoshikutte
愛してるって 愛してるって アナタだけを愛してるのに
aishiteru tte aishiteru tte anata dake o aishi terunoni
愛してるのに 愛してるのに 愛して愛して
aishiteru tte aishiteru tte aishite aishite
アナタとひとつに・・・・・・なりたい・・・・・・
anata to hitotsu ni...... naritai......


ポ・ト ポトリ 染み出して もう 戻らないメランコリ
po to potori shimi dashite mou modoranai merankori
私の愛した人よ アナタの お味噌汁 い・た・だ・き・ます♪
watashi no ai shita hito yo anata no o misoshiru itadakimasu ♪
Derivatives
Edit
Miku's Cover

| | |
| --- | --- |
| Featuring | Hatsune Miku |
| Author(s) | MattplusBC |
| Category | VOCALOID cover |
SONiKA's Cover

| | |
| --- | --- |
| Featuring | SONiKA |
| Author(s) | Giraffey (cover, mix) MattplusBC (VSQx |
| Category | VOCALOID cover |
Katerunu's English Cover

| | |
| --- | --- |
| Featuring | Katerunu |
| Author(s) | Katerunu |
| Category | human cover, English cover |
External links
Edit
| | |
| --- | --- |
| | Official |
| | |
| --- | --- |
| | Articles |
| | |
| --- | --- |
| | Downloads |