Ad blocker interference detected!
Wikia is a free-to-use site that makes money from advertising. We have a modified experience for viewers using ad blockers

Wikia is not accessible if you've made further modifications. Remove the custom ad blocker rule(s) and the page will load as expected.
This song article is lacking a proper background. You can help by adding one! The relevant section in the Song Article Guideline is a good starting point, and this blog post may also be helpful. We apologize for the inconvenience this may cause in the meantime.

Song pages lacking proper backgrounds are automatically sorted into this category.
!

Warning:

This song contains questionable lyrics and themes; it may be inappropriate for younger audiences.

The Vocaloid Wiki does not have a policy on lyrical content or theme; however, it attempts to follow the Wikia TOU.
For further discussion see Thread:68883. Questionable songs are automatically sorted into this category.

!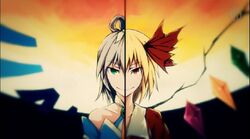 Song title
"血红满月之夜"
Traditional Chinese: 血紅滿月之夜
Pinyin: Xiěhóng Mǎnyuè zhī Yè
Uploaded November 26, 2012, with 100,000+ views
Singer(s)
Luo Tianyi
Producer(s)
Haoyue (compose, arrange, lyrics, tuning)
Juner, 暗月の故障者, Bingdu-P (illustrators)
Shantang Lang, MAT, Maomao Chong-P, Wula Miao, Ming Huang, FUKO (publishers)
bobe (video editor)
Links
bilibili Broadcast
Background
Edit
"Xiěhóng Mǎnyuè zhī Yè" is an original song featuring Luo Tianyi.
This song has exceeded 100,000 views on bilibili.
Chinese (中文歌词)
Pinyin (拼音)
夜 涂满 谁的血 月 快熄灭
ye tu man shui de xue yue kuai ximie


午夜的甜点 舌尖划过弧线
wuye de tiandian shejian huaguo hu xian
好黏 好鲜 好甜 好迷恋
hao zhan hao xian hao tian hao milian
那 饥饿着 溺爱着 痛却渴求
na ji'ezhe ni'aizhe tong que keqiu
血被 一口一口 吸走
xue bei yikou yikou xi zou


在 笼中 啃噬着
zai long zhong ken shizhe
你的噩梦 横跨了 五个世纪 孤独的痛
ni de emeng heng kuale wu ge shiji gudu de tong
在拆封 胸膛中 的内容
zai chai feng xiongtang zhong de neirong
无法消化 你的嘶吼声
wufa xiaohua ni de sihou sheng


你 血肉与我 身躯相熔
ni xierou yu wo shenqu xiang rong
你 凋亡延续 我们的永恒
ni diao wang yanxu women de yongheng


灵魂被妆点 涂抹在我唇边
linghun bei zhuang dian tumo zai wo chun bian
欲望 奢望 绝望 被遗忘
yuwang shewang juewang bei yiwang
这 凄美的 恐惧的 你的葬歌
zhe qimei de kongju de ni de zang ge
心脏 一点一点 干涸
xinzang yi dian yi dian ganhe


那 腐烂 的瞳孔
na fulan de tongkong
拼命窥探 弥散在 被封印的 血月夜空
pinming kuitan misan zai bei fengyin de xue yue yekong
那元凶 浮现出 的笑容
na yuanxiong fuxian chu de xiaorong
恋之迷宫 铭刻过去的时钟
lian zhi migong mingke guoqu de shizhong


你 血肉与我 身躯相熔 (失重)
ni xierou yu wo shenqu xiang rong (shizhong)
你 凋亡延续 我们的永恒
ni diao wang yanxu women de yongheng
之 后一个人 都没了吗
zhihou yige ren dou meiliao ma
Om Pra-mardani Svāhā


在 笼中 啃噬着
zai long zhong ken shizhe
你的噩梦 横跨了 五个世纪 孤独的痛
ni de emeng heng kuale wu ge shiji gudu de tong
在拆封 胸膛中 的内容
zai chai feng xiongtang zhong de neirong
无法消化 你的嘶吼声
wufa xiaohua ni de sihou sheng


那 腐烂 芙兰 的瞳孔
na fulan fu lan de tongkong
拼命窥探 弥散在 被封印的 血月夜空
pinming kuitan misan zai bei fengyin de xue yue yekong
那夜幕 不自然 的躁动
na yemu bu ziran de zaodong
化为一缕 罪恶凄美的血虹
hua wei yi lu zui'e qimei de xue hong
External links
Edit
| | |
| --- | --- |
| | Articles |