This song article is lacking a proper background. You can help by adding one! The relevant section in the Song Article Guideline is a good starting point, and this blog post may also be helpful. We apologize for the inconvenience this may cause in the meantime.

Song pages lacking proper backgrounds are automatically sorted into this category.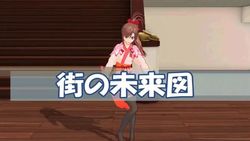 Song title
"街の未来図"
Romaji: Machi no Miraizu
English: Future Map of My Town
Uploaded April 1, 2014, with 60+ (NND), 40+ (YT) views
Singer(s)
Merli
Producer(s)
Ekuraito
Links
Niconico Broadcast (unavailable)
piapro Broadcast

Background
Edit
"Future Map of My Town" is an original song by Ekuraito featuring Merli.
Japanese (日本語歌詞)
Romaji (ローマ字)
青空の下(もと)槌音が響くよ
aozora no moto tsuchi oto ga hibiku yo
来年に走り出す新幹線だよ
rainen ni hashiri dasu shinkansen da yo


明日のために動き出す人々
ashita no tame ni ugoki dasu hitobito
この街の未来図はもう出来てるかな
kono machi no miraizu wa mou dekiteru ka na


無駄な事業だとマスコミは叩き続けた
muda na jigyou da to masukomi wa tataki tsuzuke ta
ホントかウソかと 決めるのはこれからだよね
honto ka uso ka to kimeru no wa korekara dayo ne


道を引けば豊かになる
michi o hike ba yutaka ni naru
そんな時代ではもはやないけれど 進むほかは無いよ
sonna jidai de wa mohaya nai keredo susumu hoka wa nai yo


これからこそ試されるよ
korekara koso tamesareru yo
地方の時代は来るのかどうかと 力を示す気概を
chihou no jidai wa kuru no ka douka to chikara o shimesu kigai o


遥かな時を生きてきたふるさと
haruka na toki o ikite kita furusato
同じ日は還らない 街も変わりゆく
onaji hi wa kaera nai machi mo kawari yuku


昔と同じことをしてもダメで
mukashi to onaji koto o shite mo dame de
悩みつつ迷いつつ 歩みゆく姿
nayami tsutsu mayoi tsutsu ayumiyuku sugata


「東京とつながる」それだけで何も起きない
「tokyou to tsunagaru」 sore dake de nani mo oki nai
小さな私に 出来る事何か無いかな?
chiisana watashi ni dekiru koto nani ka nai ka na?


どこの街も手探りだよ
doko no machi mo tesaguri da yo
不安な事などいくらでもあるさ 落胆も聞こえる
fuan na koto nado ikura demo aru sa rakutan mo kikoeru


だけど私 信じてるよ
dakedo watashi shinjiteru yo
暗闇の壁を打ち破る力 糸口は必ずある
kurayami no kabe o uchiyaburu chikara itoguchi wa kanarazu aru


期待背負い 未来拓こう
kitai seoi mirai hirakou
昔見た夢はもはや無いけれど 新たな夢がある
mukashi mi ta yume wa mohaya nai keredo anata na yume ga aru


ささやかでもこの私も
sasayaka demo kono watashi mo
望みを明日へ繋ぐ輪の中に入れるようがんばるよ
nozomi o ashita e tsunagu wa no naka ni ireru you ganbaru yo
External links
Edit
| | |
| --- | --- |
| | Lyrics |
Ad blocker interference detected!
Wikia is a free-to-use site that makes money from advertising. We have a modified experience for viewers using ad blockers

Wikia is not accessible if you've made further modifications. Remove the custom ad blocker rule(s) and the page will load as expected.