This song article is lacking a proper background. You can help by adding one! The relevant section in the Song Article Guideline is a good starting point, and this blog post may also be helpful. We apologize for the inconvenience this may cause in the meantime.

Song pages lacking proper backgrounds are automatically sorted into this category.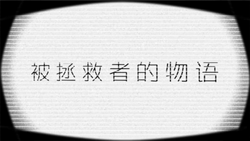 Song title
"被拯救者的物语"
Traditional Chinese: 被拯救者的物語
Pinyin: Bèi Zhěngjiù Zhě de Wùyǔ
Uploaded December 10, 2015, with 242,000+ views
Singer(s)
Luo Tianyi
Producer(s)
PoKeR (compose, arrange, tuning)
Sya (lyrics, illustrator, video editor)
Links
YouTube Broadcast (reprint)
bilibili Broadcast

Background
Edit
"Bèi Zhěngjiù Zhě de Wùyǔ" is an original song featuring Luo Tianyi.
The song has reached 100,000 views on bilibili.
Chinese (中文歌词)
Pinyin (拼音)
三颗心维系的家 幸福只是刹那
san ke xin weixi de jia xingfu zhishi chana
两双手努力支撑 稚嫩幼小枝桠
liang shuangshou nuli zhicheng zhinen youxiao zhiya
一个人被神明剩下 祭奠枯萎的花
yige ren bei shenming sheng xia jidian kuwei de hua
新监护者冷漠地 如对流浪猫般收养
xin jianhu zhe lengmo de ru dui liulang mao ban shouyang
啊 仅存留一丝丝财富
a jin cunliu yisi si caifu
变成了唯一值得被利用 束缚血缘的筹码
bian chengle weiyi zhide bei liyong shufu xieyuan de chouma
不要这么看着我啊 只考虑怎样最大化压榨
buyao zheme kanzhe wo a zhi kaolü zenyang zuida hua yazha
最后自尊心和信任肆意践踏
zuihou zizunxin he xinren siyi jianta


又被否定了吧 被嘲笑了吧
you bei foudingle ba bei chaoxiaole ba
哭泣声哽咽喑哑
kuqi sheng gengyan yinya
无奈寄人篱下 所谓强者
wunai jirenlixia suowei qiang zhe
把弱小标签贴上
ba ruoxiao biaoqian tie shang
曾经酸甜苦辣 由失去爱的自己
cengjing suantiankula you shiqu ai de ziji
强制记忆洗刷 维持这无力现状
qiangzhi jiyi xishua weichi zhe wuli xianzhuang
或许就好啦
huo xu jiu hao la


穿越过人群密麻 冷眼将肩压垮
chuanyueguo renqun mi ma lengyan jiang jian ya kua
无人会欣喜等待 失去翅膀雏鸟
wu ren hui xinxi dengdai shiqu chibang chu niao
即使如此依然存在 于这世界中央
jishi ruci yiran cunzai yu zhe shijie zhongyang
没利用价值的话 被唾弃也没办法
mei liyong jiazhi dehua bei tuoqi ye mei banfa
看吧 野兽们在黑暗处蠢蠢欲动
kan ba yeshoumen zai hei'an chu chunchunyudong
想要意外夺走那最后 束缚住脆弱关系的筹码
xiang yao yiwai duo zou na zuihou shufu zhu cuiruo guanxi de chouma
被反锁在名为家庭 早已面目全非的虚伪牢房
bei fansuo zai ming wei jiating zaoyi mianmuquanfei de xuwei laofang
小丑面具随着赤色火焰 落下
xiaochou mianju suizhe chise huoyan luoxia


失去逃跑勇气快停止挣扎
shiqu taopao yongqi kuai tingzhi zhengzha
燃烧声变得嘈杂
ranshao sheng bian de caoza
漆黑烟雾卷走存活意义
qihei yanwu juan zou cunhuo yiyi
希望消失殆尽吧
xiwang xiaoshi dai jin ba
闭上眼等待死神的降临聆听钟表秒针滴答
bi shang yan dengdai sishen de jianglin lingting zhongbiao miaozhen di da
意识模糊中
yishi mohu zhong
被温暖托起肩膀
bei wennuan tuo qi jianbang


从什么时候开始起变成了这种懦弱人类呐
cong shenme shihou kaishi qi bian chengle zhe zhong nuoruo renlei na
被拯救的身躯握紧双拳开始独立思考
bei zhengjiu de shenqu wo jin shuang quan kaishi duli sikao
这次轮到自己选择是否拯救那个自卑的她
zhe ci lun dao ziji xuanze shifou zhengjiu nage zibei de ta
举起猎枪
ju qi lieqiang
击碎镜中无能影像
ji sui jing zhong wuneng yingxiang
现在开始反击来以牙还牙
xianzai kaishi fanji lai yiyahaiya
但愿为时不晚吧
dan yuan wei shi bu wan ba
罪恶带上镣铐 夺回所有属于原主的宝藏
zui'e dai shang liaokao duohui suoyou shuyu yuanzhu de baozang
忘却的感情涌入干涸眼眶 打湿残留下伤疤
wangque de ganqing yong ru ganhe yankuang da shi canliu xia shangba
竭尽全力 将陌生温柔报答
jiejin quanli jiang mosheng wenrou baoda
External links
Edit
| | |
| --- | --- |
| | Articles |