This song article is lacking a proper background. You can help by adding one! The relevant section in the Song Article Guideline is a good starting point, and this blog post may also be helpful. We apologize for the inconvenience this may cause in the meantime.

Song pages lacking proper backgrounds are automatically sorted into this category.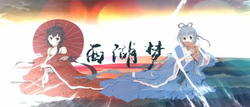 Song title
"西湖梦"
Traditional Chinese: 西湖夢
Pinyin: Xīhú Mèng
English: Lake of Dreams
Uploaded July 22, 2015, with 99,000+ views
Singer(s)
Luo Tianyi, Yuezheng Ling
Producer(s)
Zhengxian Hanshu-P (compose)
Tianshui Xiang (arrange)
ST Jun (lyrics)
Ye and Xia C (illustrators)
Qin Ling Xi Mo (video editor)
Links
bilibili Broadcast
Background
Edit
"Xīhú Mèng" is an original duet song between Luo Tianyi and Yuezheng Ling.
| | | | |
| --- | --- | --- | --- |
| Singer | Tianyi | Ling | Both |
| Color | 66CCFF | Crimson | Black |
Chinese (中文歌词)
Pinyin (拼音)

念曩昔青枝缱绻桃花缀碧色

nian nang xi qing zhi qianquan taohua zhui bi se

清溪畔蜂欢蝶舞风徐云绰绰

qing xi pan feng huan die wu feng xuyunchuo chuo

细柳岸缟絮纷飞好似白雪落

xi liu'angao xu fenfei haosi baixue luo

任年少

ren nianshao

放纵光阴漫蹉跎

fangzong guangyin man cuotuo




听人言君欲孤往临安习笔墨

ting ren yan jun yu gu wang lin'an xi bimo

读诗书考取状元入列花名册

du shi shu kaoqu zhuangyuan ru lie hua mingce

临行前潸潸满眼湿却衣襟帛

lin xing qian shanshan manyan shi que yijin bo

言无尽 切齿含涕相允诺

yan wujin qiechi han ti xiang yunnuo




春忽去秋又来纸箴言色薄

chun hu qu qiu you lai zhi zhenyan se bao

望远方盼见郎君锦衣著

wang yuanfang pan jian lang jun jinyizhuo

夏已走冬将至

心仍惦记京城冷热

xia yi zou dong jiang zhi

xin reng dianji jingcheng leng re

怕只怕 冻煞那信鸽

pa zhi pa dong sha na xinge




或尝言京城美城隍

西湖好景色

huo chang yan jingcheng mei chenghuang

xihu hao jingse

梦里

君与我

meng li

jun yu wo

苏堤

桥上赏曲荷

su di

qiao shang shang he

不惧

西风作

bu ju

xifeng zuo

但看

断桥残雪落

dan kan

duan qiao canxue luo

相依偎

xiang yiwei

望

断树影月婆娑

wang

duan shu ying yue posuo



踱南屏听暮钟遥

闻归舟唱棹歌

duo nan ping ting mu zhong

yao wen gui zhou zhao ge
平湖婵娟起

忘却

忧苦同落寞
pinghu chanjuan qi

wangque

you ku tong luomo
花港锦鲤跃

夕照

峰塔粼波阔
hua gang jin li yue

xizhao

feng ta lin bo kuo
赋诗对 郎君吟唱女儿和
fu shi dui lang jun yinchang nu'er he



忆百转梦千回辗转又反侧

yi bai zhuan meng qian hui nianzhuan you fance

念郎君

徒怨千里

山水隔
nian lang jun

tu yuan qianli

shanshui ge

愿相见似梦里

从此不再孤单寂寞

yuan xiang jian shi meng li

congci bu zai gudan jimo

恨只恨 不知在

几何

hen zhi hen buzhi zai

jihe



终有时同郎君共赏西湖好景色

zhong youshi tong lang jun gong shang xihu hao jingse

朝夕携子

手

坐观残阳共云落

zhaoxi xie zi

shou

zuo guan canyang gong yun luo

何畏夜色晚 恰看三潭映月仄

he wei yese wan qia kan san tan ying yue ze

游曲苑 菡萏喜人人恋

荷

you qu yuan han dan xiren ren lian

he



登心亭泛画舟余晖斜照君与我

deng xin ting fan hua zhou yuhui xie zhao jun yu wo

六桥烟柳

荡

liu qiao yan liu

dang

熏风醉人入塘河

xunfeng zuiren ru tang he

我情似高山 双峰入云自嵯峨

wo qing si gaoshan shuang feng ru yun zi cuo'e

有君伴 此生缠绵不枉过

you jun ban cisheng chanmian bu wangguo
External links
Edit
| | |
| --- | --- |
| | Lyrics |