The following song article is still a work in progress. For information on how to help, see the song article guideline. We apologize for the inconvenience this may cause in the meantime.

Work-in-progress song pages are automatically sorted into this category.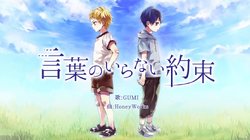 Song title
"言葉のいらない約束"
Romaji: Kotoba no Iranai Yakusoku
English: A Promise That Doesn't Need Words
Uploaded May 14th, 2015, with 422,000+ (NND) and 4,056,000+ (YT) views
Singer(s)
GUMI
Producer(s)
HoneyWorks:
shito (music, lyrics)
Gom (lyrics)
Oji (guitar)
Atsuyuk! (drums)
shito (bass)
cake (piano)
Yamako (illust)
ziro (video)
Mogelatte (logo)
Other Artists:
Orebanana-P (tuning)
Links
Niconico Broadcast • YouTube Broadcast (official upload)

Background
Edit
This song is in the same storyline as another one of Honeywork's songs, 'Ai no Scenario'.
Japanese (日本語歌詞)
Romaji (ローマ字)
独りじゃないよ
hitori janai yo
恐れるものなんてないから
osoreru mono nante nai kara
行こう さぁ 目を開けて
ikou saa me wo akete


ぶつかっていた
butsukatte ita
本当は追いつきたくて
hontou wa oitsukitakute
傷つけ合って
kizutsuke atte
繋ぎ止める絆ほしくて
tsunagi tomeru kizuna hoshikute


「ごめん」
"gomen"
忘れないで
wasurenaide
信じて待ってて
shinjite mattete
迎えに行くんだ
mukae ni iku nda


勇気の灯火照らし出せ弱さを
yuuki no tomoshibi terashidase yowasa wo
傷だって痛みだって分け合えば平気だ
kizu datte itami datte wakeaeba heiki da
君の背中押す結んだ約束
kimi no senaka osu musunda yakusoku
いつだって離れたって
itsudatte hanaretatte
信じられる絆は胸に眠ってる
shinjirareru kizuna wa mune ni nemutteru


ヘタクソなんだよ
hetakuso nanda yo
恐れ知らず破天荒でさ
osore shirazu hatenkou de sa
聞く耳持たず
kiku mimi motazu
敵を作る正義もあって
teki o tsukuru seigi moatte


「ほらね」
"hora ne"
忘れないで
wasurenaide
ずっとそのままで
zutto sono mama de
知らなくていいよ
shiranakute ii yo


勇気の足音迷いなき強さが
yuuki no ashioto mayoi naki tsuyosa ga
傷だって痛みだってかき消した「平気だ」
kizu datte itami datte kakikeshita "heiki da"
キミの背中押す結んだ約束
kimi no senaka osu musunda yakusoku
いつだって離れたって
itsudatte hanaretatte
信じられる絆は胸に眠ってる
shinjirareru kizuna wa mune ni nemutteru


言葉のない約束は今…
kotoba no nai yakusoku wa ima...
ぶつかり合う事も減った
butsukari au koto mo hetta
「分かってた」
"wakatteta"
君と僕は交わらずに
kimi to boku wa majiwarazu ni


忘れないで
wasurenaide
ずっとそのままで
zutto sono mama de
合図はいらない
aizu wa iranai


勇気の灯火照らしだせ僕らを
yuuki no tomoshibi terashidase bokura wo
傷だって痛みだって分け合えば平気だ
kizu datte itami datte wakeaeba heiki da
君の背中押す結んだ約束
kimi no senaka osu musunda yakusoku
いつだって離れたって
itsudatte hanaretatte
信じられる絆は胸に眠ってる
shinjirareru kizuna wa mune ni nemutteru
Derivatives
Edit
Naruto Shippuden Ending

| | |
| --- | --- |
| Featuring | Sana |
| Author(s) | |
| Category | Human cover |
Sana's Full Version

| | |
| --- | --- |
| Featuring | Sana |
| Author(s) | |
| Category | Human cover |
Akatin's Cover

| | |
| --- | --- |
| Featuring | Akatin |
| Author(s) | |
| Category | Human cover |
Urata's Cover

| | |
| --- | --- |
| Featuring | Urata |
| Author(s) | |
| Category | Human cover |
Fanmade Nico Nico Chorus

| | |
| --- | --- |
| Featuring | Various Utaites |
| Author(s) | もん |
| Category | Nico Chorus |
Amatsuki's and ShounenT's arrange
External links
Edit
| | |
| --- | --- |
| | Articles |
| | |
| --- | --- |
| | Downloads |